Bidlisiw: forging communal ties into a new light
CLEP Service Learning Summit '22
by Charmaine Eazl Ann M. Casiño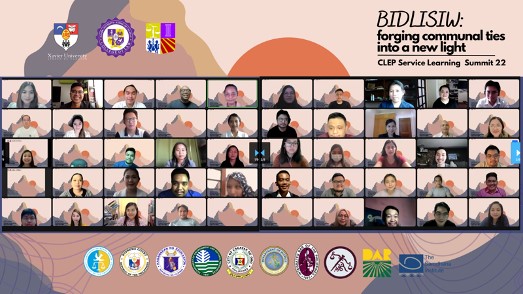 On the 14th of May 2022, Xavier University – College of Law held its very first CLEP Service Learning Summit entitled, "BIDLISIW: forging communal ties into a new light," a culminating event for all the projects launched under CLEP. Bidlisiw is a Cebuano term meaning "the first rays of light." CLEP, is short for Clinical Legal Education Program, which is in compliance with Rule 138-A of the Supreme Court which requires law students to engage into different marginalized sectors and civil society organizations to help them better appreciate the law and the legal processes.
The event was opened by Atty Ernesto Neri, Director of XU Center for Legal Assistance. He remarked that even as students got lost in the heavy responsibilities of law school, he hoped that they saw the ray of light in their varied experiences under CLEP. He views the program as a tool of innovation, preparing all aspiring lawyers to be of service for others.
Dean Silvia Jo Sabio of the College of Law also expresses her gratitude towards the people behind CLEP. She commends the enthusiasm and efforts of the students as well as their desire to deepen their understanding of how to become men and women for others within the legal context.
This year-long experience of the law students -- also called as student practitioners for this purpose -- was divided into Rights Literacy Seminars (CLEP 1) and Community Engagement and Capacity Building (CLEP 2). The former program dealt with smaller groups who sought out partner sectors while the latter dealt with communities in a larger scale by drafting policies, training youth leaders and organizing advocacy projects. For this year, CLEP 2 engaged three areas, namely: paralegal youth formation, Climate justice, and democracy and election. Paralegal youth formation offered short course to youth groups and developed a legal aid manual. Climate Justice includes training environmental defenders in some municipalities in the CDO river basin, crafting implementing rules and regulations, and promoting environmental laws in social media. Democracy and election on the other hand offered paralegal training course to local journalists, organized a LENTE (Legal Network for Truthful Elections. ) chapter, and organized forums on disinformation. As an additional component, 30 students have also been deployed to different legal offices and partner institutions as part of the pioneering externship batch.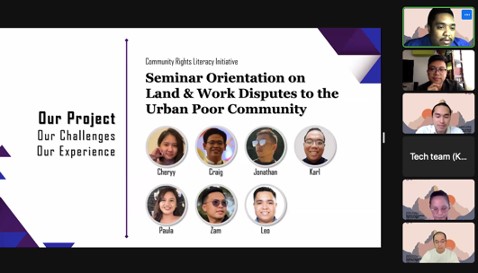 During the summit, students shared their experiences in CLEP 1 and 2, as well as in their externship assignments. Despite the struggles entailed by the pandemic, student practitioners persevered in delivering seminars, responding to the participants' questions, giving light to the current issues, and distributing legal materials. These were all accomplished not only within the City of Cagayan de Oro but even reaching distant towns in Bukidnon and CARAGA Region via online platforms.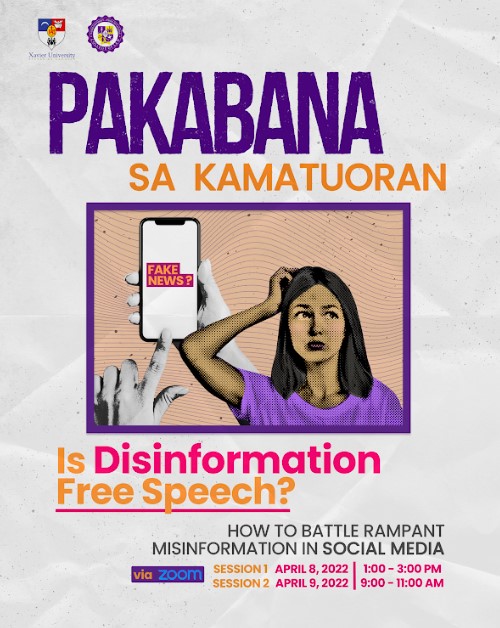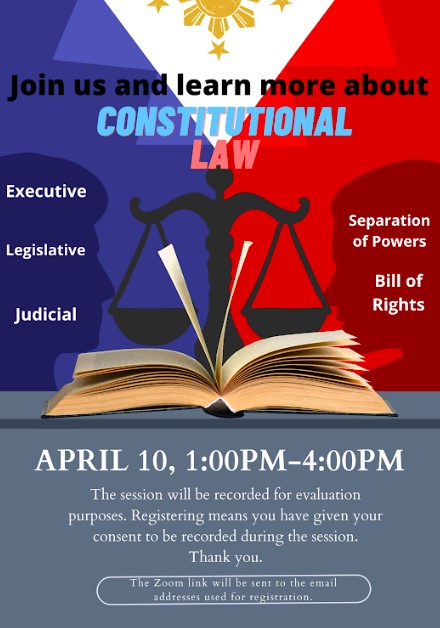 Here are some examples of the groups' promotional materials
Truly, CLEP is an instrument for law students to gain practical learning and knowledge not only in court procedures and processes, but most importantly, in understanding the needs of different communities and its people. It sheds light on how classroom teachings can be applied by students to real-life legal problems.
In closing the event, Fr. IJ Chan-Gonzaga, SJ, JD lauds the student-practitioners on making an impact in the lives of the communities and people they met through the program. For him, CLEP is beyond a mere requirement. It is an eye-opening journey that widens the horizon of law students.
Indeed, CLEP is a constant reminder for law students on why they pursued lawyering. It is an opportunity for students to enter into people's lives and address their problems through the law. In the process, they put into action their legal knowledge and skills thereby deepening their understanding and appreciation of their future profession. It is also a means to encourage public service in the hearts and minds of our future attorneys. And this service learning summit is an enriching tool for all the student practitioners wherein they can encapsulate their experiences to become atenean lawyers for others.