Written by : Bernadith Uy Lao
Last 03 June 2022, the XUGS Preschool Department held its Moving UP ceremonies and Prayer Services for its SY 2022-2023 Kindergarten pupils. Out of 156 Kindergarten completers this year,13 pupils and their parents were around onsite to join the services held at the XUGS Chapel. As expected, strict protocols were implemented in the light of the current pandemic. XUGS chaplain, Rev Fr. Arman B. Samonte, SJ engaged the pupils by asking them to interactively express their love and gratitude for God, their families, teachers, and everyone around them.The prayer services concluded with the kindergarten completers' lively singing of the finale song, "Jesus Loves Me"
Other than the prayer services, the entire Awarding Ceremonies was pre-recorded last May 30. The whole event was live streamed via the XUGS Official FB Page with the help of the Powerhouse Production team and Mr. Paulo James C. Fabrigar, XUGS Campus Minister.
For her opening remarks, Preschool Coordinator, Ms. Bernadith U. Lao highlighted the pupils' expressed love for learning, which she said facilitated acquiring for themselves, essential skills; and embodying the XUGS core values of Christ-Centeredness, Competence, Compassion, Commitment, and Cultural-Integration which will help the pupils as they move on to the next level.
For her part, Kindergarten pupil Jillian Audrey T. Dagoyo of Kinder- Mapagmahal spoke on behalf of the kindergarten completers. She expressed her joy and pride while reflecting on the wonderful memories and activities with her classmates. She looks forward to the day when pupils will be able to see each other again face-to-face and continue to embrace the world of learning only here at Xavier Ateneo.
Another pupil Wyllianne Hariette P. Un of Kinder Maunawain delivered her words of thanks for everyone involved in shaping their future. She expressed her gratitude to the school that despite the challenging times brought about by the pandemic, providing quality Ateneo education was made possible for them. She reminded all completers to always be grateful for everything and to all people who helped them reach their goals. journey.
The Kinder Moving Up for SY 2021-2022 was also participated in by XUGS principal, Rev. Fr. Frank Dennis B. Savadera, SJ together with other school administrators and staff, parents and relatives of our Kindergarten pupils.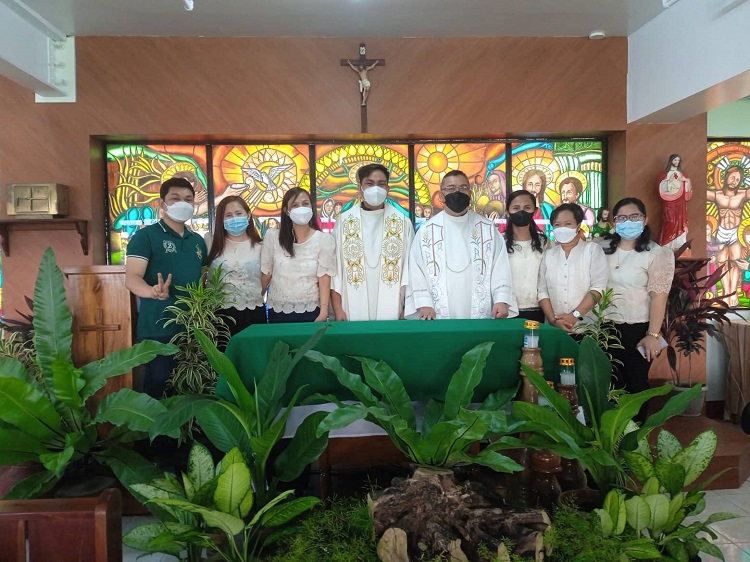 The preschool teachers headed by Ms. Bernadith U. Lao together with XUGS principal, Fr. Frank Dennis B. Savadera, SJ, XUGS chaplain, Fr. Arman B. Samonte, SJ, XUGS campus minister, Mr. Paulo James C. Fabrigar, and our Prayer Service commentator, Ms. Vironica T. Maramara.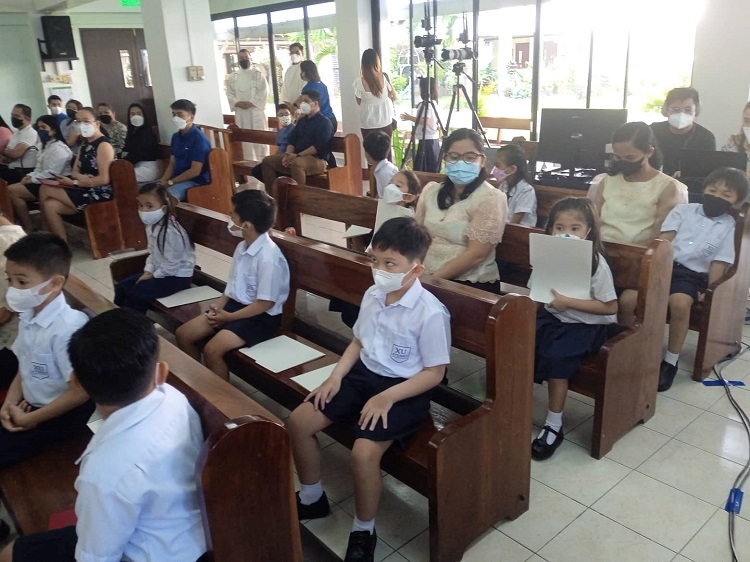 The select pupils in their sitting arrangement getting ready for the prayer service to commence.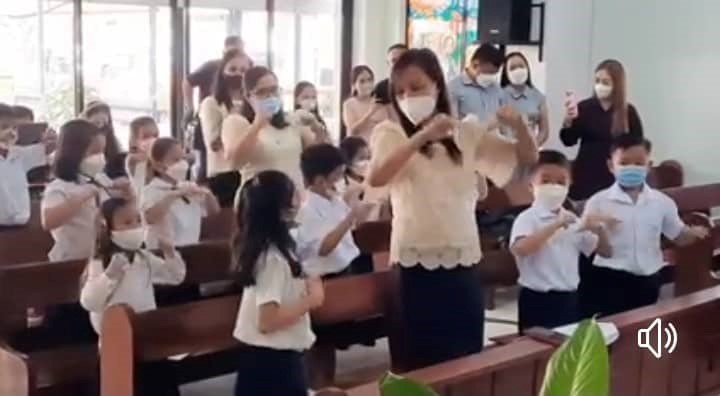 Kindergarten Prayer Service readers lively singing their finale song entitled, "Jesus Loves Me."