In recognition of Xavier Ateneo's efforts and initiatives to help achieve the objectives of the National COVID-19 Vaccination Program and Deployment Plan, the Commission on Higher Education gave the award for Outstanding HEI for COVID-19 Vaccination Program to the university last July 19, 2022 at the Philippine International Convention Center, Pasay City. The award is given by the Commission, through the Office of the Executive Director and in partnership with CHED-NCR and the Office of Planning, Research, and Knowledge Management.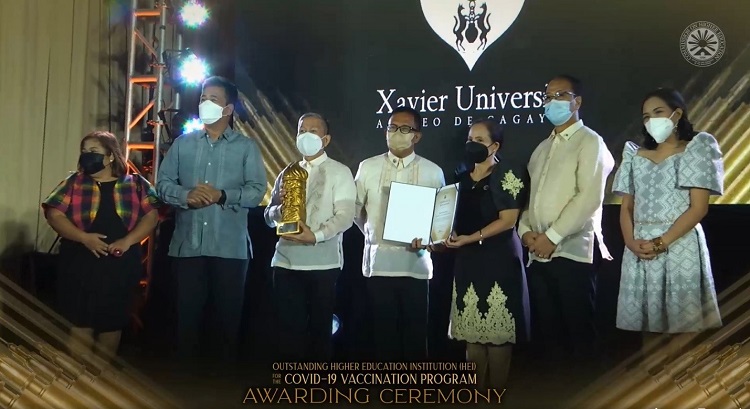 From left to right: CHED Deputy Executive Director Atty. Milla, CHED Chair De Vera, Xavier Ateneo VP for Admin Mr. Edison Sasoy, CHEDRO-10 RD Bernal, CHEDRO-10 Supervisor Dr. Minguez, Secretary Galvez, CHED Executive Director Atty. Jaro
Xavier Ateneo was the recipient from Region X, among fifteen (15) other HEIs representing the other regions from the Philippines. Outstanding HEIs have very high vaccination rates of at least 95% of the total number of faculty and staff and more than 70% of the total number of tertiary students, according to CHED. The outstanding HEIs also worked in active partnerships with government offices and private institutions to increase vaccination rates in their respective local areas.
Mr. Edison Sasoy, VP for Administration, received the award on behalf of the university. He was assisted by Dr. Freddie Bernal, Director of CHED Region 10, and Dr. Amapola Minguez, Education Supervisor of CHED Region 10. The ceremony was also joined by former National Vaccine Czar Sec Charlie Galvez.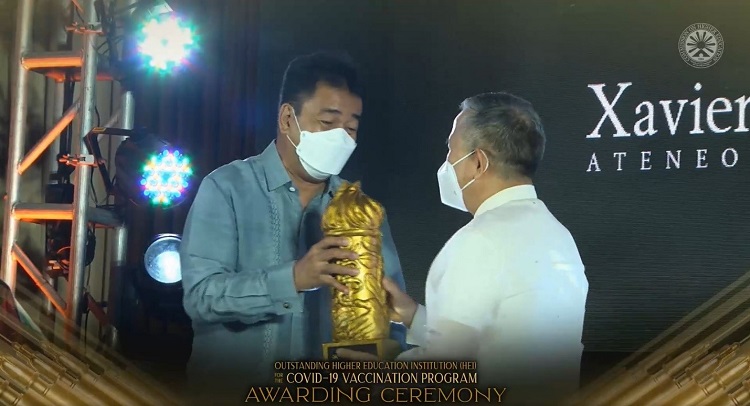 Mr. Edison Sasoy receiving the award from CHED Chair Popoy de Vera
As of July 2022, Xavier has inoculated 79.81% of it students, 97.22% of its faculty, and 95.77% of its non-teaching staff. Aside from members of the university, Xavier has also vaccinated members of the general public during its Vaccination Program in collaboration with the City Health Office and the Department of Health.
"These awardees are the "best of the best" exemplifying the Bayanihan spirit by forging unity and cooperation among key stakeholders to expedite the vaccination against COVID-19 of their students, faculty, and non-teaching personnel," said CHED Chair Popoy De Vera.