The Class of 2022 of Xavier University-Ateneo de Cagayan experienced yet another milestone last July 20 with the successful conduct of the hybrid platform for its 83rd Commencement Exercises kicking off with a Baccalaureate Mass with the Most Reverend Jose A Cabantan, DD, Archbishop of Cagayan de Oro as main celebrant.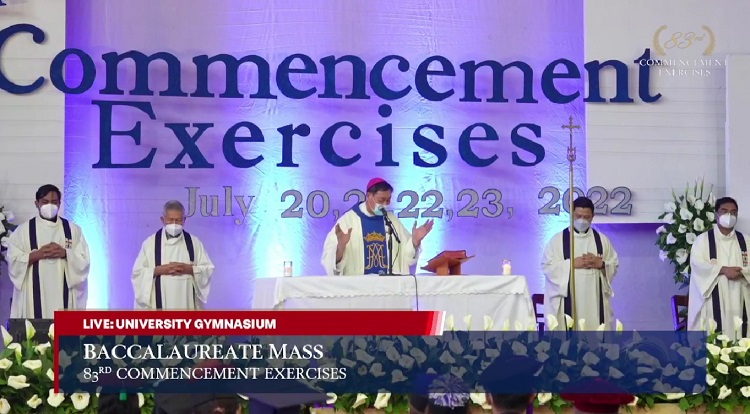 (L-R: Fr. Arman Samonte SJ, Fr. Mateo Sanchez SJ, Arch. Jose A Cabantan, DD, Fr Mars P Tan SJ, Fr. Amado T Tumbali, Jr SJ )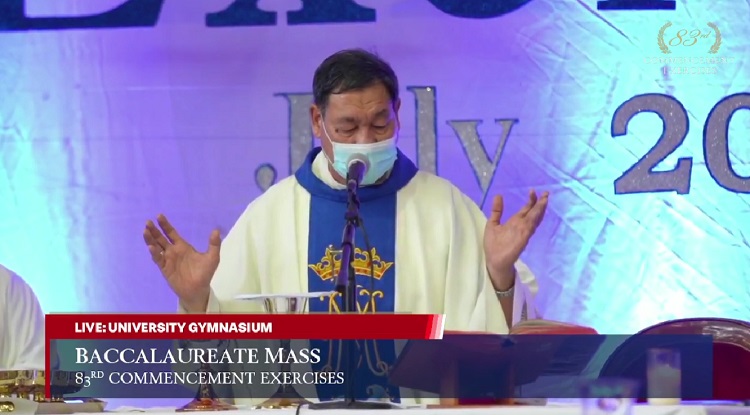 (Arch. Cabantan as the main celebrant of the Baccalaureate Mass)
"Dear graduates, we can resonate well with the readings today on the vocation and mission of the young Jeremiah as a prophet. Though he found himself unworthy of the call, […] the Lord chose him to be his spokesperson before Israel including the elders of the community. This tells us that a vocation is a gift indeed from the Lord. It is not dependent on the merits of one person but it relies on God himself who calls us and knows us even more than we know ourselves. Dear Graduates we are also reminded of our own fundamental vocation as Christ's disciples. As God's beloved children we too are called as missionary disciples. The various professions you accomplish today is God's way of calling you among his disciples in mission," Archbishop Cabantan shared in his homily.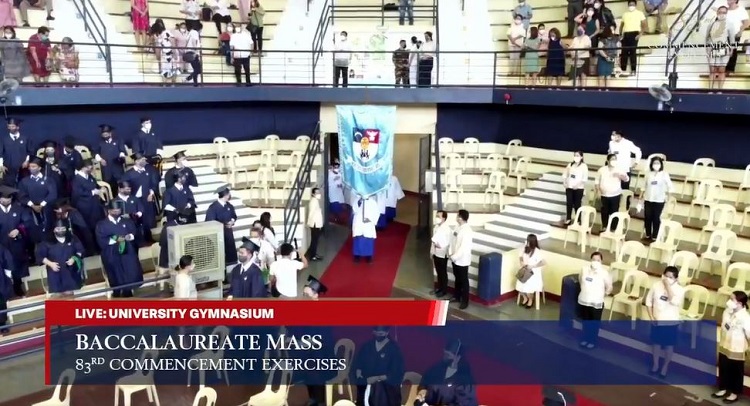 The early morning Mass gathered selected graduands from the different colleges with their parents, the CSG President, faculty, administrators, and Convocation awardees. It was held at the usual graduation venue, the XU Gym.
The four-day graduation ceremonies are significant for Xavier Ateneo as it officially transitions to hybrid mode of activities for the upcoming school year. Aside from the onsite commencement ceremonies, the events are livestreamed on the Xavier Ateneo Official FB Page.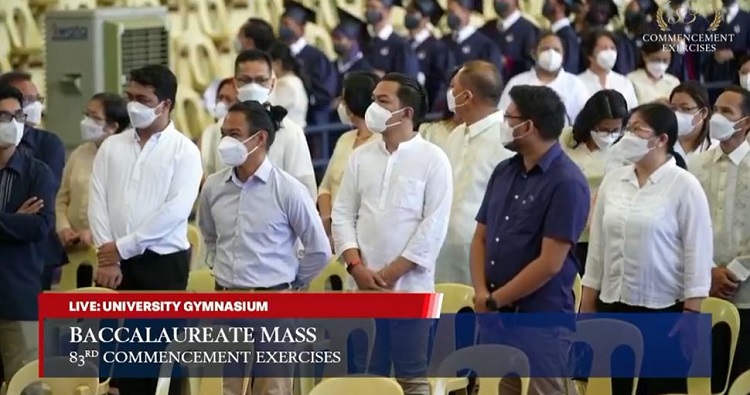 This year's university commencement gathers a total number of 1,598 graduates with 292 students receiving Academic Honors and 145 Loyalty Awardees. The Class of 2022 is composed of the first batch of graduates from the K12 program who also had to go through the extraordinary challenge of 2 years of online learning, thus they are dubbed "The Resilient Batch."