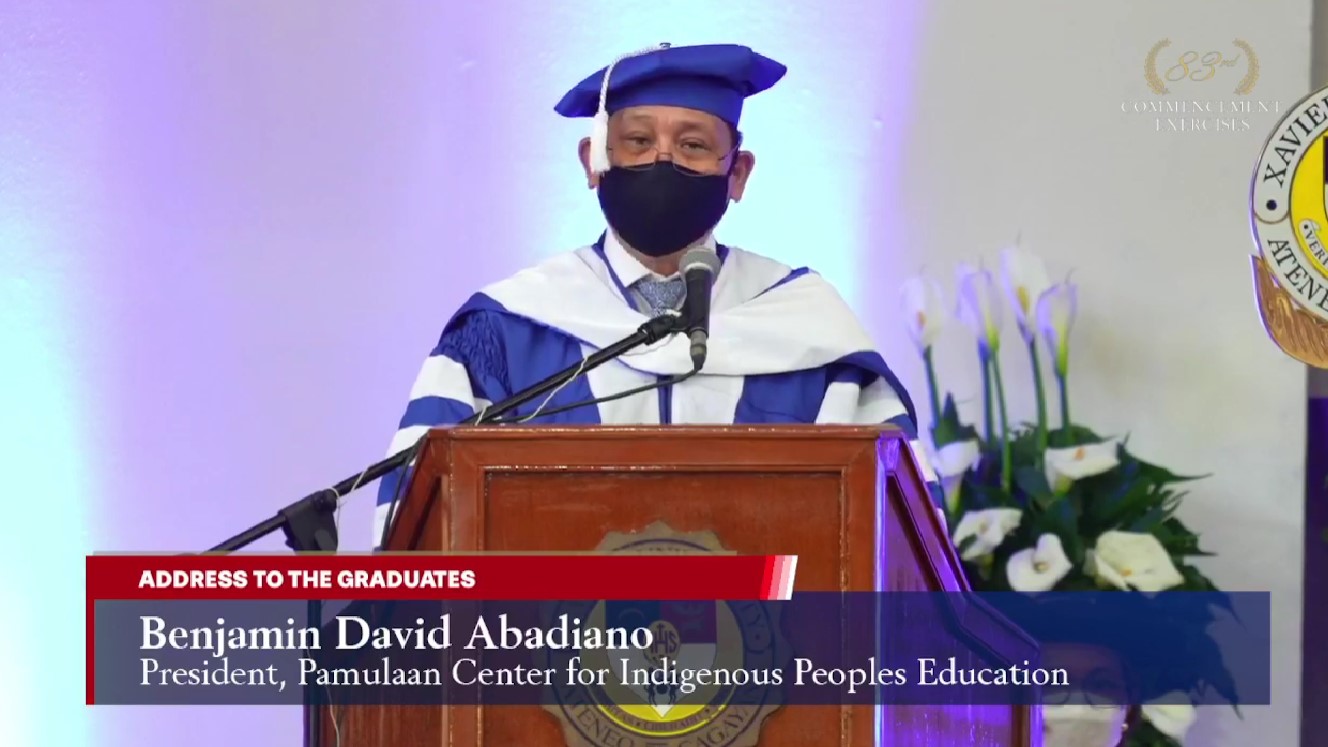 Mr Benjamin Abadiano delivers his commencement address to the Class of 2022
Xavier Ateneo's 83rd Commencement Exercises last July 20, 2022 recognized four different individuals who share one common mission and achievement - witnessing the values of love and service and doing great service to the cause of humanity for God's greater glory.
Following the approval of the Board of Trustees of Xavier University – Ateneo de Cagayan, the Archbishop Santiago T G Hayes SJ Award was given to Fr Mateo A Sanchez, SJ, in recognition of his praiseworthy service to the Church, especially among God's poor in Mindanao and also for his sincere engagement with the Lumad in Bukidnon and spiritual companionship to both clergy and lay, which undoubtedly contributed to the building of the Church in Mindanao.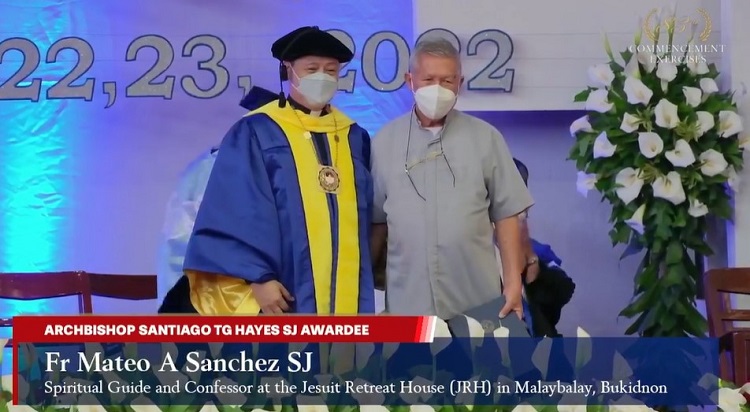 Fr Mateo Sanchez SJ receives the Archbishop Santiago TG Hayes award for his service to the Church in Mindanao
"I felt honored and grateful that my long work in spiritual formation and my service for the poor especially the Lumad was now being acknowledged and rewarded." shared Tatay Mat as he is fondly called.
GK Kusina ng Kalinga – Mindanao Chapter is the recipient of the William F Masterson SJ Award in recognition of their service to the mission to address chronic hunger and malnutrition among the marginalized sectors of our society, particularly in Mindanao (Filipino children ages 0 to 12 years old and pregnant and lactating mothers), and of the efforts of the organization in building caring communities to nurture the future of our country. "Hunger is a big monster. But we should not allow our problems to be bigger than our solutions. We should not allow what give s despair to be bigger than what gives us hope. Hunger ends when caring begins." emphasized Mark Lawrence Cruz, Team Leader of GK's Kusina ng Kalinga in his message after receiving the award.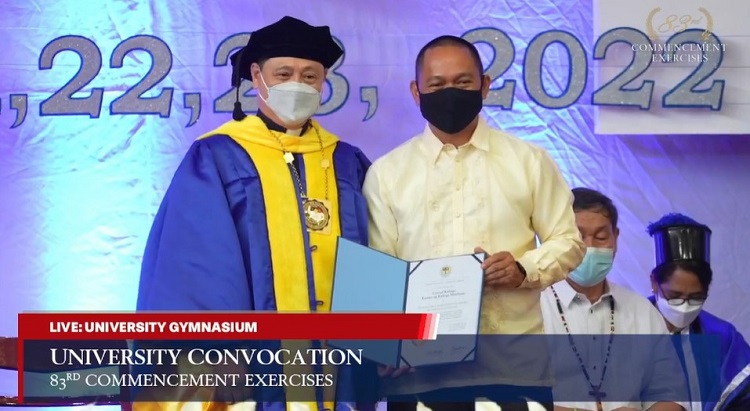 Mr Mark Lawrence Cruz receives the Fr William Masterson SJ award on behalf of GK Kusina ng Kalinga for contributions to social development
The Fr Francisco R Demetrio SJ Award was also given posthumously to the late Dr Erlinda M Burton, in recognition of her praiseworthy contribution to the promotion and enrichment of Filipino culture and arts. As Xavier University's former researcher and Museo de Oro Curator, the late Dr Burton sought to preserve and sustain the legacy of Fr Francisco Demetrio SJ through her tireless work in the preservation of Cagayan de Oro's history and heritage. In her lifetime, she sought the stories of the Lumad, exhibiting the best traditions of ethnographic research in her discipline.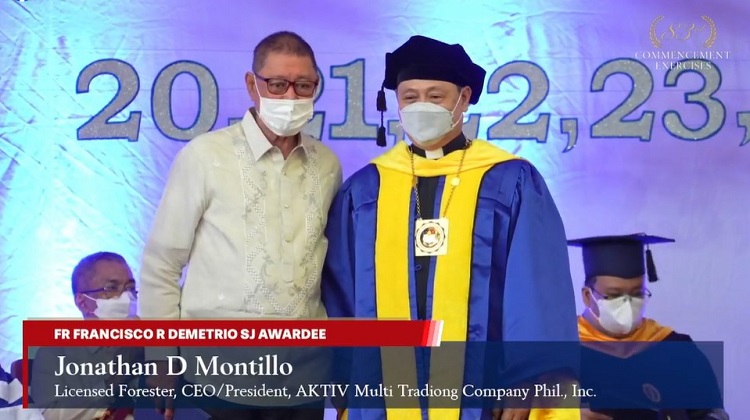 Engr Jonathan Montillo receives the Fr Francisco R Demetrio SJ Award on behalf of his sister, the late Dr Erlinda Burton for contributions to culture and the arts
The award was received on her behalf by her brother Engr Jonathan D Montillo who shared, "Even in her deathbed she told me she wants to work on a book that will guide the Manobos of Bukidnon, Mindanao for the improvements of their lives. And she told me that what she has done is the only legacy she could leave for me and my family. Love selflessly for the sake of humanity."
Finally, Xavier Ateneo conferred the Doctor in Sociology, honoris causa upon Mr. Benjamin David Abadiano, an alumnus of the university and greatly influenced by his mentor Dr Burton.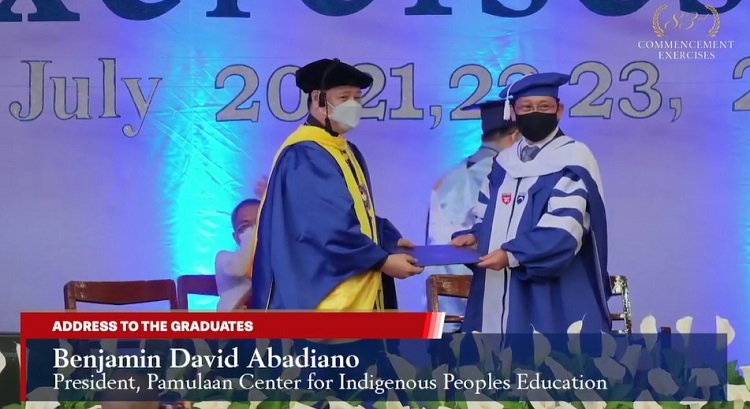 Mr Benjamin Abadiano is conferred Doctor in Sociology, honoris causa
He is lauded as the architect of indigenous peoples' empowerment through education, and has chartered indigenous people to become leaders of progress rooted in their culture and heritage. "We your teachers, formators, fellow alumni and elders are inviting you to participate in this ongoing mission of bringing a nation where every Filipino gets to experience the goodness of life. And of God because they live in a society where there is truth, justice and faith," Dr Abadiano shared in his commencement speech for the graduates University president Fr Mars P Tan, SJ also highlighted the significant contributions of each awardee in his speech and encouraged Class 2022. "Xavier University hopes that you, this year's class of graduates, will seriously consider pursuing the same dream they dreamed of, trudging the same less travelled road they take."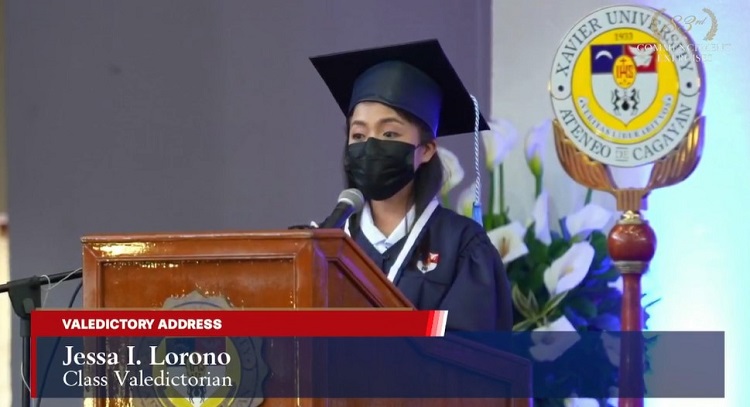 Class Valedictorian Jessa Lorono from the School of Education delivers the valedictory address
Also during the Convocation, this year's Class Valedictorian Jessa I Lorono, summa cum laude from the School of education expressed her gratitude to Xavier Ateneo for her holistic formation and inspired her fellow graduates with her valedictory message "Our mission is to be men and women for and with others. Being a person for others is being able to see everyone with the eyes of love. Our goal is to open our hearts and minds into a habit of reaching out to today's and tomorrow's global society. "