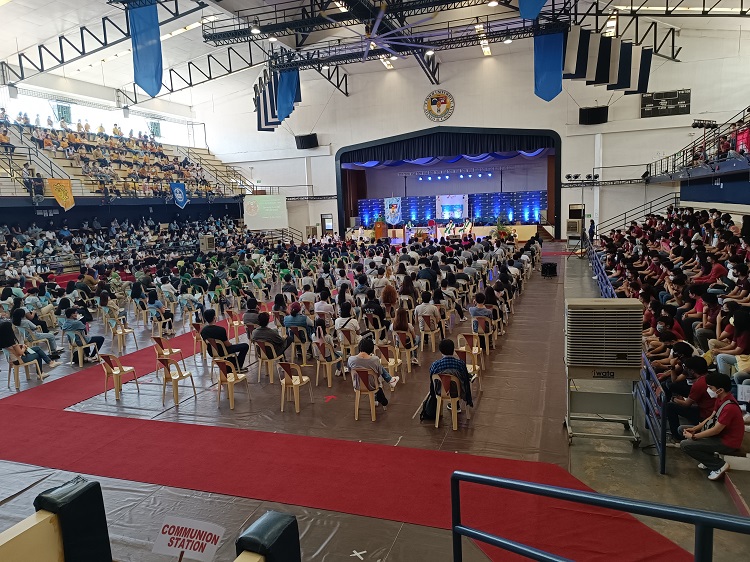 The Xavier University gymnasium was once again jampacked as Xavier Ateneo conducted the ORSEM (Orientation Seminar) 2022 on site and no longer in a virtual platform which has been the case for the past 2 years.
Starting off with the Eucharistic celebration at 9AM with University President Fr Mars P Tan, SJ as presider and with Fr Amado Tumbali Jr SJ, Fr Arman Samonte SJ and Fr Ismael Jose Chan-Gonzaga III IJ Chan Gonzaga III as concelebrants.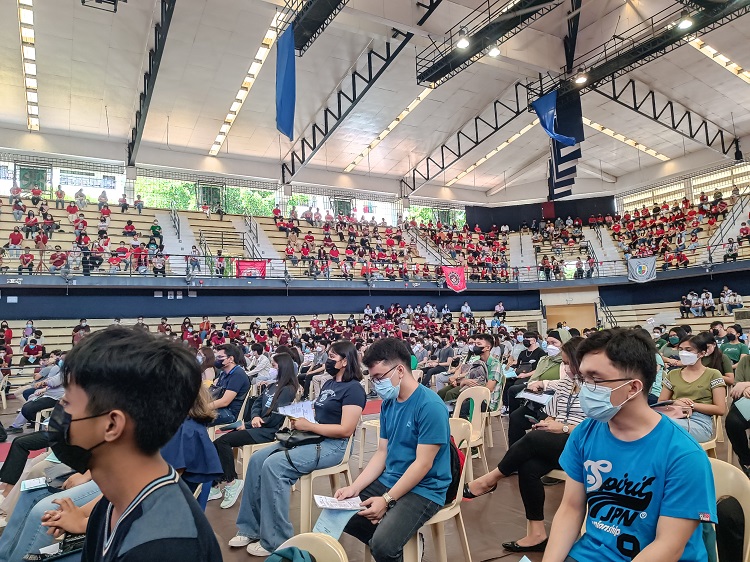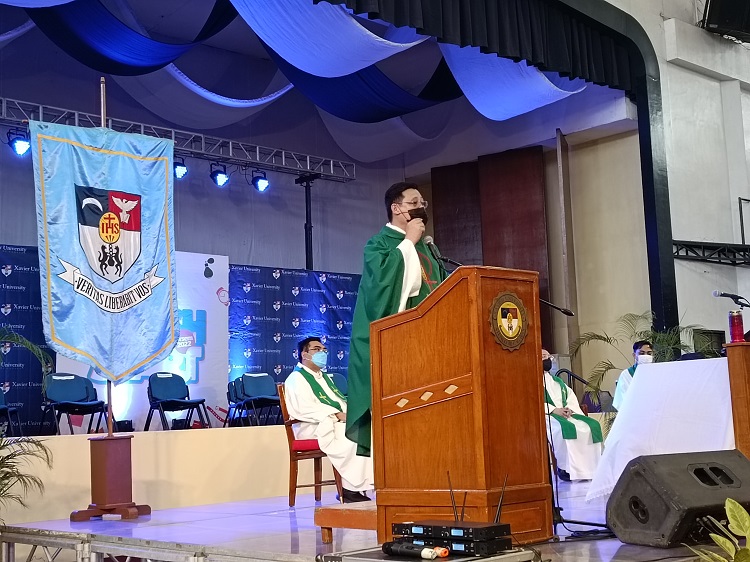 Fr Mars in his homily, inspired the first year students to pursue their search in their new journey with Xavier Ateneo, by first knowing what it is they value most. And even if the journey is never certain, its results, however, would be largely determined by their own efforts and commitment to that which they value most. "The object of your search is a true reflection of what you hold dearest in your life" Fr Mars added. Later, Fr Mars made it clear to them, the students, that their "pearl of great price" (Gospel: Matthew 13:44-46) was no other than their success in their studies at Xavier Ateneo.
He also assured the freshmen students from the different colleges, of his support and prayers along with his fellow Jesuits, the administrators, faculty and entire Xavier Ateneo community. "Take the journey together with God and together with the entire Xavier community. You will not be alone..." Fr Mars emphasized.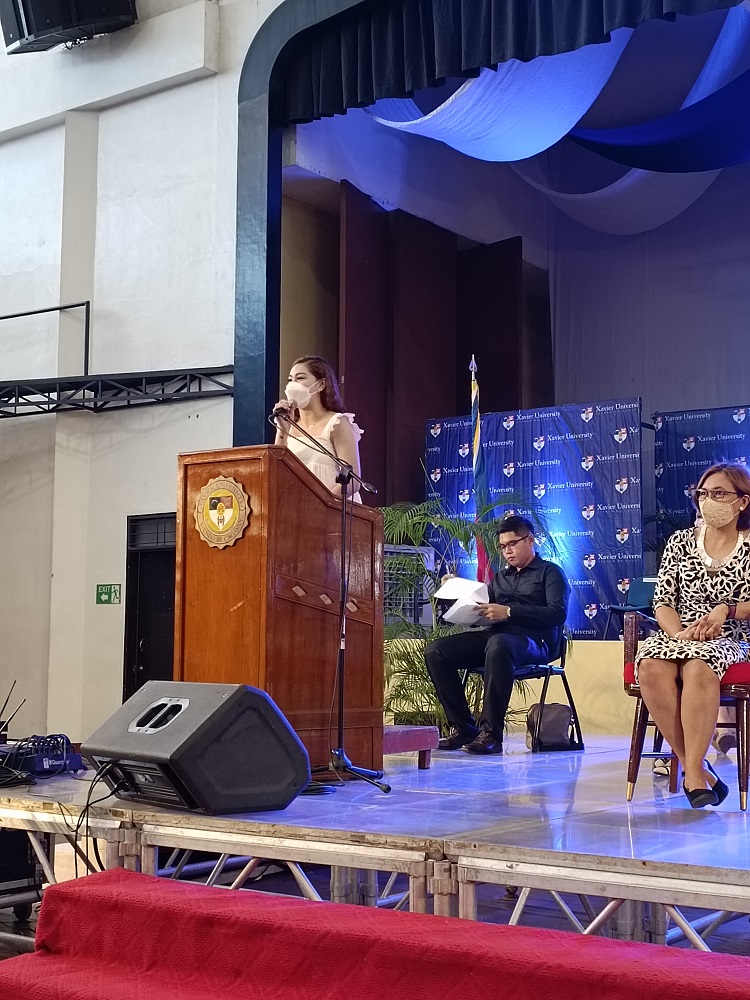 Right after the opening Mass, the academic convocation was held and it served as the official welcome of the University with Fr Mars acknowledging the freshmen as the "best of the best" for they made it from among the more than 5,000 who applied for admission. He told the excited freshies who donned on shirts with their college colors, that there were many opportunities for growth in Xavier Ateneo and they too would emerge as well-rounded Ateneans just like the more than 1,500 graduates who got their diplomas in last week's Higher Education graduations.
All the administrators and academic cluster officials were also introduced by the Director of the Office of Student Affairs, Ivanell Subrabas shortly before the closing of the convocation. Different activities were also held in the afternoon in different areas in the campus, making it come alive and giving Xavier Ateneo a fresh start indeed.
========================================
Homily from Xavier Ateneo ORSEM 2022 Mass
(Matthew 14:44-46)
My dear students, allow me to share with you my reflection on the Gospel today, about the Pearl of Great Price in the context of the start of your journey at Xavier Ateneo. In a way, each of us is called to search for that which is most important for us, the one which gives meaning to us and to our life.
Today you begin or continue your journey as a student of Xavier Ateneo. It's a journey that many of you are excited about but with some reservations and fears, maybe, because you are new to the school, its environment, and its community. Moreover, it's a journey that offers each of you many expectations and may give you a good number of surprises through your years of studies. But it's also a journey that you do not know how it would turn out in the end. Will it be a journey of success or a journey of failure? It's exciting, it's scary too!
Nothing is certain yet for now. However, what is certain is that the result of the journey is largely determined by you, your effort, and your commitment to making it successful.
Three important things to remember in your journey as you search…
Your journey is a search– your journey is a search for something; something that is important to you, something that gives you happiness. You may want to ask the question now, what do you want to find here at XA, in the program or course that you've chosen, in your community of friends that you'll have? The search may begin with something like new friends, new adventures, new learning, new skills, new love interest, etc. and that you think is most important to you but later you realize there are ones better than the previous ones like faithful friends, important adventures, essential learning, useful skills, and true love. My point is that a search is a process, the ones you find now may not be the final ones you'll keep and treasure forever.
The search brings you to your most important goal in XA. In your journey here at XA, you also learn and discover many things, and these hopefully will lead you to growth and maturity. That is why your object of search may keep on changing depending on what you value and see as most important for you in life. The object of your search is a true reflection of what you hold dearest in your life. If you only search for happiness, pleasure, worldly satisfaction, enjoyment, and carefree life, then you may end up with those and nothing more. They are not bad per se but they do not become the ultimate and final object of your search. In the context of education, those things will not bring you to your true success in studies, they might even become hindrances to your goals in life. My point here is that every search has a goal. Every student has to be clear on what he/she aims to find and attain in XA. Every student has to set his/her aim at the pearl of great price. What is your pearl of great price in XA?
The search involves sacrifices to reach and claim the goal. A search is a very challenging work. A searcher works hard to find and claim his pearl of great price. Each student has to work hard to claim the price, this means that he/she has to be ready to spend hours of studies, days and weeks on requirements, months on final reports, and years of toils to pass all her/his subjects. The student makes all sacrifices to claim the price and forgoes night-outs, parties, and other activities to be able to focus his /her attention and energy on his/her studies. The Gospel today aptly describes this as the merchant who sells everything he has to be able to own the pearl of great price.
Last week we had a 4-day marathon of graduation ceremonies for a total of 1500 graduates. You watch the program on FB to get a very good experience of graduates who finally won their pearls of great price, see the joy, the thrill, and the satisfaction of each graduate.
My dear students, receive my prayers for each of you in your journey at XA. Be sure to set your eyes fixed on the pearl of great price, your success in your studies, and be ready to endure challenges to become victorious at the end.
Finally, this is a journey you take together with your God and the entire XA community. You will not be alone in your journey.
May God bless us all.