By Hannah Joy T Luyao, Office of the President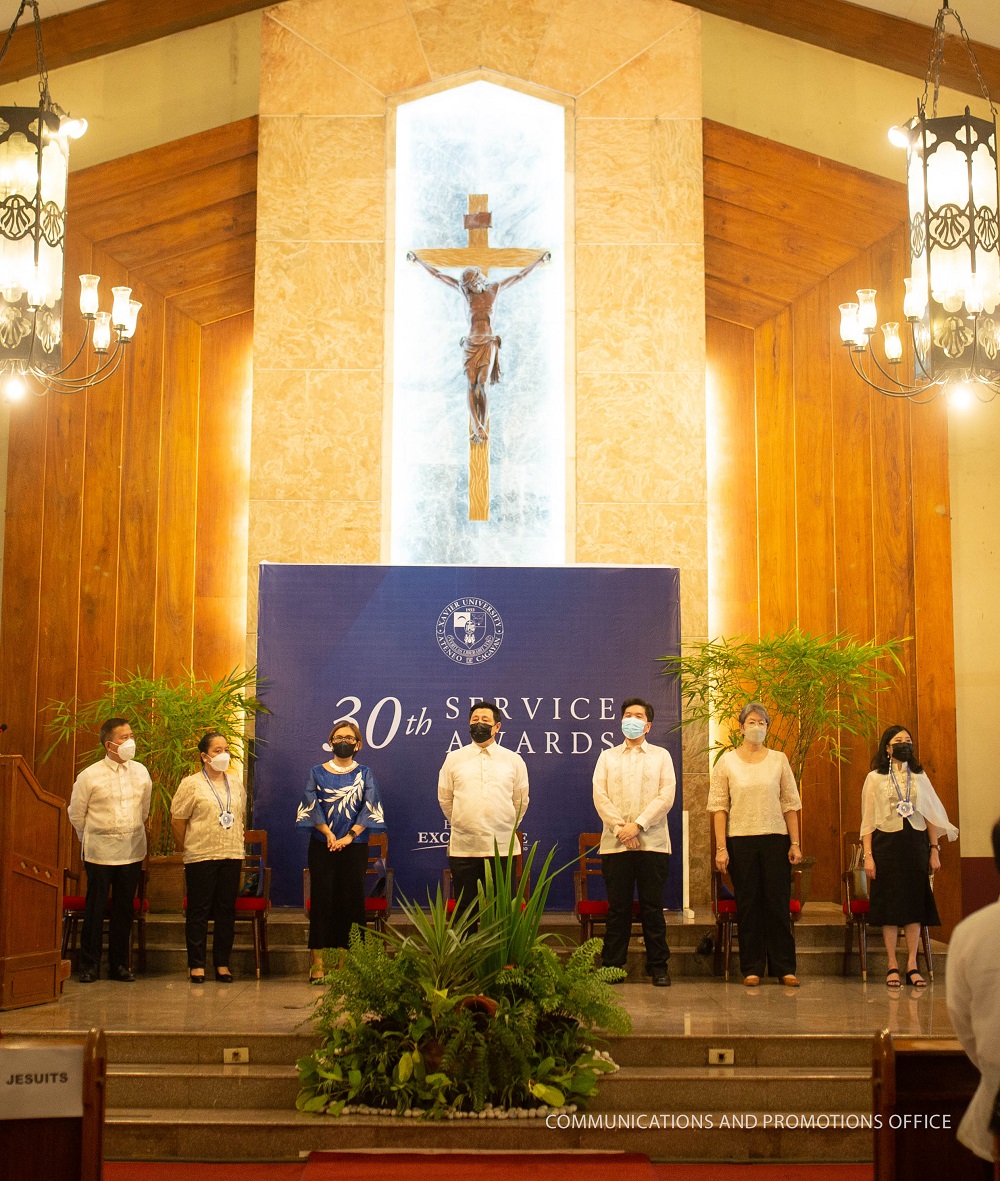 L-R: VP Admin Edison Sasoy; Executive Assistant to the President Libby Abesamis, DPA; OVPHED Juliet Dalagan, PhD; XU President Father Mars Tan, SJ; VP for Social Development Engr Dexter Lo; VP for Basic Education Dulce Dawang, PhD; Treasurer Engr Lennie Ong
On January 25, 2023, the entire Xavier Ateneo community gathered to honor its employees in the 30th University Service Awards Program.
The annual program recognizes and awards employees who have been with the University for five, ten, fifteen, twenty, twenty-five, thirty, thirty-five, and forty years. It also specially awards employees who are formally retiring from service.
This year, a total of 187 awardees were able to receive their certificates and corresponding University gift at the University Chapel.
The program began at 3:00 PM, with awardees donning formal attire and their colleagues cheering them on as they went up the stage to receive their respective awards from University President Fr Mars P Tan, SJ.
Engr Dexter S Lo, Vice President for Social Development, welcomed everyone to the program. He shared that the Chinese character for the word "serve" is wu, which is composed of two radicals. The top radical means "go" or "proceed," while the bottom radical means "power" or "energy." Engr Lo relates it to the Service Awards Program, as it is "a celebration of our friends' steadfast energy for the mission," which is Xavier Ateneo.
In his address to the awardees, Fr Mars P Tan, SJ shares that Xavier Ateneo, now on its 90th year, has always practiced excellence and service. He emphasized that excellence is also another name for Magis – "the more, the better, and the greater" – and that service is "the actual expression of excellence in the context of a human community."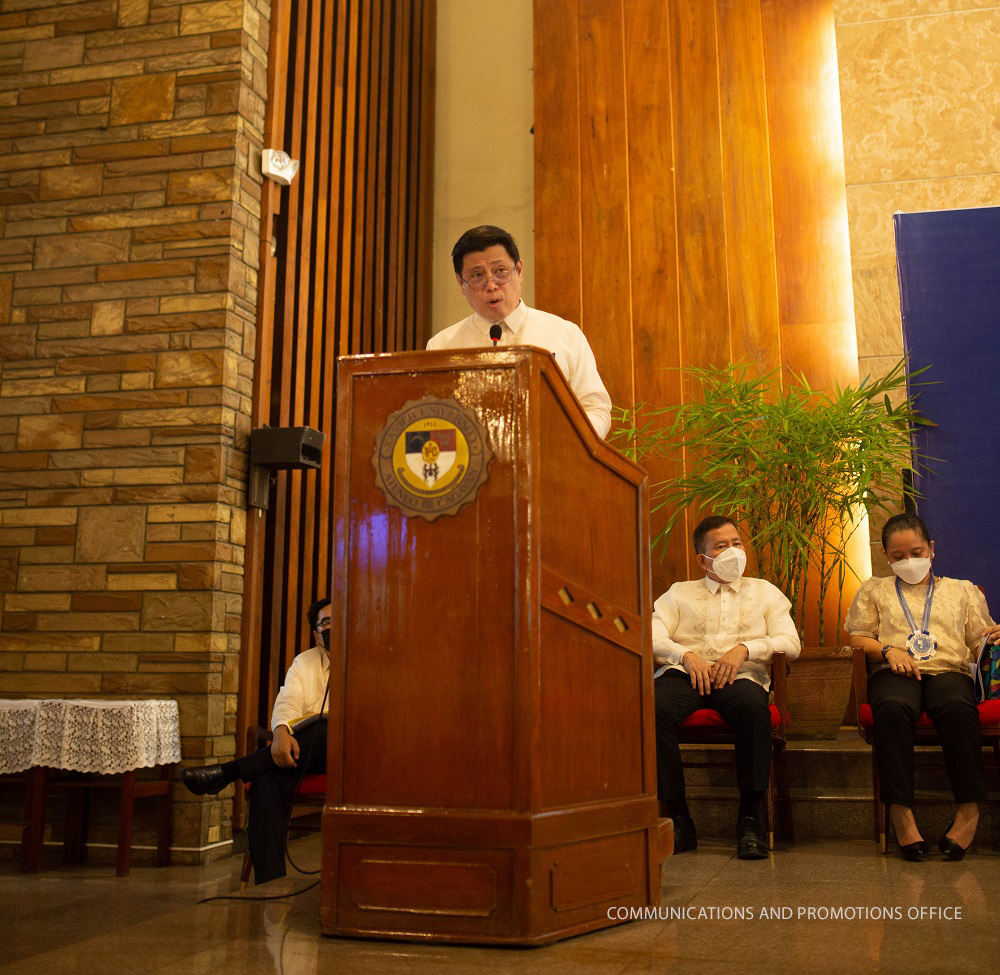 Fr Mars reminds the community to remember what excellence really means: "Excellence or Magis is not just about doing more and getting higher on the ladder of success. Magis in Ignatian spirituality is first and foremost about spiritual excellence, giving our best to be more and to do more for God's greater glory through our service to humanity."
Thus, Ignatian excellence is measured "not by accomplishments but by generous service to others."
Fr Mars ended his address by thanking the awardees for their contributions to the university. He hopes that during the awardees' and retirees' stay in the University, they have acquired a much better way of looking at life – a life defined by excellence and service.
The awardees and retirees also shared their response to the address, which was delivered by the Dean of the College of Arts and Sciences and awardee for thirty years in service, Dr Judy P Sendaydiego. In her response, she shares three reasons why she and the awardees chose to stay and dedicate their service to the university.
First, Xavier Ateneo is a refuge. Aside from the welcoming façade and environment of the school, employees also find a sense of community with their colleagues and friends.
Second, employees can always find things that fill them with gratitude. Be it the support in educating their children, or support for academic development and spiritual formation, there is always something that "we can be grateful for during our stay in the university."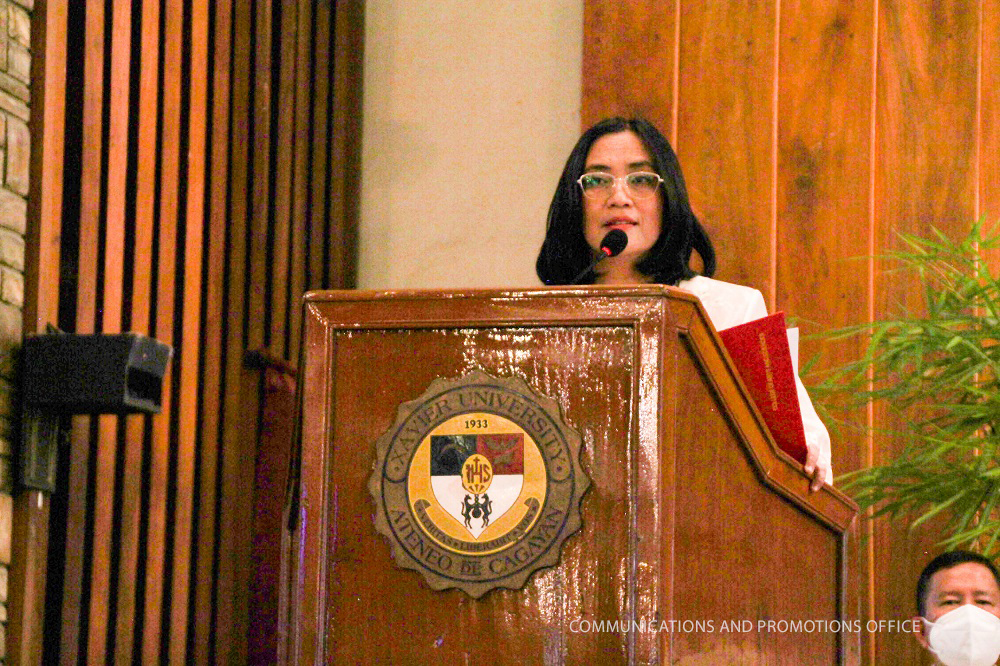 Finally, being in Xavier Ateneo is an opportunity to share the mission of Jesuit education. Though working day to day can become tiring and stressful, Dr Sendaydiego encourages everyone "to look at the bigger picture and see if there are emerging needs in the community and environment that we can be of service." For her, being willing to serve for God's greater glory is something that everyone at Xavier Ateneo can always be proud of.

30 years awardee Dr Carthelyn Adajar of the English Department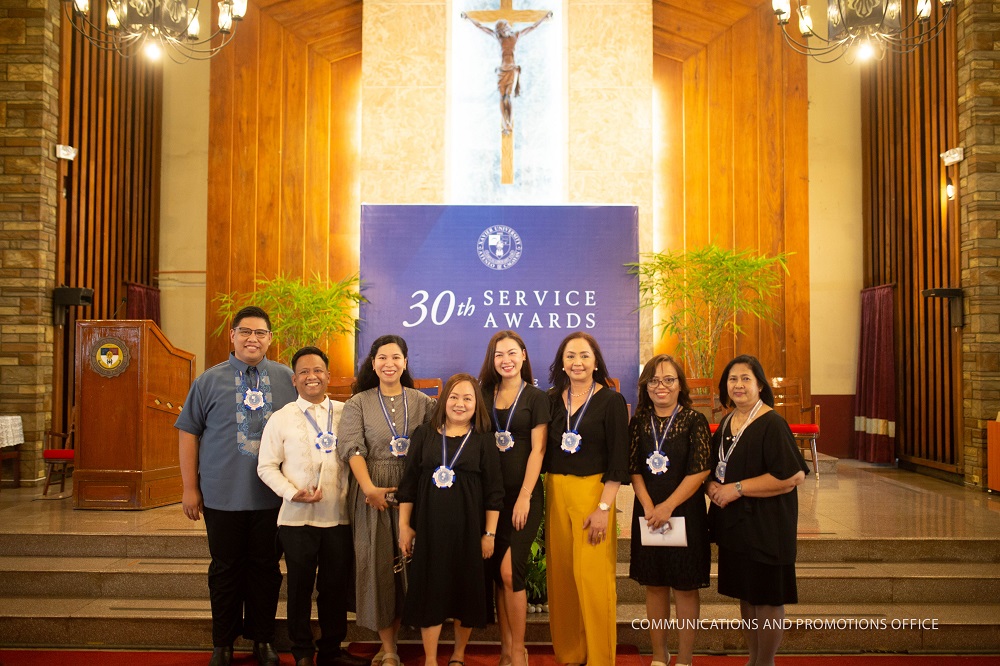 Awardees on the 30th Xavier University Service Awards
The University Service Awards Program is a great reminder every year to be thankful for the service of Xavier University employees – for the selfless effort and work that they have dedicated to the University for a long period of time. It is also a way for the XU community to remember that their service and work are for the greater glory of God.