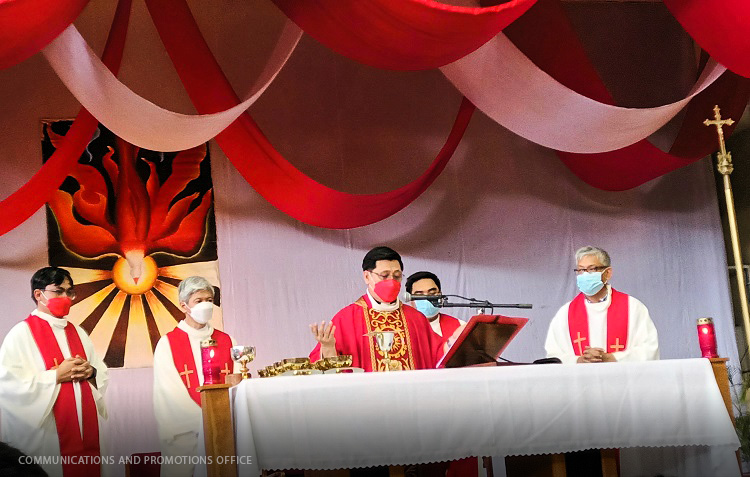 As part of the centuries-old Jesuit tradition of welcoming the new academic year, Xavier University-Ateneo de Cagayan celebrated the Mass of the Holy Spirit on September 1, 2022 at the university gymnasium. XU President Fr Mars P. Tan, SJ presided over the Mass, concelebrated by University Chaplain Fr Gabriel Gonzalez, SJ, who delivered the homily. Other concelebrants were Fr Amado Tumbali, SJ of the History Department, Fr Roberto Sian, SJ of St John Vianney Theological Seminary, and Fr Arman Samonte, SJ, co-chaplain of the XU Basic Education unit. Administrators, faculty, staff and students, who wore the symbolic color of red, joined the annual Mass.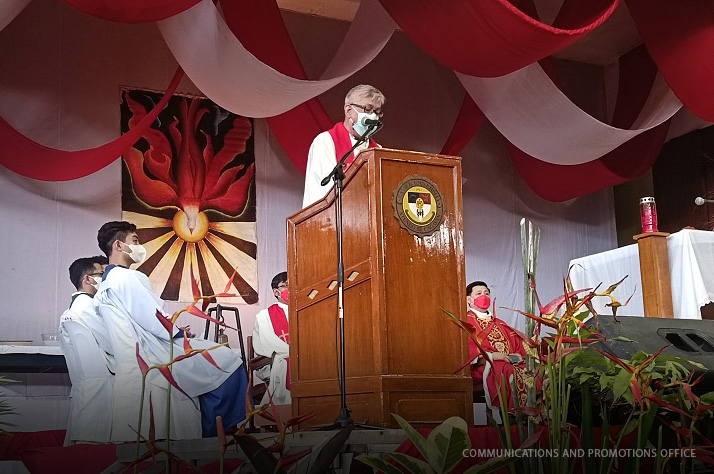 In his heartening homily, Fr Gonzalez explained the importance of the Red Mass as it gathers the community together in thanking God and seeking the Holy Spirit's guidance and wisdom as the university embarks on a new school year. He illuminates the role of the Holy Spirit as an advocate who is like a lawyer who "gives us advice on how to remain on track;" a champion who "defends us from the attack of the spiritual enemy" and "protects us from external threats;" a guide who "leads us to the right path;" a comforter who "heals us when we are wounded" and "gives us wings to rise above the mess;" and a teacher who "helps us understand things not only with the mind but also with the heart." Fr Gonzalez ended his homily by urging the community to invoke the Holy Spirit the entire school year to come and "dwell in us" and "bring us all as one formidable university."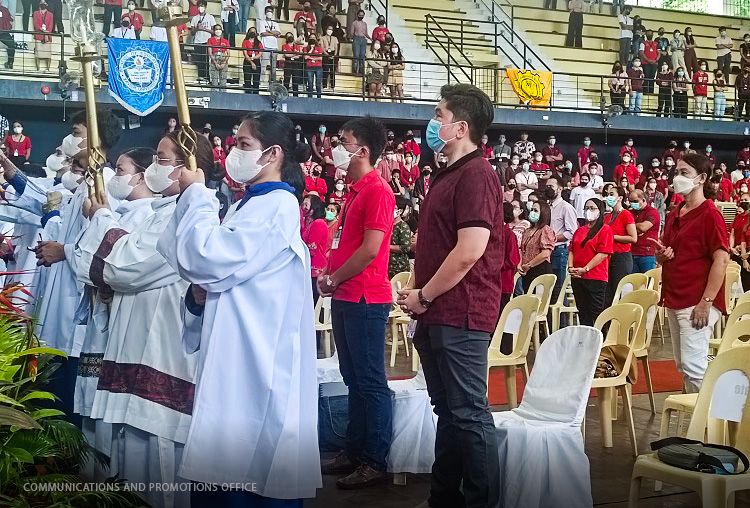 To end the Mass, Fr Tan thanked the various units and personnel led by Ms Irene Guitarte, overall coordinator, of the Mission and Ministry cluster who helped make the celebration successful. He prayed for God's blessings and the guidance of the Holy Spirit as the community begins a new school year. He also expressed his gratitude to his concelebrants and those involved in the successful staging of the solemn Red Mass.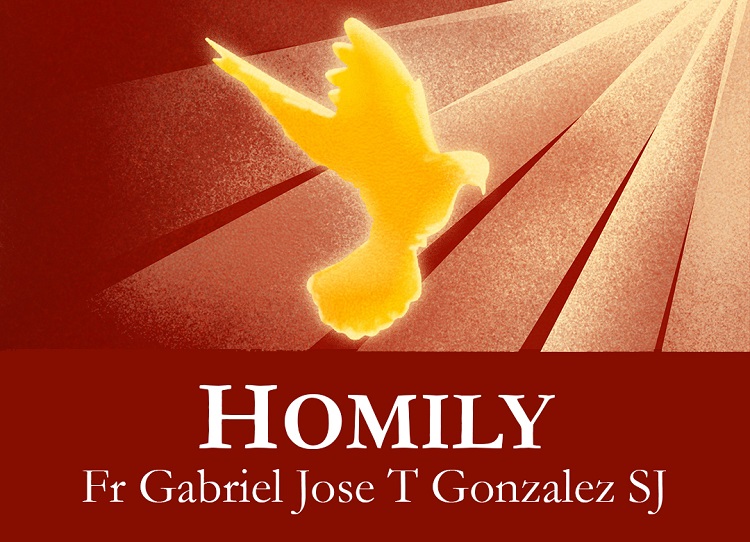 "Come Holy Spirit; dwell in us. Bring us all as one university."
Please allow me to begin with a little background about this Mass of the Holy Spirit, or the Red Mass as we like to call it. What is so important about it that we disrupt classes for everyone to attend? What with this mass that we invite all the priests who serve in our college and grad school to concelebrate? What is so momentous about it that we have a multi-choir singing for us and grand decorations set around the whole gym for such a mass?
The celebration of the Mass of the Holy Spirit at the beginning of an academic year has in fact been a sacred and enduring tradition of Jesuit education for the past 474 years. The very first one took place in 1548, at the very first Collegio of the Society of Jesus which was in Messina, Sicily, in Italy. From there and then, every Jesuit educational institution has kept the practice of starting every academic year with a Mass of the Holy Spirit. Whether it be around Europe, or Africa, or Asia, whether the academic year starts in August like it is for us now or in April as in Japan or in January as in Australia, whether it is for the elementary level or a professional school like Medicine or Law, whether it is for a vocational school, or a conservatory of music, or a military school, every Jesuit educational institution for the past almost 500 years begins an academic year with a Mass of the Holy Spirit.
In this mass, we invoke the Holy Spirit, to give us guidance and wisdom throughout this whole school year. We ask the Holy Spirit that it be the one to fill us and to be the one to animate us, and not let any other spirit come in to move us.
We ask the spirit to INSPIRE us, that is to fill us with the right desire, with unfailing determination, and with reinvigorated strength to pursue the knowledge, skills, and truth that God has prepared for us to obtain this school year.
In our Gospel reading, the Spirit is referred to by Jesus as the ADVOCATE. We don't usually use the word advocate to mean anything else but someone who is fighting for a particular cause usually of a political or socio-economic nature. But the word advocate as used by Jesus in the Gospel means some things a lot more than that. In fact this word has simultaneous composite meanings. It means all these all at the same time.
What does it mean that The Holy Spirit is the Advocate?
In part, it is like a lawyer that gives counsel or advice. It advises us on what is lawful, i.e. morally lawful and what is unlawful, what is within limits and what is not. It advises us on options and possibilities that we may not previously have known or explored. It advises us on how to remain on track and to remain within bounds. BUT ALSO:
In part, it is like a champion, one who will champion our cause, who will fight in our place, who will defend us from the attack of the spiritual enemy that is the evil spirit. The Holy Spirit wards of the evil spirit from dwelling in us and prevents the evil spirit from being the one that would animate our words, deeds, and decisions. But it will also champion us against external threats. It will arm us with the right thoughts, words, and actions against persons who are motivated by the evil spirit and who try to do us harm. BUT ALSO
In part, the Holy Spirit is like a guide that leads us not just in the right path to avoid harm, but that leads us to new frontiers, unexplored terrains, untested waters where God's grace is working and waiting for us to find it. It accompanies us as we venture out of our comfort zone, as we venture into fields of knowledge unfamiliar and strange to us. It accompanies us in pursuing answers to questions that have not been answered satisfactorily before and have not even been asked before. It brings us to new places, experiences, knowledge, and new courses of action.
And in part the Holy Spirit is our comforter that consoles us when we are grieving, that believes in us when we have failed, that urges on when we are fearful, that heals us when we are wounded, that gives us the wings to rise above the mess or the samok that life sometimes is and to be able to focus of our proper pursuits of higher learning and greater becoming. BUT STILL ALSO
And still in part, the Holy Spirit is a teacher. It leads us to know things we have never known. It opens us up to understand things not only with our minds but with our hearts. It takes us to new heights of knowledge and skills It brings us to a global view of things that we had learned one at a time, makes connections of these things from various fields , so that we obtain a synthesis of things. . And It reveals to us divine knowledge and wisdom, Knowledge and understanding that we cannot attain if we were to rely entirely on the powers of human mind.
If you think I'm attributing too much to the Holy Spirit, consider the fact that Jesus told the disciples, as he was about to leave them the next day, that he would be sending to them the advocate that would continue to do for them what he has been for them. And in fact, Jesus, had been the counsel of the disciples, he had been their champion, their guide, their comforter and healer, and their teacher.
Jesus knew how limited, weak and vulnerable his disciples were. He knew that they could not do without the Holy Spirit doing for them what he used to do for them. And just as Jesus was a myriad of things to the disciples, the Holy Spirit was of the same myriad of things to the disciples.
The great and good news is that the Holy Spirit is also meant for us. It is also meant to counsel us, to champion us, to show us the way, to comfort and heal us, and to open our minds to ever new knowledge and wisdom.
But we have to let the Holy Spirit in. This is our part of the bargain. We need to invite and welcome the Holy Spirit to dwell in our hearts and minds, i.e. in our interiority, in Filipino, Manahan nawa ang Espiritu Santo sa ating kalooban, so that it would be the power and movement that will animate our words, deeds, and decisions.
There is a not so frequently quoated Salawikain in Filipino that says: Ang Bahay na Walang tao,
Pinapasukan ng kung sinu-sno
Our hearts and minds, our kalooban, is like a house; and if it is empty all sorts of spirits may dwell in it to direct what we do and say. We need to make sure that the right spirit dwells in us, and so we invoke the Holy Spirit to be that spirit to dwell in us. We do it today, but we also need to make a habit of invoking it every single day of this academic year and reject other spirits who would like to take over the house of our interior selves.
What good will it do to let the Holy Spirit be the spirit to dwell in us? Ultimately, the good it will do was conveyed to us in the first reading. Upon the instruction of Yahweh, the prophet Ezekiel, prophesied to the dried bones which was the nation of Israel at that time. Ezekiel to the dried bones:
"'Dry bones, hear the word of the Lord! 5 This is what the Sovereign Lord says I will make breath[a] enter you, and you will come to life. 6 I will attach tendons to you and make flesh come upon you and cover you with skin; I will put breath in you, and you will come to life. Then you will know that I am the Lord.'"
And so it happened, as Ezekiel was prophesying to the dried bones, he reports:
And as I was prophesying, there was a noise, a rattling sound, and the bones came together, bone to bone. 8 I looked, and tendons and flesh appeared on them and skin covered them, but there was no breath in them.
Then the Lord instructed Ezekiel to prophesy again:
Come, breath, from the four winds and breathe into these slain, that they may live.'" 10 So I prophesied as he commanded me, and breath entered them; they came to life and stood up on their feet—a vast army.
When the spirit comes upon us, it transforms us from being dried bones lying still and stale on the ground into living whole beings. It takes us from death to life. It takes us from defeat to triumph. It takes us from being waste to life-givers.
This image of the dried bones first meant to visualize Israel at that point of their history, may very well be the image that visualizes us after the experience of this pandemic. But now is the time, this academic year is the season, that the dried bones shall come together again bone to bone, to be bound by sinews, and covered with skin, and with the Holy Spirit breathed upon us, bring us all, individually, and as one university community back to life, a vast formidable community with our God at our center.
May the Holy Spirit indeed, come upon us today and everyday of this academic year, counsel us, champion us, guide us, comfort and heal us, teach us, and by doing so, bring us back to the fullness of life. This we pray for each one of us and for all of us as one university Community. Amen.