October 27 (Zoom)– Xavier University's Development Communication Department has strengthened its partnership with Ilmu Komunikasi UNTAG Surabaya in Indonesia through a webinar called Media Litera-Talk.
The webinar, which re-echoed the efforts of the partner universities in pushing forward media and information literacy in their respective communities, is in line with the celebration of UNESCO's Global Media Literacy Week celebrated annually on October 24-31, 2022, with the theme, "Nurturing trust: A Media and Information Literacy Imperative".
In her opening remarks, Ms Rechelle Ann T. Barraquias, chairperson of XU's DevCom Department, expressed how the virtual event exactly embodied this year's theme that through the trust nurtured between the two Asian universities in coming up with the event, each university can "share about their best practices and projects, which relates to combating disinformation disorder and strengthening of MIL education, this event is an expression of trust and confidence to our respective university partner."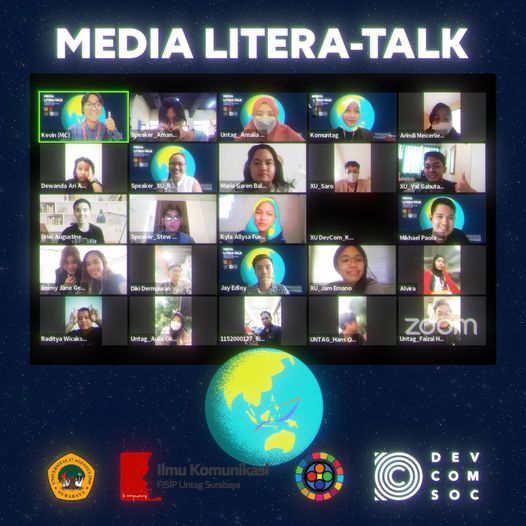 Former XU DevCom Soc president, John Esteward Carcosia joined Barraquias in presenting the department's MIL efforts over the year, while Dr. Merry Fridha and sophomore Communication Studies student Amanda Felicia presented in behalf of UNTAG Surabaya.
"Distinguishing between true information and hoaxes is pretty challenging since I face this quite often," Felicia remarked during her presentation. "There is a need to learn more about media literacy, especially for Generation Z."
Xavier University and UNTAG Surabaya entered into a partnership in November 2021 through its linkage with the Office of International Cooperation and Networking.