On October 25, 2022, Xavier University and Cooperative for Assistance and Relief Everywhere (CARE) Philippines through the Assistance and Cooperation for Community Resilience and Development Inc (ACCORD) entered into an agreement for the implementation of Moving Urban Poor Communities Towards Resilience (MOVE UP PROJECT) in Cagayan de Oro City and Misamis Oriental.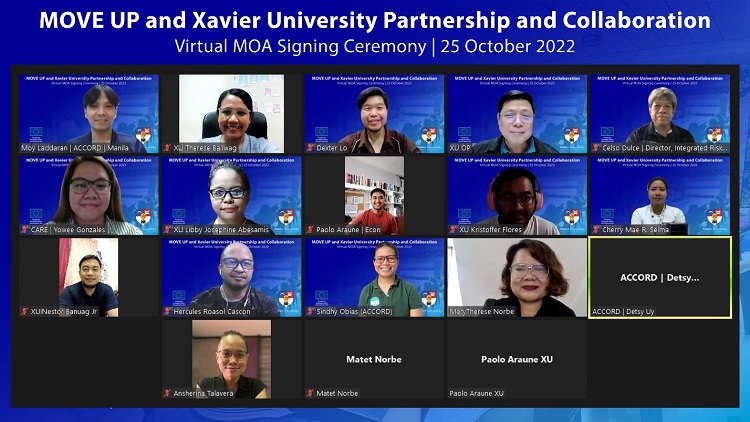 Xavier University and CARE Philippines at the virtual MOU Signing for the Moving Urban Poor Communities Towards Resilience (MOVE UP PROJECT)
Aimed to contribute "to reducing the impact of disasters, crises, and pandemics by strengthening gender-responsive and inclusive disaster management and anticipatory action and rapid response capacities in the Philippines," MOVE UP Project is a resilience program funded by the European Union Humanitarian Aid and implemented by a consortium of local and international NGOs. MOVE UP Project Manager Mary Joy Gonzales highlighted that the goal of this action is to increase preparedness and risk reduction capacities of local populations and government units through replication and scaling up of interrelated urban resilience struggles on alternative temporary shelter and resilient livelihood in hazard-prone, urban poor communities. Through this partnership, CARE, ACCORD, and XU will work together in exchanging technical knowledge and expertise to strengthen the resilience capacities of partner local governments in Cagayan de Oro and Misamis Oriental.
The virtual MOU signing was led by Xavier University President led Fr. Mars P. Tan and ACCORD Executive Director Syndhi Obias. In his message of support, Fr. Tan emphasized that the "technical capabilities in disaster resilience, can contribute to the implementation of the project and in the advancement of the local communities' resilience to disasters." Members of CARE Philippines, ACCORD, and Xavier University also attended the event to show their support to the Project.