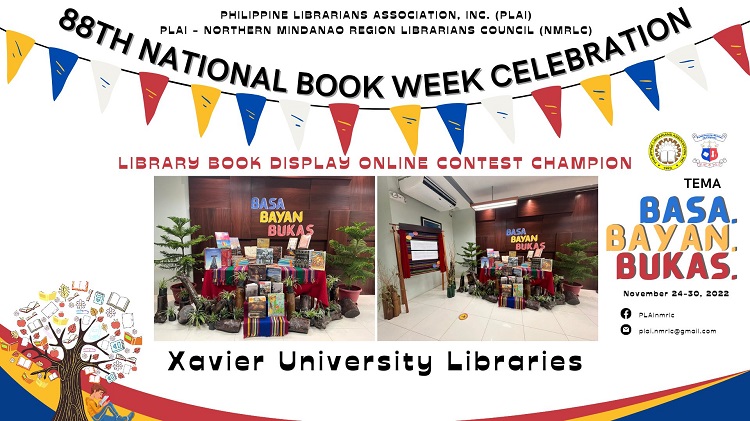 Xavier University Libraries emerged as champion in the regional level Library Book Display Online Contest on November 16, 2022. The event was part of the activities prepared by the Philippine Librarians Association, Inc. (PLAI), the National Library of the Philippines (NLP), and the National Commission for Culture and the Arts - National Committee on Libraries and Information Services (NCCA-NCLIS), with the theme "Basa.Bayan.Bukas." for the 88th National Book Week Celebration.
The competition was open to all librarians and libraries of all types in the Philippines. The XU library personnel displayed some of the most recent Filipiniana collections that had been purchased from local publications and some that had been donated, as well as rare manuscripts and unique collections only available at the Xavier University Libraries. Furthermore, the display also showcased the authentic local fabric borrowed from the Xavier University Museum Museo de Oro to represent the Philippines of which we are part and the Filipiniana books in the library that contain a vast array of Filipino beliefs, traditions, cultures, and religions that connect us to our past so that we can become a better version of ourselves as responsible Filipino citizens.
The Xavier Ateneo Libraries will be representing Region 10 at the national level, and the winners will be virtually awarded during the closing ceremony of the National Book Week celebration this coming November 30, 2022. The library personnel would like to ask for your moral support for this activity.
Students, faculty, and staff are welcome to visit the book display located on the first floor of the Library Annex Building. They may take pictures and post them on their preferred social media platforms.