by Keziah Loucille Mallorca | Social Involvement and Advocacy Program | This email address is being protected from spambots. You need JavaScript enabled to view it.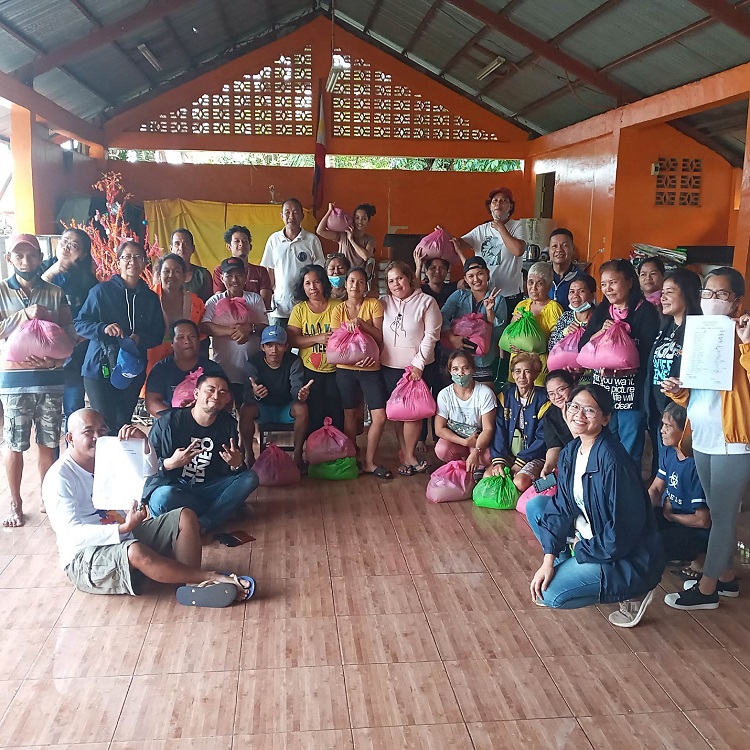 #XUTabangMisamis Team with the beneficiaries from Brgy. Taguima, Tudela, Misamis Occidental
December 24, 2022. What was supposed to be a bright, festive celebration with loved ones became a dark, traumatic experience for the victims of the flash flood and landslides in Misamis Occidental.
Heavy rains and strong winds brought by the shear line hit numerous provinces in Mindanao, including Misamis Oriental and Misamis Occidental. The rains continued even during Christmas day, leaving hundreds of families sheltered in evacuation centers up on to this day.
From a report by the Regional Disaster Risk Reduction and Management Council – 10 (RDRRMC-10), as of December 30, 2022, a total of 19, 549 families were affected across the region. Aside from flooding, landslides were also reported and experienced by the victims which led to partially and totally damaged houses, infrastructure, and agriculture.
"Hadlok pa kaayo mubalik (sa balay) kay basin mahitabo palang balik." A 71-year-old evacuee from Sinacaban, Misamis Occidental shared her sentiments. The constant pour of the rain, albeit lighter, did not give her the assurance that she will be safe from the possible flood.


Houses by the coastal area were damaged by the flood in Brgy. Cabol-anonan, Tudela, Misamis Occidental
As an institution, Xavier University responded to help the flashflood victims in Misamis Occidental through the #XUTabangMisamis donation drive launched last December 27, 3 days after the incident.
Truly, the spirit of giving was very present during the holidays. The university has received in-kind and cash donations from various individuals in the XU community, private donors, and benefactors. The donated goods were sorted, repacked, and delivered last January 12, 2023, to the municipalities of Tudela and Sinacaban, Misamis Occidental.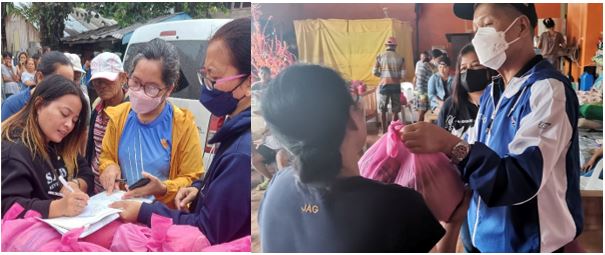 Relief packs were being distributed to the victims of the flash flood in Misamis Occidental
The #XUTabangMisamis Mission Trip was led by Mr. Nestor Banuag, Jr. Director of the Social Involvement and Advocacy Program. Along with him during the trip were volunteers from the XU faculty, formator and staff, namely: Emma Melliza, Iris Chavez (XUSHS), Justiniano Damiao (XU Theology Department), Kathleen Morales (XU School of Education), Keziah Loucille Mallorca (SIAP), and Mary Grace Santizas (Health Services).
Through XU's major partners, the MDRRMOs of Tudela and Sinacaban, the team was able to distribute food packs good for 274 families in Barangay Taguima, Locsoon, and Cabol-anonan in Tudela, and 3 evacuation centers in Sinacaban. Candies and cookies were also distributed to the kids present during the distribution.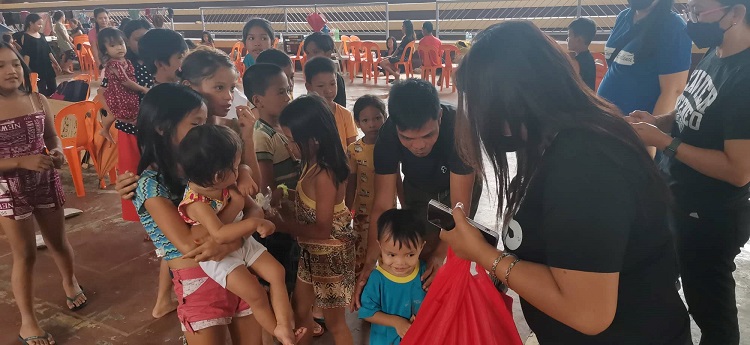 Children present during the distribution were gathered and were given small tokens
The mission trip included a community needs assessment and scanning to identify the further needs of the community. The #XUTabangMisamis Volunteers also shared their own personal reflections regarding the trip.
"So touching, they were simple and innocent ordinary farmers and fisher folks. Why did they suffer the most of the brunt of the calamitous effect of climate change?" – Sir Justiniano Damiao, XU Theology Department
"As a volunteer, my heart not only beats for myself…. but it beats more to people especially the children and elderly who suffer the most in times of calamities." – Mary Grace Santizas, Health Services
"Outside our comfort zone is where magic happens. One step is all that it takes... say[ing] yes to serving others is a guarantee to a blessed heart. Every time there is a relief operation, a reaching out...we look forward to statistical report and documentation of the activity. These numbers are important; however, this becomes insignificant when we look beyond. A stretched hand ends when the goods are handed to the receiver. However, magic starts to surface when we look beyond extending a hand. As one of those who witnessed the engagement will surely notice that an exchange of SMILES, a simple utterance of gratitude, a gesture of comfort nourishes the heart. SERVING is indeed therapeutic. If one wants to be happy...one must go and serve. At the end of a tiring exhausted day is a surety of full heart. The authentic smiles of people we reached out to fills our heart to overflowing." – Kathleen Morales, XU School of Education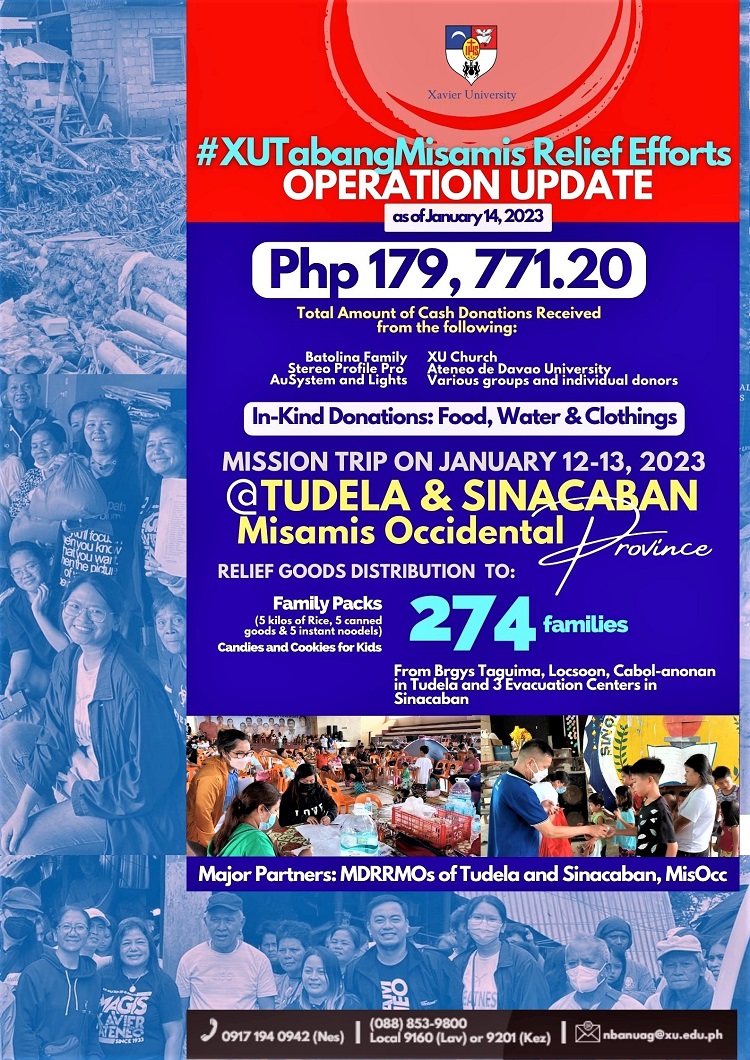 Donation Report of the #XUTabangMisamisDonation Drive