Strengthening Partnerships for Resilience
On 18th of April 2023, the National Resilience Council (NRC), headed by its Executive Director, Mr Silvestre Barrameda Jr, paid a courtesy visit to Rev Fr Mars Tan SJ, President of Xavier University – Ateneo de Cagayan. The NRC is a private sector led group committed to building the resilience of local governments and communities all over the country through transformative action.
Mr Barrameda was joined by Dr Emma Porio, Professor at the Sociology and Anthropology Department of the Ateneo de Manila University (ADMU) and Project Leader of Coastal Cities at Risk in the Philippines (CCARPH), Dr Rosa Perez, Research Fellow of the Manila Observatory (MO) and Member of the Intergovernmental Panel for Climate Change (IPCC), and Mr Brian Bañgo, Program Officer of the NRC.
Fr Mars was accompanied by Engr Dexter Lo, Vice President for Social Development, Engr Gail de la Rita, Director for Service Learning Program, Engr / EnP Jefferson Vallente Jr, Geomatics Specialist of the XU Engineering Resource Center, and Dr Edvilla Talaroc of the Sociology-Anthropology Department. Engrs Lo, de la Rita, and Vallente have been involved in NRC's Leadership for Resilient Local Government Units (LRLGUs) Program since 2018.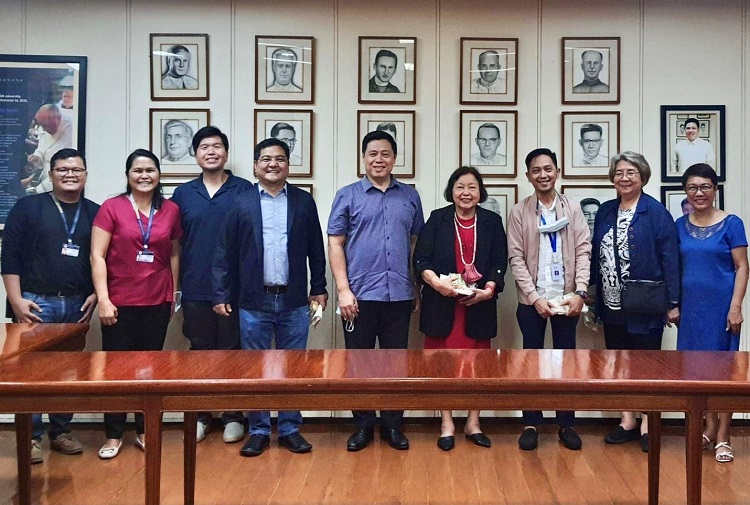 (L-R): Vallente, de la Rita, Lo, Barrameda, Tan, Porio, Bañgo, Perez, Talaroc
During the height of the COVID19 Pandemic, the NRC and XU trained LGUs and their Academic Partners around the country to establish Web-based Geospatial Risk Dashboards (Web-GRiD) for a localized the timely decision support tool. Web-GRiD was awarded by the Philippine Council for Health Research and Development (PCHRD) as the National Champion in the 2021 Pitch to Policymakers Competition.
In the meeting, the NRC Team committed to sustain and strengthen its partnerships with XU, and other stakeholders like the LGU – Cagayan de Oro City and SM Prime, among others. Mr Barrameda stressed that NRC's goal goes beyond the usual disaster relief and response operations. NRC's strategy is to use science and technology for evidence-based policies and projects that will empower LGUs, so their vulnerabilities and risk to disasters and climate change impacts are reduced. The NRC Team emphasized that this is where XU can continue to play an important role.
Fr Mars, who has a PhD in Environmental Science, affirmed, and gladly accepted the role of XU in this undertaking. He directed the XU Team to continue and enhance the partnership with the NRC.
After the meeting with Fr Mars, the NRC Team, accompanied by VP Dex, who is also a member of NRC's Technical Working Group, immediately proceeded to the City Hall for another courtesy visit to Mayor Rolando "Klarex" Uy. They were joined by EnP Ramir Balquin and Archt Kevin Mugot of the City Planning and Development Office (CPDO), Mr Nick Jabagat of the City Disaster Risk Reduction and Management Department (CDRRMD), and EnP Elvisa Mabelin of the City Local Environment and Natural Resources Office (CLENRO).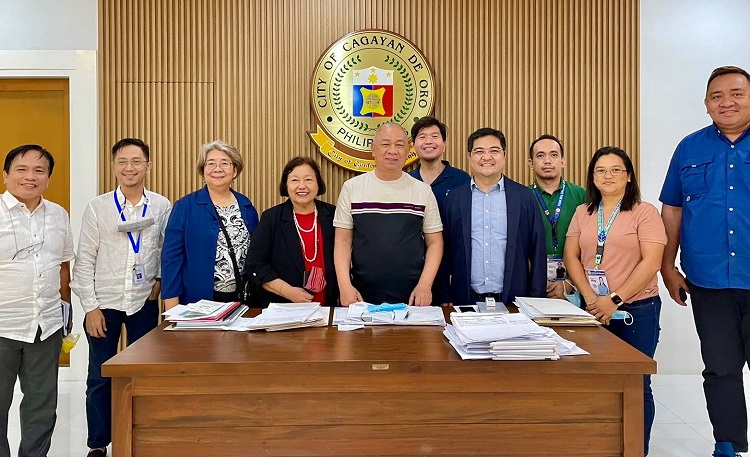 (L-R): Balquin, Bañgo, Perez, Porio, Uy, Lo, Barrameda, Mugot, Mabelin, Jabagat