By Dr Junefel C Macagba. Ismael B. Salarda, Norman C Calib-og, and Nathalie Sta.Elena
Photos by: Dr Junefel C Macagba, Adriane Rivas, John Lord Lubguban, CDO CSWD, Ang Giya Journal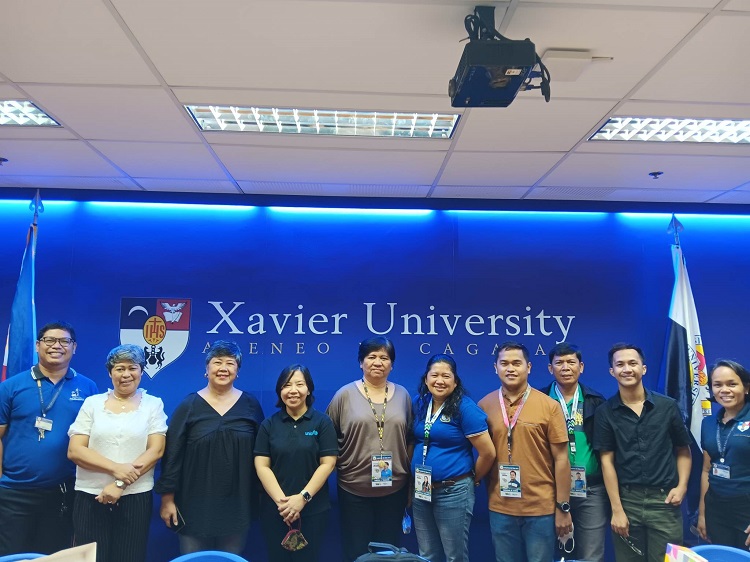 In photos (L-R): Ismael Salarda, School of Education Faculty and Project Local Area Coordinator; Dr Edralin C Manla, Dean of the School of Education; Asst Prof Miriam I. Ugaddan of UPCWSFI; Ms Ma Cecilia Dajoyag Arcadio, the Early Childhood Development Officer of UNICEF Philippines; Ms Anecia Tongson, RSW, CSWD Department Head; Ms Joan Acraman, Social Welfare and Community Development Unit Head; Mr Michael Carin, CSWD District Officer of District 2A; Mr Walter Natural, ECCD Monitoring; Mr Jersey Cacalda, Project Assistant of UPCWSFI; and Dr Junefel C Macagba, Assistant to the Vice President for Mission and Ministry, School of Education Faculty and Project Local Area Coordinator
The Early Childhood Care and Development (ECCD) program in Cagayan de Oro (CDO) recently held a collaborative meeting with UNICEF and the University of the Philippines Center for Women's Studies Foundation Inc. (UPCWSFI) on April 27 and 28, 2023, at the Loyola Conference Room, Xavier University-Ateneo de Cagayan. This meeting was in line with the ongoing project, "Development and Learning Loss Recovery: Strengthening Systems for Capacity Building of Child Development Workers (CDWs) and Child Development Teachers (CDTs)," which aims to establish and operationalize a competency-based technical assistance mechanism for the continuous professionalization of Child Development Workers and Child Development Teachers in the Country Program for Children 8 (CPC 8) focused areas identified by UNICEF Philippines.
As part of this ongoing project, the ECCD-CDO, composed of the LGU of Cagayan de Oro City through the City Social Welfare and Development (CSWD) and Xavier-Ateneo through the School of Education, sent a delegation for the Training of Trainers (TOT) last February 7-10, 2023 at UP Diliman, Quezon City. Two phases of activity rollout of training/seminar/workshop were facilitated last March 15, 16, & 17, 2023 and April 13 & 14, respectively, at the XU Macasandig Activity and Training Center to demonstrate and share what they have gained during the TOT. Seventy-eight (78) selected CDTs and CDWs from different Child Development Centers in Cagayan de Oro City attended the phases activity rollout.

Photo Credit to Ang Giya Journal Phase 1 and 2 Project Activity Rollout attended by the CDWs and CDTs at XU Macasandig Activity and Training Center
The UNICEF and UPCWSFI visit in CDO aimed to: a) Understand the need to strengthen systems for capacity building of Child Development Workers/Child Development Teachers at the local level; b) Be familiar with the one-year partnership between and among LGU, UP Center for Women's Studies Foundation Inc., Xavier University – Ateneo de Cagayan, and UNICEF; and agree on the roles and responsibilities of each partner; and c) Discuss the overall implementation mechanisms and modalities for the partnership and timelines.
Ms Ma Cecilia Dajoyag Arcadio, the Early Childhood Development Officer of UNICEF Philippines, rationalized the need for strengthening the system for capacity building of CDWs/CDTs. She also presented the status of early childhood education in the Philippines during and post COVID19, emphasizing that 23% of children aged 24-59 months are not developmentally on track (NDHS 2022). The overarching goal of the project, based on the competency standards for CDTs and CDWs adopted from the ECCD Council in 2017, is to ensure that all CDTs, CDWs, and other service providers have developed and demonstrated the necessary knowledge, skills, and attitudes to meet children's developmental needs and deliver high-quality early childhood programs for all children from birth to 4 years old.
Asst Prof Miriam I Ugaddan of the Department of Family Life and Child Development University of the Philippines, College of Home Economics, also reiterated the roles and responsibilities of the stakeholders involved, namely UNICEF, UPCWSFI, Xavier-Ateneo, and the CDO LGU thru the CSWD, in attaining the success of the project.
Five selected Child Development Centers (CDCs) were also visited in Brgy Pagatpat, Brgy Kauswagan, Brgy Consolacion, Brgy 23, and Brgy 28 to have an actual interaction with the CDTs and CDWs in their workplace and observe their daily routine with their learners. The visitors from UNICEF and UPCWSFI, along with local partners, were accompanied by Ms Anecia Tongson, RSW, the Department Head of the CSWD; and the District Officers with the ECCD Monitoring Personnel.

Interaction with Asst Prof Miriam I Ugaddan together with Ms Ma Cecilia Dajoyag Arcadio in Brgy Pagatpat and the CDTs/CDWs with the officials in Brgy Consolacion, Cagayan de Oro City
ECCD-CDO is fully committed to this endeavor until December 2023. During a recent meeting, Dr Edralin C Manla, the Dean of Xavier-Ateneo's School of Education, expressed her gratitude for the opportunity to participate in this initiative. She emphasized that this engagement has allowed them to train CDTs and CDWs, and to recognize the important role they play in preparing young learners for formal schooling. The partnership with local partners in LGUs, private sectors, and other stakeholders has also been strengthened as a result of this initiative. This provides Xavier-Ateneo, particularly the School of Education, with new avenues to develop strategic interventions in emerging concerns not only in Early Childhood Care and Development but also in other areas. This sentiment was echoed by Ms Therese Rhea Rose M Baliwag, the Assistant Vice President for Social Development, who emphasized the importance of strengthening Xavier-Ateneo's societal engagements by establishing stronger and more sustainable partnerships and linkages with the community.