The Xavier University (XU) Rodeo Team brought home the overall championship in the student category of the Rodeo National Finals in Masbate City. The XU- Rodeo has consistently won top awards in the Rodeo Masbateño granting them two "3peat" championships with the equivalent of two grand slam titles.

This year's XU Rodeo Women's Team consisted of Julie Ann Abas, Karen Luzette Gayla, Vanezza Frietse Mondero, Marianne Mae Remedio and Sheila Mae Untay. They placed first in Cattle Lassoing, Wrestling, Tie-down (on foot) and the Load Carry Relay events, and placed second in Four-women Carambola, Whipcracking and Team Casting events.

On the other hand, the Men's Team composed of Karl Abunda, Efren Alipato, Robert Arnel Casiño, Carl Richard Copino, Francis Duyongan, Evan Diosdado Neri and Albert Matthias Saavedra won first place in Cattle Bare-back Riding and Team Casting events, and second place in Two-person Carambola, Steer Wrestling from horse-back, Tie-down and Cattle Lassoing, Wrestling, and Tie-down (on foot).

XU students Carl Richard Copino and Julie Ann Abas were also crowned Rodeo King and Queen respectively.

The XU-Rodeo won a total of P73,000 and received 4 trophies. The team's victory wouldn't have been likely without the help of their moderator Hernando Pacana and manager Ana Celina Soriano.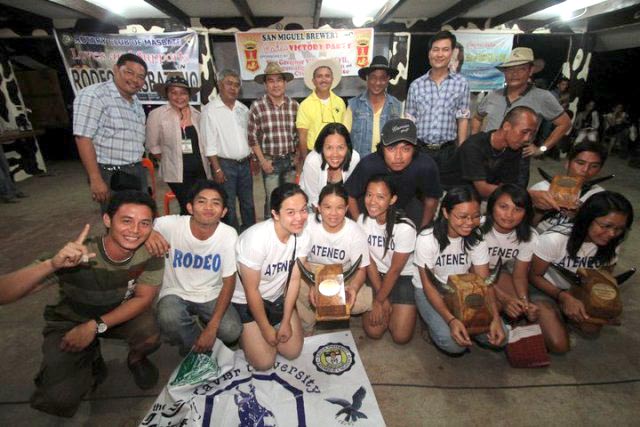 Photo from XU-Rodeo Enthusiasts