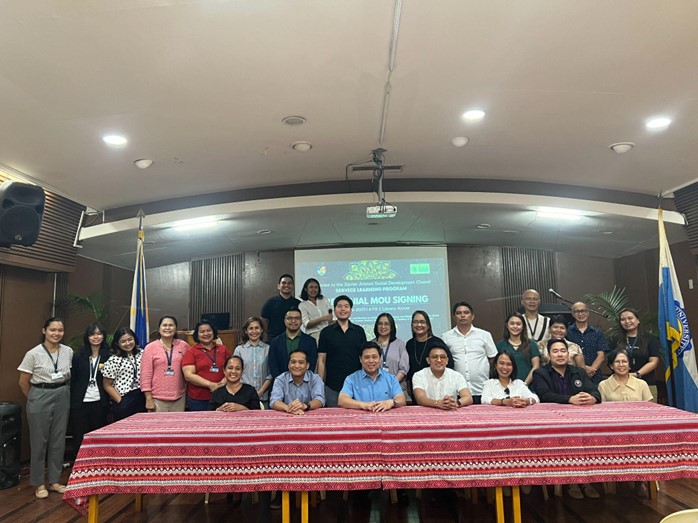 Xavier Ateneo Service Learning Program (SLP) held its ceremonial MOU signing on 18 October 2023. The event was attended by representatives from the local government units of Alubijid, Laguindingan, Malitbog, Tagoloan, and the XU VP for Administration Cluster and the Xavier University Canteen Multi-Purpose Cooperative.
"Xavier University is really committed to the transformative learning experience of our students, faculty and partners", said Engr Dexter S Lo, Vice-President for Social Development, in his Opening Message.
This MOU signing formalized the partnership and collaborative efforts of various academic disciplines for the first semester of the academic year 2023-2024. Ms Gail P dela Rita, Service Learning Program Director, presented the milestones and engagements of the program highlighting the relevance of the service learning partnership which is to "co-create solutions" with and for communities.
"Service learning cannot work on its own to be sustainable, we have to work with you, our partners, so that sustainability can be our common agenda; when we partner and synergize, we can do a lot of work for communities".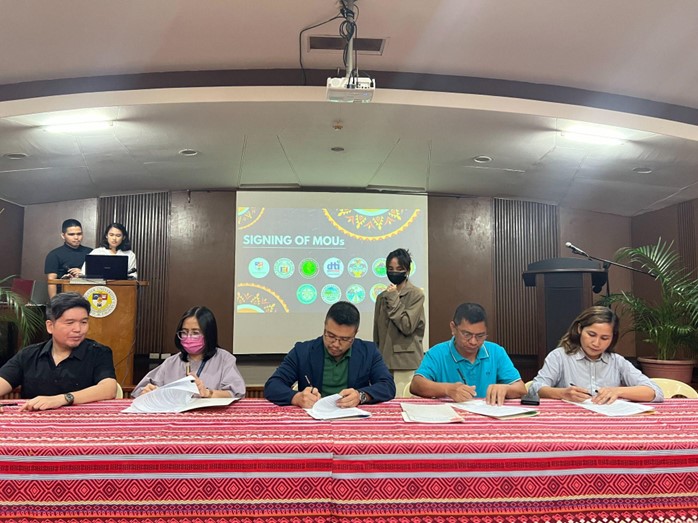 Ms dela Rita underscored the importance of continuing conversation with partners so engagements can build on each other and partners are given the avenue to explore other social development initiatives with external stakeholders including Xavier Ateneo. To facilitate this, a primary 2-year MOU was established with LGU partners, covering their respective terms of office, and supplemental MOUs that will outline semester-specific engagements.
The event was an opportunity for partners to share their thoughts on the service learning partnership. For the City Government of Cagayan de Oro, Dr Rachel Daba-Dilla represented Hon Rolando "Klarex" Uy along with Atty Kenneth O Tamala, the City Legal Officer. Dr Dilla fondly recalled her days as a biology student and she commended Xavier Ateneo for providing instruction that extends beyond classrooms, allowing students to apply their knowledge and training to address real social problems.
Also in attendance was Hon Diosdado T Obsioma, the Municipal Mayor of Laguindingan. Mayor Obsioma highlighted the municipality's coastal treasures and socio-economic developments, offering a rich training ground for students to apply their coursework in preserving these coastal resources. While Hon Kim M Agustero represented the Municipality of Tagoloan as the Chairman of the Disaster Risk Reduction and Management Office. He expressed gratitude for Xavier Ateneo's partnership in Disaster Resilience, which is critical for a municipality frequently affected by urban and riverine flooding.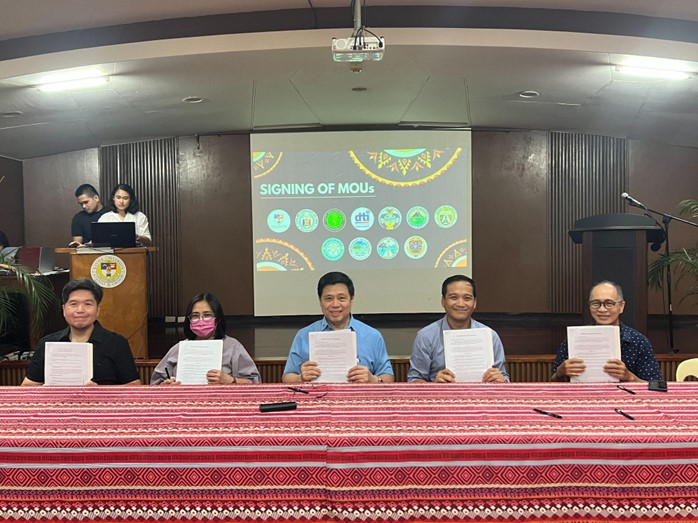 Mr Tristan Ares, Municipal Planning and Development Officer of the Municipality of Alubijid, also shared that the municipality was one of the first LGUs with which the Service Learning Program partnered through the Dr Jose P Rizal School of Medicine and the College of Engineering. He emphasized the complementary role of the academe and government in delivering services, streamlining processes, and knowledge transfer. He added that aside from the engagements of students, it is also the formation they receive through a lived experience of witnessing the relevance of their courses in bridging development gaps.
Fr Mars P Tan SJ, University President, recognized SLP's role in the academic and social formation of students thus making it a flagship program for student social formation where students play a central role, bringing their experiences to communities and learning from them.
"There are different ways of doing formation and SLP is another one where students become the main actor bringing their experiences [to the communities] and learning from the community, making the service learning experience dialogical". Furthermore, Fr Mars emphasized that formation is a top priority at Xavier Ateneo and called on partners to join in the university's mission of forming individuals of competence, conscience, and commitment who work for the greater good and sustainable community development.
The Service Learning Program continues its discussions with the aim of finalizing engagements with the Municipal Government of Malitbog together with the Nabungkaton Tribal Association, the DTI Regional Office 10 through its RAPID Growth Project, and the Balubal Sericulture Farmers Association.