By Lezlee Amor R Escalante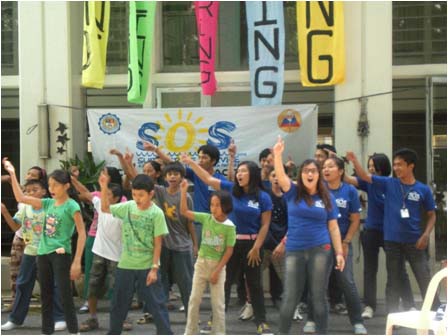 After more than a month of giving and learning, the Summer of Service 2012 finally concluded on May 12 with a showcase of talents and a forum on the challenges in the Amakan Transitory Shelter and the Calaanan Tent City, relocation sites for families displaced by Typhoon Sendong.

The program, which was themed D.R.E.A.M. (Dawning, Recognizing, Empowering, Awakening, Moving), aspired to provide the student volunteers with an experience that allowed them to learn and appreciate the value of the self and of others through activities that fostered feelings of compassion and service. At the same time, it also aimed to encourage Sendong children to maintain a hopeful view of the future grounded in love and faith.

For five weeks, the SOS volunteers from different student organizations in the university, such as the Glee Club, Dulaang Atenista, Circulo de Arte, Sole to Soul and XELLO, held alternative classes in dancing, drawing and singing for Sendong children in the Amakan Transitory Shelter and the Calaanan Tent City, as well as to the 48 PEDRO Calungsod Center sponsored children in Lumbia. The volunteers also explained to the kids why Typhoon Sendong happened and the need to take care of the environment. Psychology students undergoing their on-the-job training conducted extensive psychosocial debriefing that addressed the specific needs of the community members. 

The Summer of Service Program, facilitated by the Kristohanong Katilingban sa Pagpakabana Volunteer Center, was born from the desire to give student volunteers a meaningful summer experience at Xavier University. It aims to raise their understanding of volunteerism and engagement through service to the greater community, particularly the poor and less fortunate.
 
At the culminating activity, the children mounted performances that not only exhibited their grace but, more importantly, imparted messages of care and concern for others and the environment.

As the volunteers watched the kids perform, they realized that while they taught these children how to dance, the children taught them how to be more patient, while they taught the children how to draw what they saw, the children taught them to appreciate their surroundings, while they taught the children how to act, the children taught them to simply enjoy so acting would come out naturally, while they taught the children how to sing, the children taught them to delight in a song even if it were out-of-tune, while they explained to the children why and how Sendong happened, the children taught them the beauty of simply being alive.

The volunteers went into the areas with the goal to teach the children. Yet, in the end, they realized that they were learning with the children.