by Wilson J Hormeguera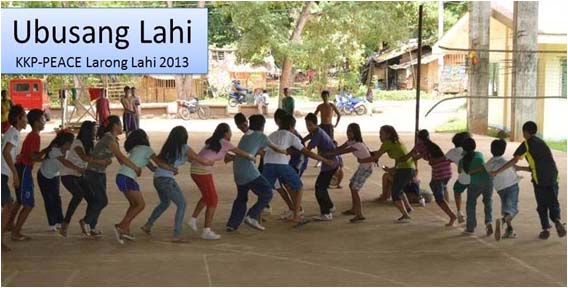 The Kristohanong Katilingban sa Pagpakabana – Partnership for Effective Assistance in Children's Education (KKP-PEACE) Project culminated its Summer Camp 2013 on May 16-17 with "Larong Lahi," consisting of Filipino games sungka, patintero, ubusang lahi, siyatong, agawang sulok, kadang-kadang, sangkayaw, and luksong-tinik.
"Other than promoting the physical well-being of our sponsored children, we wanted to rekindle their love of Filipino games," said Michael Estroga, project officer.
The Project's scholars were divided into four clusters according to their grade levels: grades 1-3, grades 4-6, grades 7-8 and senior year students. Each cluster had enrichment sessions and corresponding workshops on story-telling through puppet show, confidence building, simple solid waste management and backyard gardening, respectively. The Summer Camp culminated with a fun run around Centro Lumbia and then the "Larong Lahi."
The Summer Camp is part of the holistic child development program of the KKP-PEACE Project, a child-sponsorship project funded by Child Fund Japan, that facilitates the holistic child development program of 300 sponsored children in Barangays Lumbia and Macasandig. This year's Summer Camp, led by KKP Volunteers, provided alternative learning sessions and creative workshops which aimed to develop the scholars' leadership skills and their concern for self, family, community, and environment.