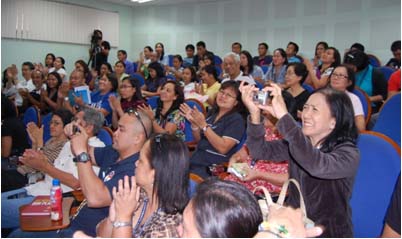 The Office of Mission and Ministry, and the Xavier Center for Culture and the Arts organized a lecture on Self-Transformation on May 20, 9-12 nn at AVR 7.
Vicente Hao Chin Jr, president of the Theosophical Society of the Philippines and author of books on self transformation, was the resource speaker. He shared a simple way of managing fears and stress in everyday life by means of self-awareness processing through abdominal breathing.
Participants, composed of members from the Theosophical Society and the XU community, participated actively during the self-awareness and relaxation exercise.
The Theosophical Society is an organization that espouses universal brotherhood, and the study of religion, philosophy and science in the pursuit of truth.