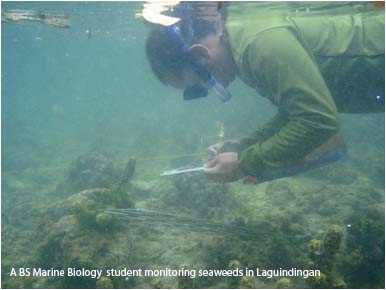 In 2008, the McKeough Marine Center (MMC), with funding from the DOST-PCAMRD, conducted resource ecological assessments (REA) of 14 municipalities along Macajalar Bay. In 2010, with funding from Xavier University, regular monitoring of resources of the bay continued and four sites, namely, Laguindingan, Opol, Jasaan and Kinoguitan, were surveyed as benchmark monitoring sites.
MMC continued the regular ecological assessment and monitoring of the four benchmark sites of Macajalar Bay until May this year. The REA team was composed of the University's faculty and students of Biology and Marine Biology, alumni from the same disciplines, Participatory Coastal Resource Assessment (PCRA) trained local government staff and MMC researchers. The marine and coastal resources assessed were the following: mangroves, macro invertebrates, seaweeds, seagrasses, softbottom fauna, corals and fishes. The REA activity was done on selected dates from April 25 to May 18, 2013.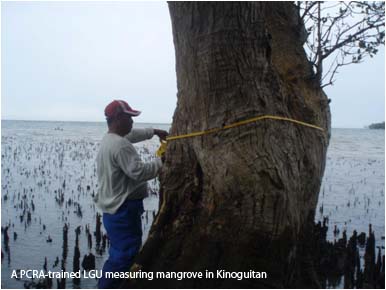 Two teams were formed, namely SMISS (softbottom fauna, mangroves, invertebrates, seaweed and seagrass) team and COFI (Corals & Fish) team. The first team was composed of non-divers while the second one consisted of divers. The SMISS team did their monitoring activities earlier than the COFI team to take advantage of the low tide. They started their monitoring in the last week of April: Kinoguitan on April 25 and Jasaan on April 26, and continued it during the first week of May: Opol on May 7-8 and Laguindingan on May 9-10. The COFI Team started on the first week of May: Jasaan on May 6-7 and Laguindingan on May 10-11; and culminated on the second week in Opol on May 15 and in Kinoguitan on May 16.
Technical results of the assessments will be given to each local government unit as inputs for its coastal resource management plan (CRMP).