by Wilson J Hormeguera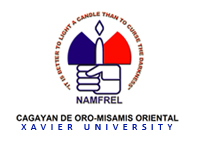 True to what University President Fr Roberto C Yap SJ said of a "University serving society," Xavier University housed the Command Center of the National Movement for Free Elections (Namfrel) for its operations in Cagayan de Oro and Misamis Oriental.
XU offered the Peace Park, CM MPR, and ICT Laboratory as venues for Namfrel's operations, such as voters' education, poll watching and results verification, on May 11-14, 2013.
Nestor Banuag Jr, Namfrel Provincial Coordinator for CDO and Misamis Oriental, thanked XU for "providing NAMFREL with resources and people." He also thanked Fr Yap, VP-Research and Social Outreach Dr Hilly Ann Roa-Quiaoit, Communications Office, Campus Ministries Office, the Physical Plant Office, Security Office, Computing and Information Services Office, and, most especially, the Kristohanong Katilingban sa Pagpakabana-Social Involvement Office (KKP-SIO) program officers and student volunteers who "worked hard from the very start of the operations."
Namfrel CDO-Mis Or opposed the priority number system, sticking with the first come, first served basis as a fairer standard. It was also instrumental in the inventory of election paraphernalia when there were reports of boxes taken out from the City Treasurer's Office where the election paraphernalia were kept.
In the Namfrel Thanksgiving Mass held at the Peace Park on May 14, Fr Rene Tacastacas SJ, who himself was a Namfrel volunteer, inspired other Namfrel volunteers saying, "Being a Christian is to testify to the resurrection of Jesus Christ. Being a Namfrel volunteer is the same, we testify to the truth."
The Namfrel operations were also assisted and sponsored by XUHS alumni who formed a coalition called "Crusaders for HOPE Honest, Orderly, and Peaceful Elections), the Kagayanon for Good Governance, Communications Link for Emergency Assistance Network (CLEAN) Philippines, Inc., XU Debating Circle, Philippine Institute of Certified Public Accountants (PICPA), Unilever, San Miguel Corporation, The Xavier Stage, KKP Volunteers Batch 97, SMART, Nature's Spring, RCF Design Technology, Ogis Lechon Manok, SM City, CDO Photographers League, Magnolia, Purewater, XU-GLI, XU-NSTP, XU-Canteen, ABS-CBN,RMN-DXCC, Bombo Radyo, MAGNUM Radio, and Sunstar Cagayan de Oro.