by Wilson J Hormeguera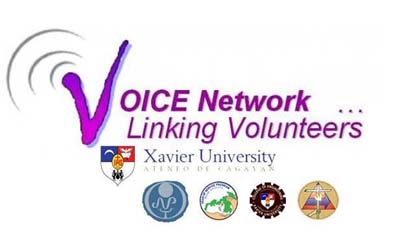 Xavier University's volunteer programs, namely Jesuit Volunteers Philippines (JVP), Year of Service (YOS), Kristohanong Katilingban sa Pagpakabana (KKP) Volunteer Program, and Engineering Resource Center (ERC) Volunteer Program, participated in the launching of VOICE Network on May 7 at its new home, Balay Mindanao.
The launching is also a celebration of the 10th anniversary of the Volunteer Organizations Information Coordination and Exchange (VOICE), Inc., a national network of volunteer organizations and volunteer service programs from different areas and sectors in the Philippines, linking volunteers for information and resource exchange towards sustainable volunteer service in the country.
The launching included a conference on volunteerism and Citizenship to Transformative Governance, wherein Cagayan de Oro Archbishop Antonio Ledesma SJ urged volunteers to participate in Principled Partisan Politics. He mentioned the three (3) ways to involve: non-partisan, trans-partisan, and pan-partisanship. Archbishop Ledesma also challenged the volunteers to work against the practice of rampant vote-buying and political dynasties, and, instead, work for the care and conservation of the environment.
The conference also included a sharing of volunteer engagements for Mindanao Peace and Development and quality Culture-based Education for children in IP and Muslim disadvantaged communities in Mindanao.
The VIOCE launching was enriched with songs and dances by the Mindanao Tribal School and ended with the declaration of support and commitment of all its partners.