The sea urchin industry is not new in the Philippines. In fact, this industry is being practiced by some coastal communities in Bicol and Ilocos regions as alternative livelihoods. The Xavier University - McKeough Marine Center (XU - MMC) recognized the importance of having trainings and programs relating to the sea urchin industry replicated in the coastal communities of Macajalar Bay (Misamis Oriental) and Murciellagos Bay (Zamboanga del Norte), and to provide sustainable alternative livelihoods albeit on a small-scale to local fisherfolks.

With the help of Ecosystem Alliance – International Union for Conservation of Nature (EA-IUCN) and the Macajalar Bay Development Alliance (MBDA), XU-MMC conducted a sea urchin grow-out training for the fisherfolks of Murciellagos and Macajalar Bays on April 10-12 at the Xavier University Marine Station in Solana, Jasaan, Misamis Oriental. The activity was participated in by a number of fisherfolks and local government unit (LGU) representatives from both Bays.
After the said training, each of the fisherfolks was given cage materials to start a small sea urchin farm in their respective areas.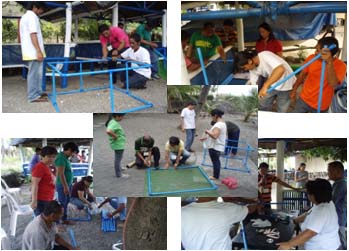 Participants during the cage making activity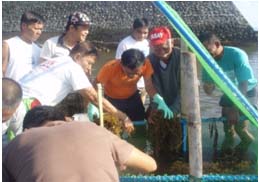 Transferring seedstocks into the cage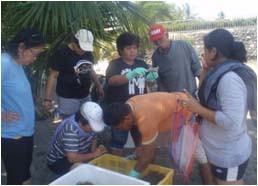 Measuring urchin's test diameter using a caliper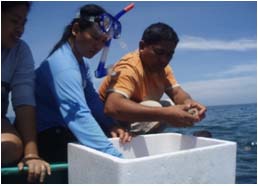 Harvesting of sea urchins from the trial cage