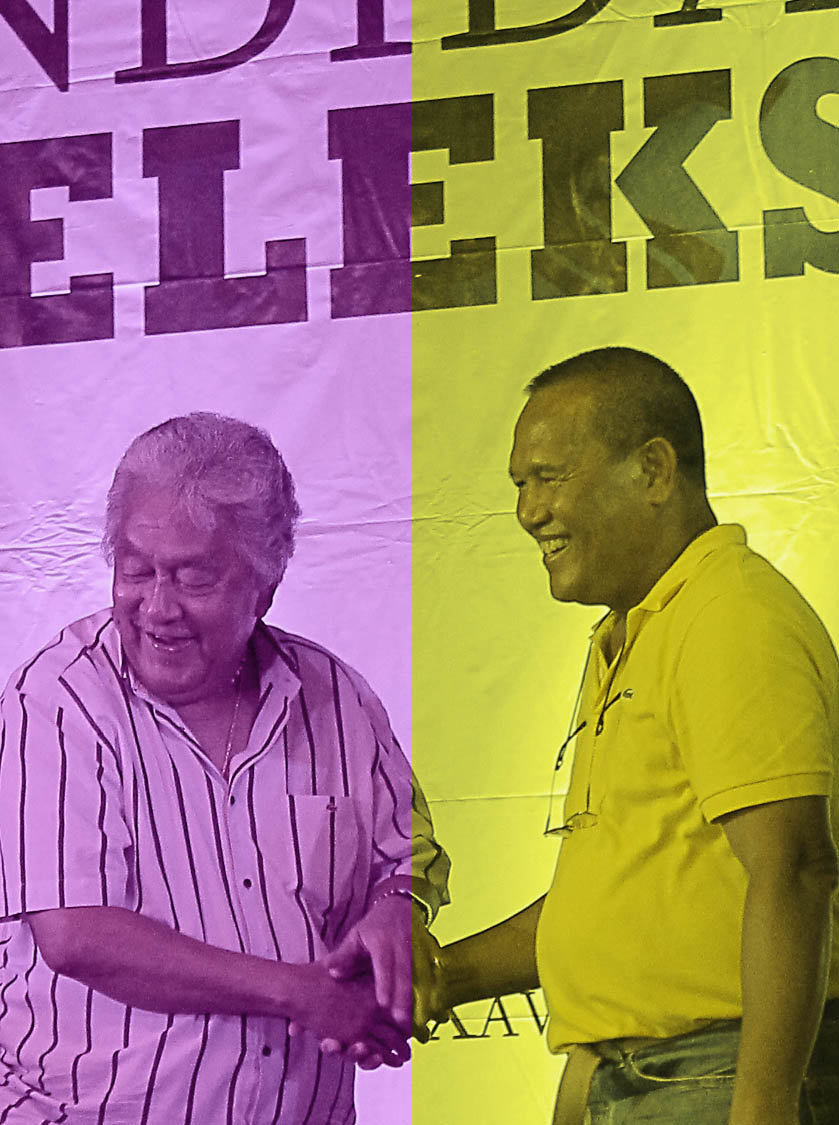 The top two candidates for city mayor faced each other in a point-by-point discussion of their plans for the city during a candidates' forum organized by XU's Research and Social Outreach on May 7 at the XU Gym.
Reelectionist Mayor Vicente Emano and his challenger Misamis Oriental Gov Oscar Moreno laid down their accomplishments and platforms for improving the city's environment, peace and order, governance, food security, and health and sanitation.
Emano said that his administration has carried out reforestation, ridge to reef planning, and adaptation and risk reduction plans, among others to address environmental concerns.

However, Moreno said that Emano neglected the Cagayan and Iponan Rivers, which he said have been destroyed by illegal mining. Moreno proposed the formation of a City Mining Regulatory Board similar to what he did in the province.
As to peace and order, Emano asserted that it is his priority concern. He said that he has provided the city police with additional patrol cars and motorcycles, and millions worth of communications system. Emano also said that many crimes in the city have been solved.
Moreno responded that the city's peace and order problem is a result of high poverty incidence. He said that Cagayan de Oro has the most number of informal settlers, and that the City Police is not being managed well.
On the other hand, "Our Provincial Peace and Order Council has become a model for the country," Moreno extolled.
To which Emano retorted saying "Cagayan de Oro is still the most peaceful and most attractive place in Northern Mindanao for investors."
Both candidates prided the kind of service they provide to their constituents as proof of good governance.
Emano said that anybody who comes to the City Hall is assured of proper service, and that he has sanctioned abusive employees. Further, he said that poor people in the province come to the City Hall to seek for help.
The incumbent mayor elaborated on the upgrading of the JR Borja City Hospital and told those who doubt his claims to visit the hospital and see for themselves.
Moreno, meanwhile, cited that Misamis Oriental is a recipient of the "Galing Pook Award," which is given to LGUs with outstanding local governance programs. He said that the province has been acknowledged as the "best in strategic innovation for government hospitals."
Should he win, Moreno promised to make the City Hospital better than the Provincial Hospital, and to put up more hospitals around the city. He also said that he will work for the PhilHealth accreditation of the city's health centers.
On the issue of food security, Emano named livelihood programs and partnerships with private sectors as some of the initiatives taken by his administration to help Cagay-anons improve their economic condition. He also mentioned the fish and vegetable landings in the city's markets.
Moreno said he intends to build connecting roads to Bukidnon to facilitate the transport of agricultural produce, and to address irrigation concerns.
The mayoral candidates' forum was the last of a series of fora organized by the RSO to help voters make informed choices in the May 13 polls. The first two fora featured congressional candidates, and aspirants for vice mayor and councilors.
XU, through its Kinaadman Research Center, also conducted voters' preference, and community problems and needs identification surveys to help candidates align their platforms to the needs of the city, and to help voters choose their future leaders.