by Ryan Louie G Madrid and Althea Dianne Felix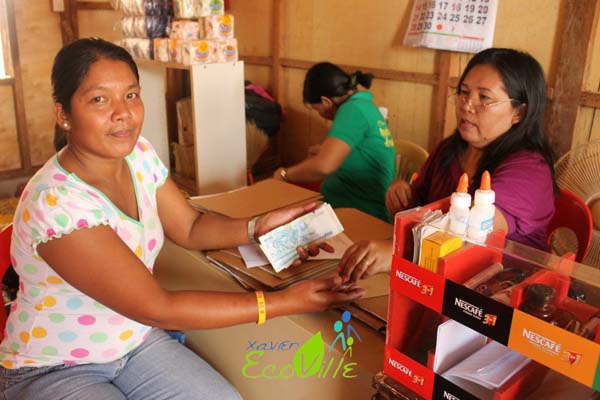 As part of facilitating livelihood development in Xavier Ecoville, the Xavier Ecoville Multipurpose Cooperative (XEMPCO) released Wednesday, Apr 24, the first batch of loan amounting to P285,000.00 for 36 individuals.

XEMPCO, established last year in Xavier Ecoville, the Xavier University-led resettlement site in Brgy Lumbia for Sendong-affected families, has started processing loan applications since December to assist in the livelihood needs of the community.

The cooperative's lending enterprise lets members apply for loan of up to Php 10,000 with a monthly interest rate of 3 percent.
Loan applications for batch 1 were granted to business proposals that include retailing, meat vending, repair shop, sewing and food processing.

Funded by the Peace and Equity Foundation, the lending enterprise is an answer to the Sendong-affected families' need for capital to start up or upscale their small enterprises, said Nancy Joy Tolinero, Community and Enterprise Development team leader of the project management team at Xavier Ecoville.

"The lending program, aside from providing capital, also develops a person's morale by fostering trust in his capacity to pay back his loan," explained Tolinero.

Receiving the loan

The 36 individuals who make up the first batch of debtors were asked to go to the XEMPCO office where they were given priority numbers and made to sign promissory notes and acknowledgement receipts.
After signing the papers, each of them wore hopeful smiles as they received their loaned amount.

Margielene Edulsa, 32, who was among the first batch of approved loan applicants, said in the vernacular, "I'm happy since I can add the money as capital for my rug-making business"
Another debtor, Rose Marie Parado, 25, has other plans. "I'll be dividing this (money) between my small business and what my family needs in the upcoming days."

Edulsa and Palado may apply for another loan in the future once they have paid their initial loans. The second batch of loan applications is currently being processed.

XEMPCO, duly-registered by the Cooperative Development Authority, is operated by community volunteers and facilitated by the project management staff from Xavier University to assist in the livelihood development of Xavier Ecoville. Its enterprises include savings and credit, wholesaling, tree nursery, sewing, food processing and bakeshop.