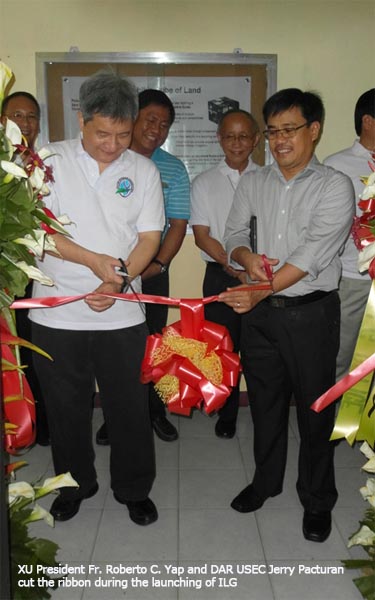 Xavier Science Foundation, Inc (XSF) launched the Institute of Land Governance (ILG) on March 27 with the blessing of its new office at Campion Hall, Xavier University.
The increasing competition for land and the weak governance system drive ILG to engage stakeholders in sustainable resource management. It will be a resource center undertaking research, offering degree courses, and implementing field projects.
XU President Fr Roberto C Yap SJ, in welcoming the institute to the university, explained the setup of ILG. "This will start off, trying to do new things, under the auspices of XSF, and the faster it can take off, the sooner we can formally incorporate it into XU. [As a] first step, let's work in the frontier we want to support. Let's help each other and work together." This arrangement is similar to how the Xavier Ecoville Project was run being first managed by XSF then turned over to the university under its Research and Social Outreach.
Department of Agrarian Reform Undersecretary Jerry Pacturan, among other guests, affirmed the importance of ILG for research and advocacy, and its timely organization amid present global and local land issues. DOST Regional Director Al Alamban, El Gaucho Producers Cooperative President Eden Enriquez and Xavier Ecoville Multi-Purpose Cooperative (XEMPCO) General Manager Marilou Alfabeto expressed their support as well.
Notable guests from XU include Academic Vice President Dr Lina Kwong, VP for Administration Bro Noel Cantago SJ, and VP for Research and Social Outreach Dr Hilly Ann Roa-Quiaoit. Members of the XSF Board of Trustees also attended. Archbishop Antonio J Ledesma DD led the blessing of the office.