Commencement Speech of Secretary Corazon Juliano Soliman
Xavier University Convocation
Cagayan de Oro City
27 March 2014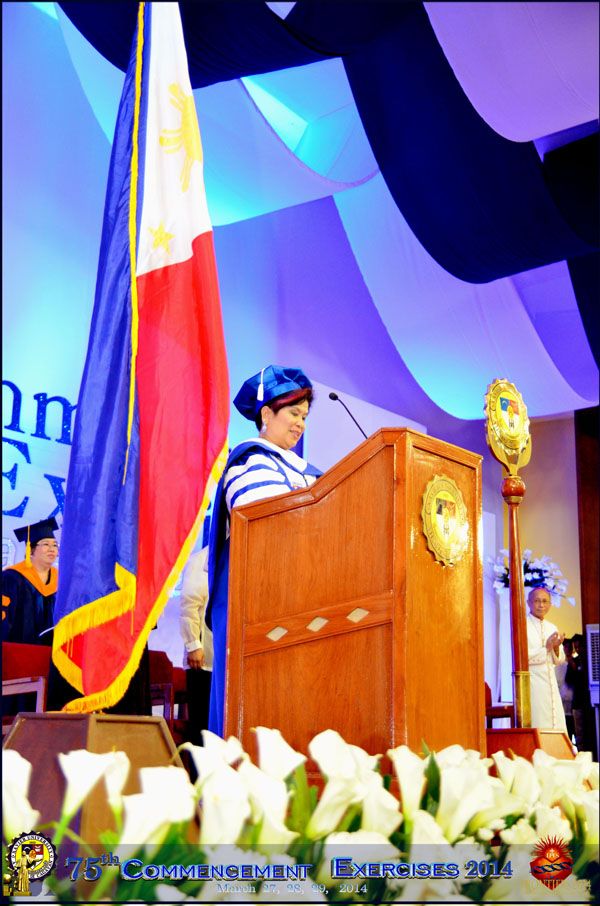 Fr. Roberto Yap of the Society of Jesus, President of Xavier University; Dr. Lina Kwong, Vice President for Academic Affairs; Mr. Elpidio Paras, Chairperson of the Board of Trustees; Most. Rev. Antonio Ledesma of the Society of Jesus, Archbishop of Cagayan de Oro; today's awardees – Mr. Lutgardo Labad and Governor Isabelle Climaco-Salazar whom I have had the privilege of working with in the early seventies – as well with Archbishop Tony; Members of the Board of Trustees; university officials and members of faculty; my dear students, and of course the proud parents and family members who have accompanied you today: isang mapagpalayang umaga po sa ating lahat! Assalamu alaikum! Maayong buntag kaninyo tanan.
Seeing your faces from here, I can tell that many of you are already raring to go out to celebrate this day with your families and friends. The shine in your faces also reflect the eagerness to go out there and take on the world. Before you do, you may want to savor this moment that you are with those you have spent this significant period of your life - your professors, blockmates, orgmates, and friends who have helped you and travelled with you in one way or another in this journey to reach your dreams. You are exactly where you are right now because of a whole community that chose to keep you company. Minsan lang naman maging bata, mabuti nang sulitin na natin ito.
Today marks the culmination of your efforts in the past four or five years – all the sleepless nights, exam anxieties, and grade-related novenas will end today. As you march into the "real world," the true test begins. After today, the measures of your success will be the hand and heart that you extend to the world that is calling on you, not your grades; not your test scores; not your QPI (Quality Point Index). Soon after today, what will define you will be the strength of your character and your willingness to hope, to love, and to serve despite the many heartbreaking realities of life. Let me assure you however: it is not a bleak or indifferent world that awaits, just a tougher one. I am humbled that I have been chosen to speak before you today to prepare you for this. While I do not claim to have all the right solutions to whatever worry you may have about your future, I hope that in sharing with you the wisdom I have gained, I can help you find your own answers.
Much of what I am began in Mindanao, which is why there is a sense of coming home as I stand on this podium today. It was here that the values I hold dear were further strengthened by the challenges of being one with the land and its people. It was 1973 when I came here for the first time to start community organizing in Bukidnon. I was young like you and did not know anybody except for a Jesuit named Fr. Junie Jesena of the Social Action Center who raised funds for the drought victims in Bukidnon, so you can only imagine the uncertainties that I felt in my coming here.
At that time, to go to Bukidnon, one would have to pass three canyons. These were all covered with wild sunflowers. I was so captivated by that scenery that I took it as God's reassurance that I was in the right path. It was as if He was telling me that in taking up His cross to help Him empower and facilitate processes so that the people will realize and use the power they have, God was affirming my commitment to serve His people. To this day, I still look at sunflowers as such. They take me back to that day in 1973 and the commitment to service and empowerment processes I had made to fight for justice; to stand for truth and freedom; to love and reach out to the God in people.
So much has changed since that day. For one thing, the wild sunflowers that colored the canyons along the way to Bukidnon have been replaced by bananas and pineapples. This scene is a telling sign of the level of development that greets people as they enter the province. Many will take this as a positive sign of growth in the industry and perhaps think that people in the area have a life, but the stories that one hears from the communities that grow these bananas and pineapples still resonate with calls for equity and justice. It is as if their tales are signified by the death of the sunflowers that once brought beauty to this land.
Mindanao has long been shadowed by the beauty that it keeps. It is a land of promise, rich in potential, culture, and resources. As a region that thrives in agriculture, it is considered the country's food basket. It supplies over 40 percent of the country's food requirements and contributes more than 30 percent to national food trade. As the second biggest island in the country, it is a reservoir of manpower forming 65 percent of the labor force participation rate, that when fully employed can spur economic growth in the region.1 It is also home to yet untapped renewable energy and mineral resources. These are just some of the many development potentials that when harnessed by you, the people of Mindanao, can lead to a better quality of life for those in your communities.
Knowing this, it is quite ironic to see that amid the glowing promise of development, the poverty statistics released by the National Statistical Coordination Board for the first semester of 2012 reflected that nine out of fifteen of the poorest provinces in the Philippines can be found in Mindanao.2 These statistics are not new to our ears. It only gives weight to the striking contrast between the lush greenery of Mindanao and the poverty of its people – poverty that is rooted in stories of inequity, injustice, and un-peace compounded even more by the reality of a New Normal – one that manifested strongly in the disasters that our nation had to weather in the past year. This New Normal which brings with it a change in scale and frequency of natural disasters is likely to make life more difficult especially for the more vulnerable sectors of our society. The recognition that this is so presents the challenge to government and to the citizens to prepare appropriately and respond adequately.
As you take the first steps in creating your own careers, the glaring challenge of poverty and other realities that Mindanao is facing will certainly be a factor in the life-changing decisions that you will make. But while this is such, there is still much that you can look forward to. For one thing, the long-winded conflict that has kept progress at bay for so long may now come to pass and let loose the many opportunities for progress and a more prosperous Mindanao. Today, as we celebrate and rejoice this significant milestone in your lives, other young people in different places here in Mindanao rejoice and look toward a future with much more hope than their fathers and mothers. Today, the beginnings of a new world will be forged. The decades-old struggle of our Muslim brothers and sisters will enter a new but a more peaceful avenue of change. We say goodbye to the bullets and bombs; the arms and violent struggles that have taken away the lives of thousands senselessly in the span of many decades. We say goodbye to the threats of armed conflict that for decades have burdened the day to day life of many mothers, fathers, and children here in Mindanao. For the people who have witnessed blood and war throughout their lives – many of whom already old and graying, we open a new chapter today. This is the 'better tomorrow' they have been waiting for. Two parties that have walked this long and difficult path to peace will sign the Comprehensive Agreement on the Bangsamoro – an agreement that signals change not only for the people of the Bangsamoro, but for the whole of Mindanao.
That you are graduating at this time is not so much a coincidence, as it is a symbolism that bears you into the narrative of change in the region. To make the promise of a just and lasting peace a concrete reality in the everyday life of the people of Mindanao is a duty that is yours to take on.
I know that at the very core of Jesuit education, students are called to be 'women and men for others'. I take this to mean being one with those in need; to stand up for and with them when they cannot, or to be part of the processes that will help them stand up; to be their voice when theirs have been hallowed out; and to be their strength in times of weakness.
The closest that I came to a Jesuit orientation was in the formative years I spent in the University of the Philippines Student Catholic Action or UPSCA as we fondly call it. Father John Delaney, a Jesuit of no mean energy left an imprint on the vision and mission of our organization which helped shape the values and ideals that serve as my compass through life.
It was in my experience as an UPSCAN that I first discovered what it means to choose others. It was here that I learned that being a woman or a man for others means immersing yourself in the conditions of the people you wish to help or serve. I was in college when we began doing barrio work in UPSCA, which meant staying in the barrio for weeks. My area of assignment then was Negros Oriental where a group called SAKADAS lost a picket and was brought to a place called Mabinay. In one instance in my stay with them, I saw that they were eating ginamos - in that ginamos were worms. Shocked with what I saw, I told them that maybe we should not be eating this. To this, they replied, "but you see Dinky, this is the only thing we have." That hit me in the gut and that was when it struck me that something had to change. No one deserves to live this way.
It is only in immersing yourself in their lives, walking in their tsinelas, laughing with them, dealing with them that you are able to intimately understand and feel the plight of the so-called "others." It is then that you will learn that to choose to be for others will sometimes entail great sacrifices from you. For some, it may mean the abandonment and reconfiguration of youthful dreams and ambitions. For others, it may be the comforts of home. But still and all, choosing to be a person-for-others presents its own rewards and fulfillments – seeing and participating in a community that rises above itself is enough reason to rejoice.
It is also in my experience that the people who will name the problem can do something about it. A good and responsive government is truly only half of the solution for social change. The other half – perhaps the more important one – is its citizens who are actively participating in this whole process of transformation. Bilang boss, ang tao rin ay katuwang ng gobyerno sa pagtahak sa landas ng pagbabago. Citizens should play an active role in identifying what the problem is, why this is a problem, and more importantly knowing that what can be done to solve this problem is to do it together. Government does not have the monopoly of power or solutions. At the end of the day, it is just as effective as the people it serves.
With that said, I would like to take this opportunity to acknowledge and thank first my family, some of whom are here and have taken long hours of absence for me. Also, I'd like to thank many friends who are here and who have journeyed with me in Mindanao from my Bukidnon days including Archbishop Tony and all the others who have journeyed with me, especially the young ones who are here. I'd also like to thank my colleagues from the Department of Social Welfare and Development. Again, some of them are here. They work 24/7 with me in all of the challenges that we face. But I would like to acknowledge specially and thank the Jesuit community who have nurtured and strengthened my commitment to be a person-for-others by being present at times when I needed to learn the lessons; when I needed to be guided in my angry and passionate ways; when I needed to be calmed and to be in solitude. You have always provided me the sanctuary to grow. At a time when I feel so pressured and unappreciated, you come in with this surprise of appreciation. This comes at a good time when I am bruised and tired. Thank you for all these and for being my source of encouragement.
In ending this speech, I wish to leave you, dear graduates, with three things that I hope you will bring with you as you march into the world:
First, as young graduates, you are bearers of hope and light. With the values and ideals inculcated in you by this university, ignite the passion and compassion in this corner of the country by bravely taking on the challenges that will be thrown your way soon after today.
Second, you are the hope of Mindanao. The prospects of this region make a fertile ground for your dreams. Tempting as it may be, building a life elsewhere will not be half as fulfilling as being one of the hands that will raise Mindanao to its fullest potential. Build your life with meaning; go where you are needed; stay in Mindanao.
Third, the change that we want to see in society can best be achieved in the things that we dedicate ourselves to. No matter the path you wish to pursue and the endeavors you wish to take on, do it for the betterment of the world around you. You can join government and be part of the growing machinery of young people who have dared to dedicate their first working years to public service. This will not be a walk in the park, but it is a challenge worth taking. You can join the private sector and harness the energy and capital for enlarging the economic pie and sharing it equitably. You can be entrepreneurs and champion sustainable livelihood by using indigenous materials. You can join other industries such as agriculture and rebuild and recreate agro-industries so that inclusive growth becomes a reality for the Lumads, Moros, and Christians.
Your graduation today puts you against a backdrop of the beginnings of peace in the region. Be pioneers again like your first generation great-grandparents – this time clearing the distrust and conflict – and make the promise of peace a concrete reality for the people – the women and men of Mindanao.
Huwag kayong matakot sumagot sa hamon ng mundong tumatawag sa inyo.

Dare greatly. Serve Mindanao.
Congratulations, Xavier University Class of 2014!
Daghang salamat and sunflower wishes.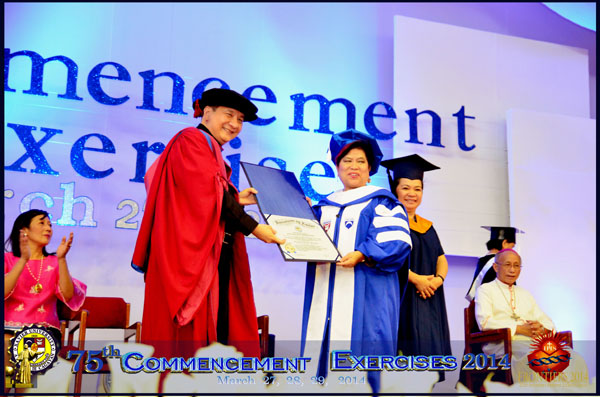 1 Mindanao Strategic Development Framework 2010-2020. Pasig City: NEDA Regional Development Office, 2010. Online.
2 Ordinario, Cai."MAP: The poorest provinces in PH." Rappler. 27 April 2013. Web. 24 March 2014.
NOTE: The nine provinces are: Lanao del Sur, Maguindanao, Zamboanga del Norte, Davao Oriental, Sarangani, Northern Cotabato, Bukidnon, Lanao del Norte, Sultan Kudarat