Lutgardo L. Labad
Acceptance Speech
Fr Francisco Demetrio SJ Award
Commencement Exercises
March 27, 2014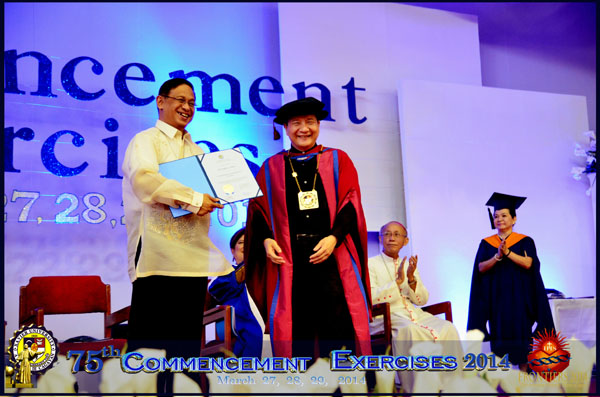 Dear Xavier University President Rev Robert Yap, of the Society of Jesus
Honorable DSWD Secretary Madam Corazon Dinky Soliman
Honorable Zamboanga City Mayor Madam Maria Isabelle Climaco Salazar
Honorable Members of the Board of Trustees Xavier University
Dear Faculty and Staff of this prestigious educational institution in Southern Philippines
And most especially students and graduates of Xavier University in Cagayan de Oro
And of course, our dear artists colleagues from MUSEO DE ORO and Xavier Center for Culture and the Arts, headed by our NCCA artist leader Hobart Savior…
A most pleasant and jubilant morning to all of you.
It is with inexpressible joy and overflowing emotion of gratitude that I stand here before all of you accepting an award I would never have dreamt of receiving since the first time I stepped in this august institution in 1973. This is both a real and symbolic reunion and gesture of affirmation.
Prodded by my mother in the arts, the founder of PETA, Cecile Guidote Alvarez, I accepted to conduct the first pilot integrated arts workshops of PETA at the Xavier Folklore Museum, organized by Fr. Francisco Demetrio in 1972. I had been with PETA then for about four years already, mentored in the art of theater for cultural identity and development, where I was exposed to the powerful strengths of drama for personal and social transformation. But it was during my exposure to the wealth of Philippine folklore and cultural anthropology on exhibit then at the Xavier Museum through the guidance of the illustrious scholar Fr. Demetrio that I was literally swept away by the cultural excellence of Philippine heritage. Fr. Demetrio opened my mind to the brilliance of Philippine epics, folk narratives, customs and beliefs, to the emerging scholarship of shamanism and cultural structuralism. The materials that we used for the Xavier workshop on theater and the arts were all culled from his museum exhibits and research. It established the principle that we could draw from our rich heritage the SOURCE AND CONTENT for artistic creation and production, the VALUES for developing a life of humanism and social responsibility, the WORLD VIEW SPIRITUAL and ECOLOGICAL CONSCIOUSNESS for protecting and positively transforming our endangered Mother Earth.
Thank you Fr. Demetrio for showing me this path of cultural development. Thank you Xavier University for being one of my first birthing homes of a true Filipino consciousness. Ever since that time, through the next decades of my artistic and cultural work be it in the theater, on television, or in film, as a musical composer, or theater director, or a cultural development worker engaging with disenfranchised communities in many underserved areas of our country, I strove with all my passion and commitment which I think I bequeathed from my gurus in the likes of Guidote and Demetrio, to carry forward the torch of arts and culture as an essential component of total human development.
In this time and age, my dear graduates, when all around you in the media are all overwhelming blasts of global music, art, social networking, interconnectivity, movies, and relentless dosage of teleseryes, and mindless entertainment, we stand to lose our cultural integrity in this deluge of commercial and rootless consumerist goods all around us. Our heritage and values are under threat. We have seen the effects of illegal logging, mining, and environmental degradation and neglect. How else can we explain natural disasters like Ondoy, Sendong, partly Yolanda. We have been remiss in our roles as human beings to become stewards of God's creation, and I stand firm in my belief that partly to blame is the lack of valuation of our environmental and cultural heritage. Deep in the strange songs, epics, myths and lore of our Manobo, Tboli, Subanen, Maranaw, Tausug brothers and sisters are stories of heroes that defend and sustain the values of creation. Yesterday at the Museo de Oro, I came to know of the first Cagayan babaylan SALUD who fought against the total annihilation of indigneous culture against the colonizers. If only these heroes and heroines of history and folklore would populate our comicbooks, our movies, our curriculum, our music and arts, we would have been a people more loving of our heritage and legacy.
You all know what happened to my province of Bohol just before the Haiyan storm surge cut a destructive swath across the Visayas last year. Almost all of our cultural heritage in Bohol had been waylaid by a destructive 7.2 earthquake. In a span of 40 seconds, 15 heritage churches fell down, three pulverized to ground zero, hundreds of school buildings tumbled down like a stack of cards, thousands of homes destroyed, cultural livelihoods imapcted, tourism went to an all-time low. After four months, we are now on the road to full recovery and resurrection. The entire province is fervently rebuilding from the ashes of destruction a new landscape for Bohol's future. And part of that process is cultural reconstruction. We are not only rebuilding the physical structures, we are also rehabilitating and reinforcing our intangible cultural values and strengths. We must remap our heritage resources, we must replan our cultural priorities, we must review what was valuable in our cultural past and absorb these in the replanning of a new cultural future.
From 1972 to 2014, from the Integrated Arts Workshops here at Xavier University with Fr. Demetrio, to an international alliance for arts for rebuilding communities, there is only one clear arc: the evoloving social transformation of humanity through culture and the arts.
I thank Xavier University and Fr. Francisco Demetrio for seeding in my soul the passion and the vision; I thank the present Board of Trustees for acknowledging and affirming that cultural mission and vision in my life and in the lives of those whom we touched; and I challenge our present graduates to emblazon yourselves with the same passion and commitment to love and protect our cultural heritage so that we are all better prepared for the next Sendong, the next disasters of this current millennium. Sapagkat
Ang Hindi Lumingon sa Kaniyang Pinanggalingan ay hindi makakarating sa kaniyang paroroonan.