by Wilson J Hormeguera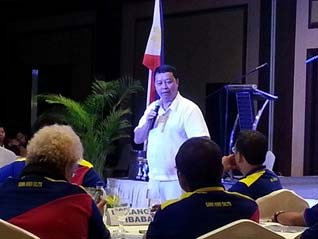 More than 300 barangay officials of Mandaluyong City attended the training with the theme "Enhancing Leadership Capabilities Through Action" at Pico & Sands Hotel in Nasugbu, Batangas on April 29.
Dr Dixon Yasay, director of Xavier University's Governance and Leadership Institute (XU-GLI), gave a half day lecture-workshop on Barangay Governance. Dr Yasay's discussion focused on key functions of barangay governance by giving some models of innovation and performance. He also shared some important perspectives on the common challenges of local governance in highly urbanized city.
Mayor Benhur Abalos reminded the participating village officials to act as partners of the city government. The lecture ended with the strategic positioning of Mandaluyong City in the global arena.
Xavier University continues to engage in governance as one of its thematic agenda under its Research and Social Outreach through XU-GLI.