by Wilson J. Hormeguera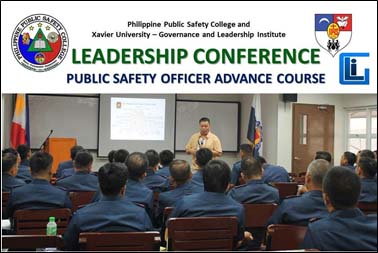 Xavier University-Governance and Leadership Institute (XU-GLI), in collaboration with the Philippine Public Safety College, the training arm of the Philippine National Police (PNP), hosted the PNP Leadership Conference on May 14 at Philtown Hotel, Cagayan de Oro City.The conference was participated in by the chiefs of police from Regions 5, 10, 11, 9, 12, ARMM, and NCR.
The conference had four sessions, namely Leadership through Non-active Violence, Servant-Leadership, Leading through Partnership, and Leadership through Development of Bangasamoro.
Ms. Aminah Mambuay, a Muslim advocate for non-active violence, shared to the participants the value of considering different perspectives in different scenarios and situations. She also presented the components of non-violent communication as means to achieve justice and peace. Mr. Nestor Banuag Jr., director of Xavier University's Social Involvement Office, shared to the participants the traits and practices of servant-leadership, the kind of leadership that has enriched the lives of individuals, built better organizations, and created a more just and caring world.
The afternoon session was allotted to Leading through Partnership and Leadership through Development of Bangsamoro. Mr. Jerome Soldevilla, Program Officer of STEAG Power Plant, Inc., shared the value and benefits of partnership not only with the business sectors but also with civil society groups and the academe. Engr. Gail de la Rita, coordinator of Xavier University's Peace Program, shared the history and development of Bangsamoro, the implications of the Comprehensive Agreement, and the leadership role of PNP.
"In the light of the development and signing of the Comprehensive Agreement on the Bangasamoro, leaders are called to work towards widening the space for understanding, tolerance, compassion, and mind-heart balance." said Engr. de la Rita.
In early 2000, Xavier University signed a Memorandum of Understanding with the Philippine National Police – Philippine Public Safety College (PNP-PPSC) Region X for the capacity building of PNP personnel. XU GLI conducted two training modules namely: Planning Approaches on Planning Approaches on May 9, 2014 at AV Room, XU-CIT Complex and this PNP Leadership Conference.
Xavier University continues to engage in governance as one of the thematic agenda through its Research and Social Outreach and XU-GLI.