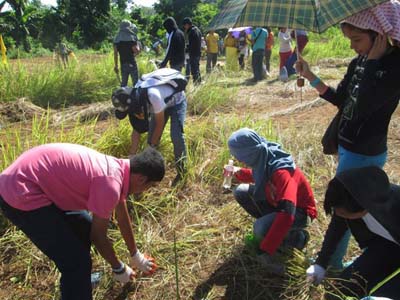 Words by Gimar Reyes
Hundreds of youth volunteers from Xavier University and other institutions engaged in Youth Build 2014 on May 3. The volunteers helped build houses at a relocation site in Barangay Pagatpat for survivors of tropical storm Sendong.
Spearheaded by Habitat for Humanity, this annual event aims to promote responsiveness to the indigent-housing situation in the Asia-Pacific region. Around 800,000 people from 11 countries in the Asia-Pacific region participated in this year's Youth Build.
Education student Cyril Maghilum quoted Mother Theresa, saying, "We cannot do great things but only small things with great love." He added, "This is the best avenue for us, youth, to take part in."
The scorching summer heat served only to fuel the desire of the young volunteers who showed the spirit of "bayanihan." They helped clear up the housing lots and formed a human chain to pass forward hollow blocks to be used for the housing construction.
Francis Gascon, a Development Communication student commented, "As a member of the youth, I feel great being part of this activity. I am grateful and blessed to be able to help those who are in need."
Karl Sayson, a BA major, also shared his experience. "I feel joyful and fulfilled knowing that my efforts will be paid back by the priceless happiness of the survivors when they receive their new houses," he said.
City Mayor Oscar Moreno extended his appreciation to Habitat for Humanity for initiating the activity of not only building houses but also building lives. He highlighted the significance of proactive cooperation, volunteerism and the engagement of the youth in shaping a better society.
Youth Build 2014 reinforced the role of the youth in advocating positive change through volunteerism. It promoted the value of societal engagement to potential youth leaders.