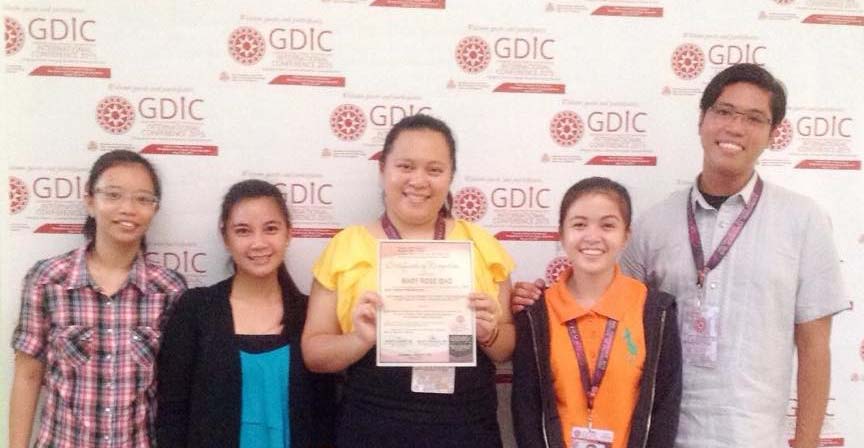 By Gerrich Aldin C Babanto
Economics students of Xavier University successfully presented their undergraduate research papers at the 2015 Gendered Development Intervention Conference (GDIC) held in Iligan City.
The three-day international conference, from May 21 to 23 at the Mindanao State University - Iligan Institute of Technology (MSU -IIT), featured over 90 papers presented in 21 parallel sessions.
The team of XU students Mary Rose Isad, Adellane Joy Resoor and Jelomeh Morris presented their paper "Sustainable Development of Street Food Vendors along Pabayo Street, Cagayan de Oro City" while the group of Mary Kate Almonte, Mary Ucat and Kresna Navarro presented "Housing Condition and Disaster Recovery: A Case of Relocation Site in Cagayan de Oro Resettlement and Socialized Housing Project (CDORSHP) at Phase 1, Sitio Calaanan, Barangay Canitoan, Cagayan de Oro City."
Team leaders Isad and Almonte are both recipients of undergraduate student research grants of XU - Kinaadman Research Center (KRC).
On the other hand, XU-Economics faculty member Gerrich Aldin Babanto presented his research called "Meso Level Analysis of Resilience Using Sustainable Livelihood Asset in the Philippines."
The conference served as a platform for students, researchers, civil society groups, local government workers, advocates and extension workers to discuss their experiences, best practices and pioneering interventions toward climate change mitigation and adaptation, and disaster management.
The event also brought four resource speakers coming from leading universities in India, Indonesia, Hawaii and Malaysia.
This year's theme centered on "Climate Change, Changing Perspective, Evolving Practices: A Focus on Disaster Risk Reduction Management and Climate Change Adaptation."