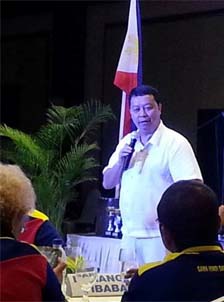 By Wilson J Hormeguera

Xavier University – Governance and Leadership Institute (XU-GLI) director Dr Dixon Q Yasay served as lecturer at a workshop dubbed as "Campaigning for Success: Public Relations and Social Media for Political Parties," organized by the Konrad Adenauer Stiftung (KAS).
More than 30 participants from the different parts of the country who are vying for elective positions in the 2016 elections drew together at the event held on May 17 at the Pryce Plaza Hotel in Cagayan de Oro City.
Yasay discussed on campaigning and fundraising, emphasizing the key role of every candidate to raise funds in order to fuel the campaign.
Unlike in other countries, fundraising for campaign operations is not openly practiced in the Philippines.
Yasay was able to share some examples of the best strategies in seeking financial help from possible donors.
Benedikt Seemann, country representative of KAS Philippines also gave a talk during the workshop.
XU-GLI continues to capacitate and educate leaders as part of the governance thematic of XU – Research and Social Outreach (RSO) cluster.