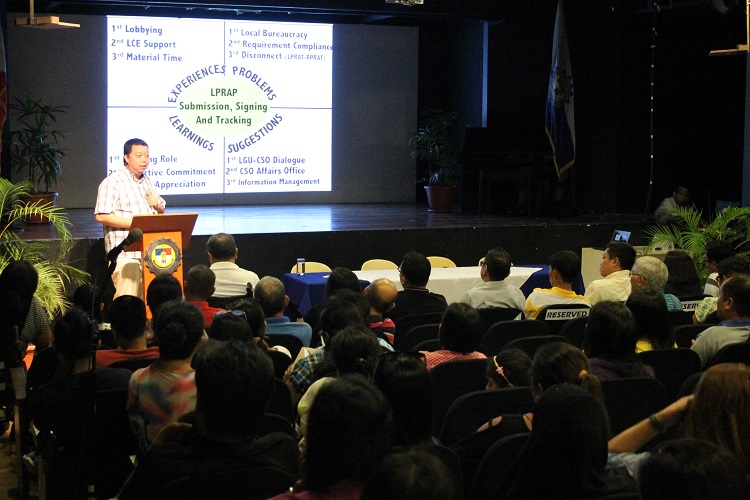 CSO PARTICIPATION. Xavier University's Governance and Leadership Institute director Dr Dixon Yasay presents the results of the case study on the CSO participation in local planning and budgetting in Cagayan de Oro City and the municipality of Alubijid, Misamis Oriental. Photo supplied by GLI.
By Stephen J Pedroza
A study conducted by Xavier University's Governance and Leadership Institute and De La Salle University's Jesse M Robredo Institute of Governance (JMRIG), revealed that civil society organizations (CSOs) in Cagayan de Oro (CDO) and Alubijid in Misamis Oriental continue to face challenges in every step of engagement with local government units, partner institutions and even with communities.
Using the framework of Bottom-up Budgeting (BuB), a strategy of the government to empower CSOs and citizens' groups in participatory governance efforts, CSOs have been able to propose projects to various government agencies, taking into serious consideration the development needs of their communities as identified in their respective local poverty reduction action plans.
From the focused-group discussions, key informant interviews and series of workshops conducted as part of the research, the CSOs raised the need to understand further local governance process, parliamentary procedures, project management, grassroots organizing, appreciative inquiry, microfinance and enterprise, marketing, and monitoring and evaluation strategies, and to improve writing skills to strengthen their capacity in the implementation and monitoring of BuB projects. They also expressed willingness to partner with different capacity-building organizations and academic institutions to improve civil society participation.
The results of the study, which was funded by Seaoil Foundation, with GROUP Foundation and GLI serving as research partners of JMRIG, and presented at the XU Little Theater in April, also indicated that although the creation of a CDO People's Council has strengthened the CSO network mobilization in the city, CSOs are still encumbered by limited budget allotted to their organizations, limited information, and the political affiliations of some CSOs, particularly during election season.
The CSOs also lamented the limited slots in the local poverty reduction action team (LPRAT), their members' lack of validity and qualifications to participate in the LPRAT election, and limited resources to prepare for meetings and other related activities.
During BuB-LPRAT project formulation workshops, the CSOs noted that a lot of subjects were condensed and hurried, which caused complications in the actual implementation and information overload among the participants.
The CSOs were definite in identifying transparency, truthfulness and vigilance as values that guide them in monitoring and evaluating BuB projects. However, they admitted that they have problems with the cost of monitoring, the complicated tools used in M&E, and the lack of technical expertise.
To address these challenges, the study recommends the need to tap local experts, inform the public on the role of CSOs in governance, and to build their capacity to produce technical reports. It also suggests having massive accreditation and evaluation of CSOs, mobilizing them towards sustainability and bringing them to the barangay level to reinforce their presence and voice in BuP-LPRAT projects. Further, guidelines and other information materials related to BuB-LPRAT projects should be simplified, if not translated to the native tongue and tailor fitted to the communities' issues.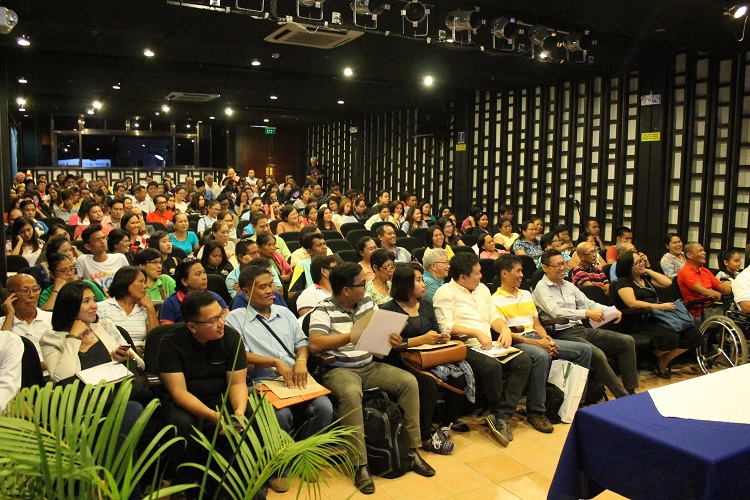 CONVERGENCE. Members of civil society organizations in Cagayan de Oro City and the town of Alubijid attend the presentation of results of the case study conducted by De La Salle University's Jesse M Robredo Institute of Governance, XU's GLI, GROUP Foundation and Seaoil Foundation. Photo supplied by GLI.
CSO participation in BuB projects
In recent years, civil society organizations have taken an active role in the economic development of Cagayan de Oro City, ensuring that programs are fitting to the practical needs of the people from the grassroots. CSO assemblies in the city increased from 87 in 2014 to 107 in 2015, while in Alubijid from 43 in 2013 to 59 last year.
GLI director Dr Dixon Yasay named some of the achievements of the CSOs in the region in helping implement BuB projects, namely, the 2.5km farm-to-market road in Alubijid, organic fertilizer production projects, CAMODAMACO Motorela Spart Parts and Trading shop and the mini-grocery store by the Mambuaya Persons with Disabilities Association, among others.
The total budget allotted for BuB programs this year is Php2.1 billion for CDO and Php85.52 million for Alubijid. The poverty incidences of the two areas were considered before setting their BuB budgets. Alubijid registered a 35.4% poverty incidence in 2012, while CDO had 7.7%.
According to the study, CDO has increased its number of BuB projects from 17 in 2014 (with a total budget Php62.02 million) to 25 this year (with a total budget of Php70 million).
The study also underscored the role of women in the BuB-funded programs and in the sharing of information to their partner communities and organizations, as shown in the study.
"More women are now getting involved in BuB projects; they see it as a way to empower themselves," Yasay said.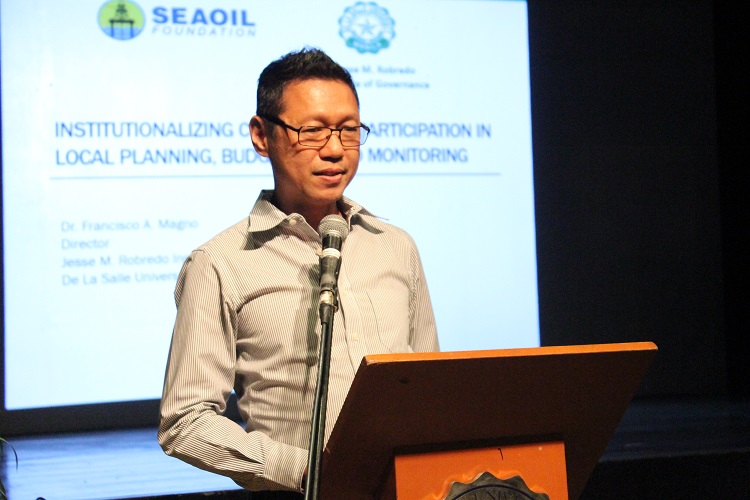 CHALLENGES. De La Salle University's Jesse M Robredo Institute of Governance director Dr Francisco A Magno underscores the need to stregthen the capacity and deepen the engagement of local CSOs participating in BuB programs. Photo supplied by GLI.
The case study examined CSO participation in seven major steps in a BuB project, namely: CSO Network Mobilization, CSO Assembly Announcements, CSO Assembly and LPRAT Election, BuB LPRAP Formulation Workshop, LPRAP Submission and Signing, Priority Project Implementation, and Project Monitoring and Evaluation. The researchers also documented the CSOs' experiences, issues, reflections, and recommendations.
"With this study, we hope to strengthen the capacity and deepen the engagement of local CSOs participating in BuB programs, particularly in BuB Project Monitoring and Evaluation," said JMRIG director Dr Francisco A Magno.
"With GLI as our academic partner, we would like to share knowledge on the BuB process and its impact on CSO empowerment, as well as the quality of governance and delivery of public services," said Magno adding, "We believe that it is important to understand the lessons and tools to be developed to monitor BuB projects."