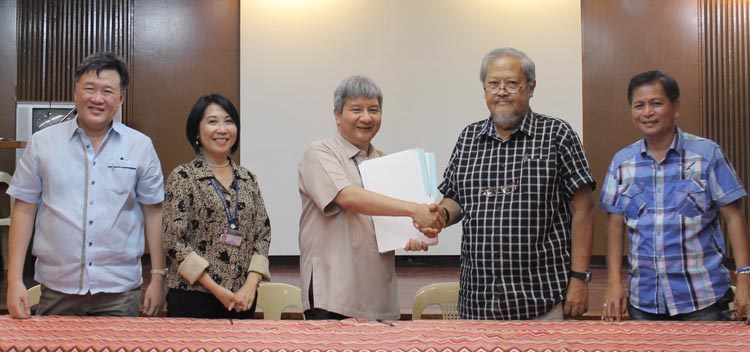 Signing the CBA were (L-R): XU Legal Adviser Atty Francis Ku, HR Director Sol Amir, Xavier President Fr Roberto Yap SJ, Union President Romancito Padilla and ALU's Atty Nicandro Borja.

The management of Xavier University and the Xavier University Non-Teaching Labor Union (XUNTELU) signed a new five-year collective bargaining agreement (CBA) effective June 1, 2015 until May 31, 2020.
Present during the signing of the CBA on May 19, 2016 were the vice presidents and officers of Xavier and XUNTELU officers.
Fr Yap hopes that with a new contract in place, XUNTELU and the XU Management can come together as one community in facing the interesting challenges of the university.
Maria Veronica Large, XUNTELU vice president, acknowledged the need for collaboration to achieve the end goal of industrial peace.