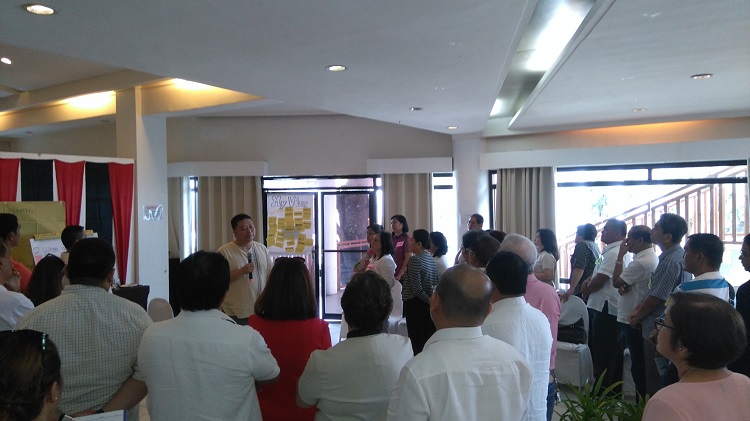 2022 VISION. Xavier University's Governance and Leadership Institute director Dr Dixon Yasay serves as the workshop facilitator for city government officials in crafting a 2022 vision for Cagayan de Oro using the principles of Theory of Change. Supplied photo.
Report by Wilson J Hormeguera
"By 2022, Cagayan de Oro City will be financially strong with secured and empowered Kagay-anons."
This is what the department heads of the city government of CDO envisioned to accomplish six years from now as a result of the introductory workshop on the Theory of Change, facilitated by Xavier University's Governance and Leadership Institute (GLI) on June 27.
The first session formed part of the series of workshops on Theory of Change, a process that maps out why and how a desired change should be achieved.
This process involves identifying a long-term goal, necessary assumptions to achieve that goal, strategies to be executed by the organization, and developing performance assessment indicators for each assumption and strategy, including writing reports and experiential narratives to encapsulate the theory.
Through this Theory of Change workshop, the department heads arrived at the said vision, which will be achieved when basic services become "excellent and synergized," when public servants grow into "highly professionalized" individuals, and when government processes become "ICT-efficient and beyond compliance."
"The Theory of Change, as a planning and evaluation tool, allows the bureaucracy to define the direction they desire for the city government and for Cagayan de Oro City as a whole," said GLI director Dr Dixon Yasay, who served as the workshop facilitator.
GLI is the city government's partner in the formulation of the 2022 Strategic Picture that serves as a guide of the City Management Committee in crafting development initiatives. ∎