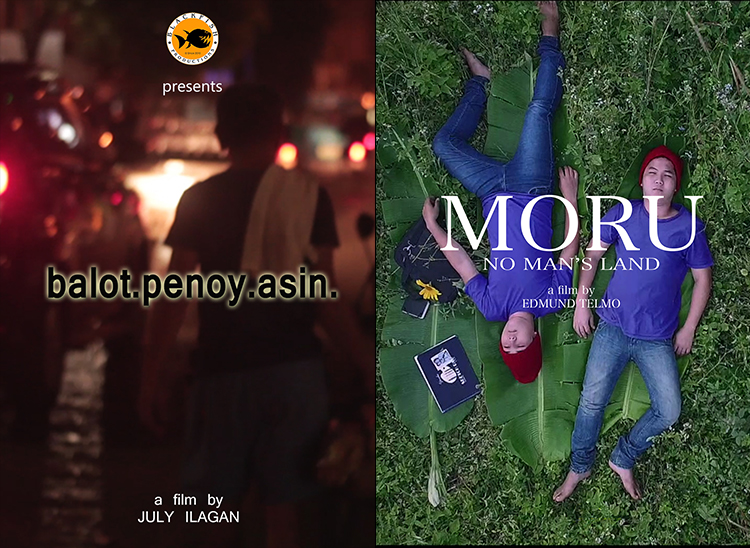 By Stephen Pedroza
The ninth installment of Cinemagis Digital Short Film Festival successfully concluded on Saturday, January 28 with an awarding ceremony held at the SM City Event Center. "Balot. Penoy. Asin." by Julienne Anne Ilagan and "Moru: No Man's Land" by Edmund Telmo emerged as top victors from the roster of official entries.
The event's guest of honor, Film Development Council of the Philippines (FDCP) chairwoman Mary Liza Diño-Seguerra, in her message for Cinemagis, said: "The FDCP is proud to be a first-time partner for the 9th Cinemagis Digital Short Film Festival in Northern Mindanao! We are very happy to support Xavier University - Ateneo de Cagayan in their celebration of filmmaking frontiers that capture the voices, aspirations, stories, and lore of Northern Mindanao."
In line with FDCP's goal of developing and empowering regional film festivals, Diño shared, "With a focus on themes of peace, gender, development, cultural solidarity, promotion of heritage and history, doing more and caring for others, and life's funny contradictions — Cinemagis is a great avenue of exhibiting the lives of those in Northern Mindanao."
Cinemagis and Xavier Center for Culture and the Arts (XCCA) director Hobart Savior seconded Diño's message, adding that this season reaped "new experiences that voice the terrain of Northern Mindanao's sentiments and sensitivities."
"The films this year tackled issues from the personal to a more collective experience where social issues could either be clearly seen or implied to magnify tension and to 'problematize' the mundane," he said.
Keeping its promise of improving year after year, Cinemagis has been a platform for young and professional filmmakers in Northern Mindanao and by extension this season, the Caraga Region, to pour out their passion, stories, and filmmaking skills, and for cultivating the experience and growth of local film audiences.
Breaking the façade
This year's festival shortlisted five professional entries, 12 student films, and seven special film features, which were screened at the Xavier Ateneo Little Theater and SM Cagayan de Oro Cinema 1 from January 25 to 28.
"Balot. Penoy. Asin." by Julienne Anne Ilagan was hailed as the Best Short Film in the professional category. It also won Best Cinematography and Best Story.
Ilagan's film follows the story of 47-year-old street food vendor named Fredo who doubles as a drug dealer at the wee hours in the city, reflecting on the bloody campaign of the present administration against illegal drugs.
The filmmaker, who said during her speech that she didn't expect to get the top prize of this year's Cinemagis, dedicated the award — besides her cast and crew — to the people who encouraged her to produce a film with social relevance, particularly, the Imoortals Productions led by Kagay-anon filmmaker Joe Bacus.
The vanity project patterned after the story of Orpheus, a legendary musician and prophet in Greek mythology, "Orpheus" by Orpheus Nery won the 2nd Best Short Film award, along with Best Director for Nery, Best Sound Scoring for John Uy, Best Editing, and Best Art Direction. "Orpheus" served as Nery's third film in Cinemagis, following his "En Pace" (Cinemagis 2015) and "The Barrel" (Cinemagis 2016).
The 3rd Best Short Film went to "Ang Ikaduhang Pagbalik (The Second Coming)" by Jeffrie Po. His film also won the Sulyap Kultura Award for its portrayal of indigenous traditions and for its exploration of man's faith and religiosity.
Cloyd Winstanley's "Libra," a film about the dark secrets of a young couple, Paolo and Ellie, won the Audience Choice Award and SM Choice Award. In his acceptance speech, he thanked the Oro Integrated Cooperative for producing his film and he encouraged everyone to work together to develop the filmmaking industry of our region.
"Bandana" by Adrian Rey Manapil, a film on friendship and resilience, got the Best Trailer Award this year.
(Related read: Cinemagis 9: 'Bandana,' 'Subang' lead nominations)
There were no nominees for Best Actor and Best Actress awards in the professional category.
Film language from young filmmakers
"Moru: No Man's Land" by Xavier Ateneo's Edmund Telmo was awarded the Best Student Short Film and Best Cinematography.
In "Moru: No Man's Land," Julius, an artist with a de-realization tendency, struggles to come back to reality after getting into a surreal world caused by his psychological disorder and an enchanted encounter in the forest. Telmo, a theater actor of The Xavier Stage, also starred in Winstanley's "Libra" as Paolo, together with his girlfriend, Jean Stefani Obsiana as Ellie.
"Penpenhod (Love)" by another Xavier Ateneo student, Rod Villegas, landed 2nd Best Student Short Film. It also won Best Director for Villegas and Best Actress for Friah Pagaduan. This film challenged the audience to examine a reckless love story of Willie and Louisa and its consequences to a tribal community.
Leading the nominations earlier, "Subang" by Christian Alan Toring from Mindanao State University – Iligan Institute of Technology (MSU-IIT) won the 3rd Best Student Short Film, Best Art Direction, and Best Editing. Toring also got the Male Star of the Night Award, together with the director of "Katapad," Cindy Obeñita from Liceo de Cagayan University as the Female Star of the Night.
The Best Actor Award was given to Carlos Peñaloza of "Ilad," a film which navigates through a problematic father-and-son relationship.
Francis Cang of "Para sa mga Nibiya (For those Who Left)" by Mac Kianro Maki Calo won the Best Sound Scoring while the Best Poster Award went to "Mama" by Carlo Pailagao.
Special citations were also given to Camiguin-based Vic Acedillo Jr's featured film "Lando at Bugoy" (one of the full-length films during the 11th Cinemalaya Independent Film Festival of the Cultural Center of the Philippines), Rodiell Veloso's "Ang Wa' Damhang Importansya sa Teleserye," Daniel Clark Cabantan's "Handuman," Aubrey Rocin Llamas's "A Fading Heritage," Joe Bacus's "Tanya," Jeffrie Po's "The Soil of Dreams," and Acedillo's "Kakampi."
Celebration of filmmaking frontiers
The top winners will be featured at the national Cinema Rehiyon 9, the film harvest dubbed as "a detour from the Manila-centric movies," to be held in Tagum, Davao del Norte later this year.
A total of 18 awards were given during the ceremony, attended in by the members of the judging panel, namely, FDCP National Film Archives project development officer Quintin Cu-unjieng, Cinema Rehiyon 9 festival director Atty Karen Malaki, and La Salle University - Ozamis's Teatro Guindegan director Felimon Blanco.
On the morning of January 28, Zamboanga-based filmmaker Ryanne Murcia held a talk on production design and shared her experiences in making LGBT-themed films.
More than the giving of awards, the festival aims to promote local talents, voices, and culture. To this end, the Cinemagis jurors and guests shared some insights on ways to improve their cinematic language and aesthetics.
"Cinemagis fosters more opportunities for students and aspiring filmmakers in Cagayan de Oro to hone their filmmaking skills and share them with an eager and equally passionate audience. Bravo to another successful event and many more to come!" FDCP chairwoman Diño said. ∎