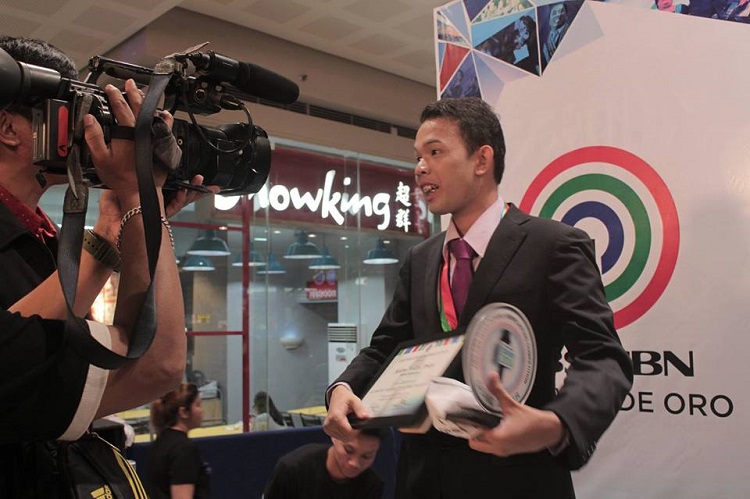 CHAMPION. Brian Adam Anay triumphs in the ABS-CBN interschool newscasting competition in 2016, the first Development Communication student from Xavier Ateneo to receive the honor. Photo by Daleton Tiu
By Angelo Lorenzo
Brian Adam Anay is a storyteller. When he was in the third grade, he won a storytelling competition against older contestants. It was his first extra-curricular achievement. That experience led him to believe in the importance and fulfillment of excellence.
Since then, he had joined quiz bees, science fairs, and journalism contests. To him, excellence, along with his parents' encouragements, had proven his worth despite the bullying he had been through in elementary, the asthma that deprived him of outdoor activities, and the low self-esteem that came with them.
His excellence, however, won him awards and recognition, not only in the extra-curricular but also in his academics. His name was constantly listed among the honors in grade school and high school. He became the Rotary Youth Mayor of Cagayan de Oro City when he was in the third year. Upon finishing his secondary education, he was the class salutatorian.
Now a degree holder of Xavier Ateneo's Development Communication program, he emerged as the class valedictorian during the university's 78th Commencement Exercises, and graduated cum laude.
But his story goes way back.
His humble prologue
He first encountered the value of sacrifice when his mother gave up teaching to take care of him and his younger sister. His father is a driver and mechanic and is the source of his family's provision. His family wanted their children to grow up in a safe and loving environment, and with his health condition, he received the care he deserved.
He remembered being sickly and fat, and he thought he could never do what other rowdy boys in school could. Before a duckling turned into a swan, they taunted him for being different from them. But whenever he felt the inferiority and the discouragement to belong, his parents always reminded him of what he could do. The purpose of being in school is to learn, not to make fun of others.
It is education that his parents could leave to him as their legacy. His father worked for a living, his mother took care of him.
He didn't let their sacrifices go to waste. This value remained in him as he learned year after year, scored high in quizzes and exams, participated and won in competitions, until he moved on to the next phase where he found where he belongs.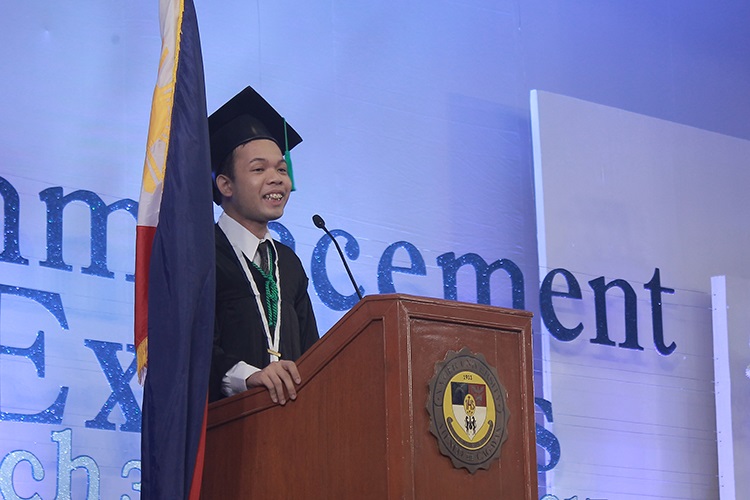 XU VALEDICTORIAN. Brian Adam Anay expresses his devotion for Mindanao in his valedictory address during Xavier Ateneo's 78th Commencement Exercises. Speaking before thousands in the university gymnasium, he dedicates his identity as an Atenean to amplify and help solve the issues concerning the island. Photo by Rico Magallona
Going the distance
Becoming a communicator was never part of the original plan. He wanted to explore the science of politics or the metrics of business as soon as he graduated high school. But when his aunt asked him what he wanted to do, he said travelling around the world and making a living out of his talks were among his desires. He loves to talk, to tell stories, and the world has a multitude of pages to fill in. He qualified as a communicator, his aunt said, so she introduced him to the Development Communication program of Xavier Ateneo.
He complied and embarked on an adventure. It was a new phase with new people far different from the rough bullies from years ago. With them, he trekked on the mountainous wonders of Cosina, Talakag, Bukidnon in his first year in college. Crossing shallow rivers and climbing steep paths helped him reach the destination where the local community awaited him and his batchmates so they could immerse and share their unheard stories.
He began to love the program and its courses, and even then, he never neglected his aspiration for excellence. Often still nervous and apprehensive in a much wider campus, he focused on doing his best as he remembered his education and participation in school-related activities comprised his purpose as a student.
Therefore, he studied on his own, researched beyond the lectures in classes, submitted paperworks before their deadline, joined an inter-collegiate newscasting competition and championed as the university's representative, wrote a feature article about his father in a region-wide student-journalism contest and won, performed with a theater organization, ignited personal relationships with peers and mentors, and inspired fellow students. He maintained the necessary QPI every semester to include his name among the dean's list, and balanced his extra-curricular activities with academics.
But like many paths, obstructions came inevitably. He claimed to commit mistakes by instances that involved his late arrival in classes and being scolded in front of his classmates as a result.
There were times when he questioned his deeds and future identity which he confessed were petty issues for a millennial. What do I want to do? Who do I want to become? What style should I wear? What music should I listen to? he asked.
However, he believes these happened to make him a better person.
Thus, he continued further from the distance he had reached.
Resolution to a conflict
He won as he stood against doubts by his pursuit of excellence which eventually led him to stand out among the rest.
But he knew conflicts exist beyond his self and many people in his home have been torn because of them.
In his last year in college, he began advocating for the cause of a social campaign developed by fellow DevCom students and their adviser. Known as I Am Mindanao, the campaign circulates on social media and aims to break the stereotypes that people, not in the region, perceive of Mindanao. This campaign also promotes its culture and identity.
He met with fellow Mindanaoans who shared to him their stories of inspiration and hope. Acts of terrorism and violence in rare selected areas do not comprise the entirety of the island as much as its diversity gives it hope for progress and peace.
It was the highlight of his life in college. Even as he graduated, he currently continues to advocate for the campaign.
He hopes his part in it can contribute to resolving the conflicts presently hindering the island from achieving the same dream for development that other places in the Philippines have.
***
What once was a sickly child who rarely went outdoors has now found the place where he belongs. His identity as a Mindanaoan helped him realize that there is still so much to be done in his home. Being an Atenean, he values excellence – the pursuit of which aids other people in the island who weren't given the same opportunities due to conflicts and social factors to achieve the same.
His story continues, and he desires for Mindanao to be part of it.∎
RELATED READS
The priestly devotion of Emmanuel Sumayang by Angelo Lorenzo
Jay Nelson Corbita defies odds in the name of his dreams by Alex Belen
The enduring love for literature and music of Miss Eunice Baliong