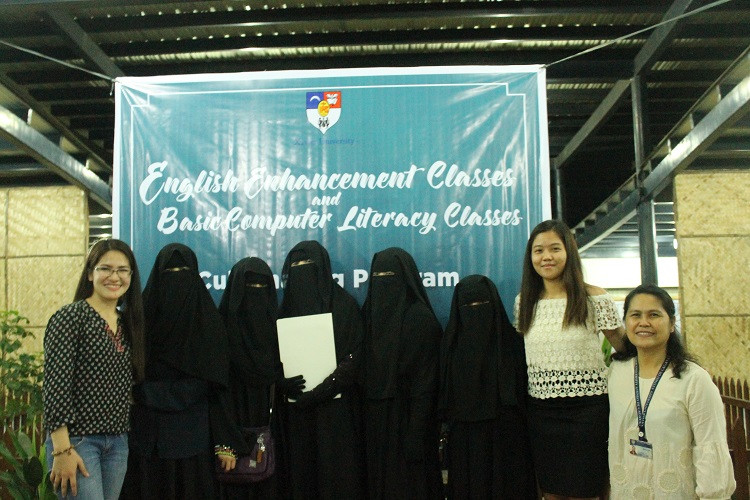 FRIENDSHIP. XU Peace Program coordinator Engr Gail de la Rita, Year of Service volunteers Maricar Jabao and Jade Obedencio with students of Halawatol Iman Litahfidhil Qur'anil Kareem. Photo by Siegred Lastimoso
Report by Siegred Jade R Lastimoso
"Asatidz" or Muslim teachers of Arabic Language and Islamic Values Education (ALIVE) and Halawatol Iman Litahfidhil Qur'anil Kareem students from various public elementary and high schools in Cagayan de Oro City successfully finished a yearlong English language and communication enhancement program and computer literacy classes at Xavier Ateneo.
Organized by the Interfaith Forum for Peace, Harmony and Solidarity (IFPHS) of the Archdiocese of Cagayan de Oro, in partnership with Xavier University - Ateneo de Cagayan through the Year of Service (YOS) under the Peace Program, the English and computer classes were held from July 2016 to April 2017 and March 2017 to April 2017, respectively.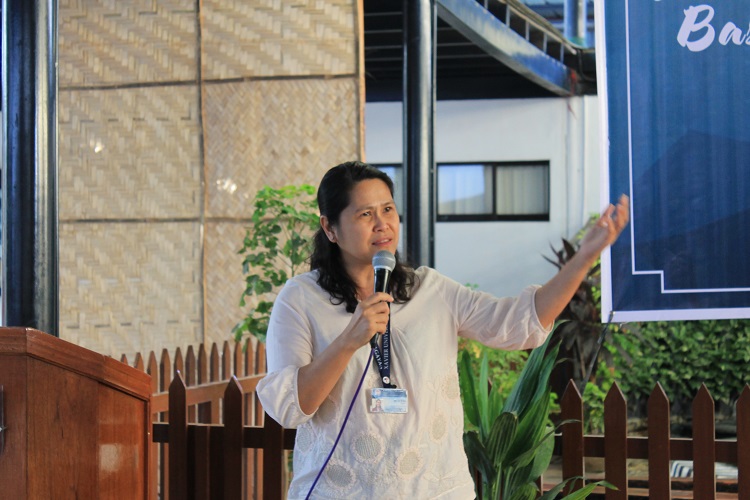 MESSAGE OF GRATITUDE. XU Peace Program Coordinator Engr Gail de la Rita shares insights during the culmination of the classes. Photo by Siegred Lastimoso
During their culminating activity on April 21 at the XU Peace Park, the participants shared their memorable experiences in the program, including improving their knowledge on the English language and computers, interpersonal development, and confidence building with people from other religions to foster understanding and peace.
"We are now able to express who we are better," said Ustadza Norhidayah Omar, one of the participating ALIVE teachers. "After how many years, we are able to hope again and to speak English better."
Certificates were given to the program completers, led by the YOS volunteers and the representatives from the XU Social Development cluster.
"You have skills, you have talents, and you are good in speaking English. That's why your experience is very important to find better opportunities," said XU's VP for social development Roel Ravanera in his message.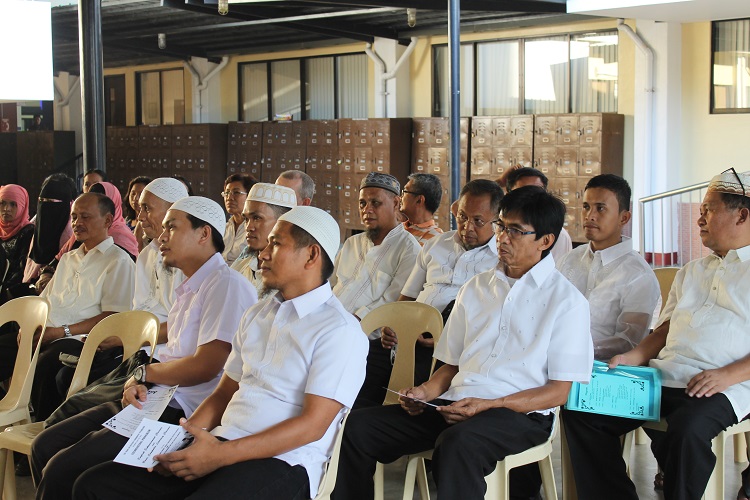 COMPLETERS. Asatidz of the English Enhancement and Computer Literacy Classes listen to the opening remarks during the culminating activity. Photo by Siegred Lastimoso
The organizers of the program, which obtained the blessing of National Commission on Muslim Filipinos when it started in July last year, hope to continue this peace-building initiative anchored on education and interfaith dialogue.
Fr Paul Glynn MSSC, co-convenor of IFPHS, was also pleased with the outcomes of this interfaith endeavor.
"We really established our close friendships here. We are Christians, we are Muslims, and we believe in one God, one Allah. We are working together to build friendship and peace and we must continue that," he said.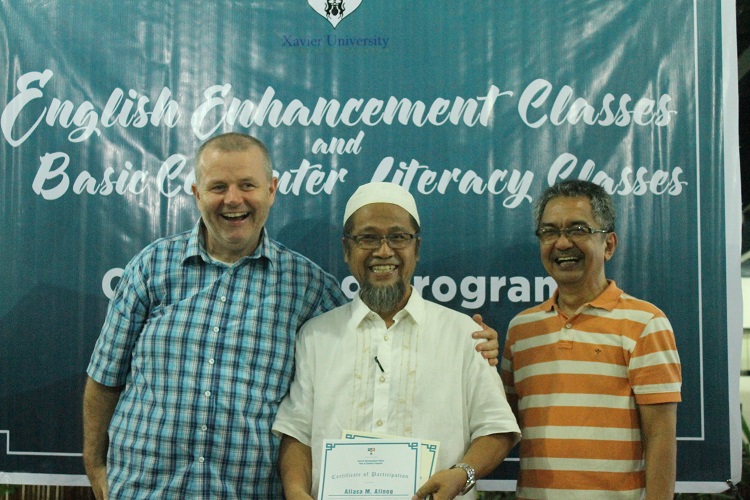 RECOGNITION. IFPHS co-convenor Fr Paul Glynn and XU's VP for social development Roel Ravanera pose with Ustadz Aliasa Alinog. Photo by Siegred Lastimoso
Created in 2007, IFPHS serves as an avenue of faith and religion, with Christian and Muslim members connected with the government, academe, youth organizations, and pastoral ministries in their respective communities. The group aims to pursue its programs as humble contributions in the peace efforts in Mindanao, especially by making people understand the different faiths.∎

PARTNERS IN MISSION. IFPHS co-convenor Fr Paul Glynn MSC (center) strikes a pose with YOS volunteers Albert Canoy, Jade Obedencio, Marlon Boro, and Maricar Jabao. Photo by Siegred Lastimoso