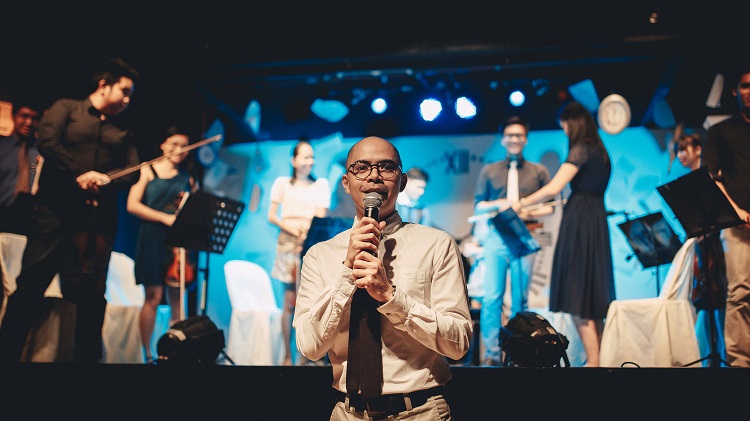 THE ARTISTIC DIRECTOR. Xavier Philharmonia's artistic director Francis Joshua Arrabaca thanks the audience for coming to their 2016 inaugural concert, "Auld Lang Syne" at the XU Little Theater. Photo by Carlo Kristian Pailagao/The Crusader Yearbook.
A profile by Eunice Soriano Baliong
In December 2016, a discord struck Xavier Philharmonia's musicians and production staff when its founder and artistic director Joshua Arrabaca announced he is leaving the organization in the next academic year.
Fondly known as Sir Josh by the members, Arrabaca pioneered Xavier Ateneo's first and only orchestral organization five years ago. This is the story of the man who left a mark to the young musicians of Xavier Philharmonia and to the people whose lives have been touched by their orchestral music.
His first strum
His passion for music began when he first strummed a classical guitar at the age of fifteen.
Born to a musically-inclined family, the now 31-year-old musician recalled how his interest chimed in the studio of Ernie Vasquez after the latter played Romanze de Amour.
"It was by accident that I chose the classical guitar because at that time, the music studio of Sir Ernie Vasquez was beside the barbershop where we usually had our haircuts. One day, after we got our haircuts, my Dad called us over to Sir Ernie's studio," he recounts.
Seeing the interest of his son, the patriarch pushed young Josh to take lessons and since then, for two or three years, the young boy became the disciple of Ernie Vasquez, a classical guitarist.
Arrabaca confessed that his childhood spent as a choir member under the tutelage of his aunt was detrimental to shaping his classical guitar phrasing, "When you join a choir, you learn how to phrase your music the way a singer would phrase it. Even though I am an instrumentalist, the way I phrase it is the way a singer would play an instrument. So it's not just an instrument, but there is an underlying voice, a vocal quality, a song-like quality to my instrument playing."
Next to the classical guitar, Sir Josh also plays the violin and viola.
Resounding the hymn
Arrabaca returned to Xavier Ateneo in 2012 as a part-time instructor at the College of Computer Studies. But he pursued his passion to be involved in music as well.
"I was looking for a student organization in orchestral or ensemble music," he shares. "When I was in college, the arts were not very well-supported. If there were concerts, there were only choral concerts and they happened only once a year."
Although theater productions were organized by the Xavier Center for Culture and the Arts (XCCA), there was no direct organization linked to resound his passion for music.
"My Xavier education taught me that if something doesn't exist, you ask what the obstacles to creating that thing are, address those obstacles, and go about creating it. Luckily for me there were really no major obstacles at that time so I went ahead and started an organization," he says.
With this tune in mind, he barged one day into XCCA director Hobart Savior's office after his reference and requested for guidance to establish Xavier Ateneo's first orchestral group. "Fortunately, [Sir Bart] was very supportive and informed me of the guidelines," he says.
The challenge that Sir Josh had to contend with were the resources needed to establish the orchestral group such as the facilities, budget, and even a rehearsal room. Until today, these still present as challenges for Xavier Philharmonia as the group is expanding. They still don't have their own rehearsal or music room. "It took years until we had a steady support, and it was really a big challenge," Arrabaca remarks.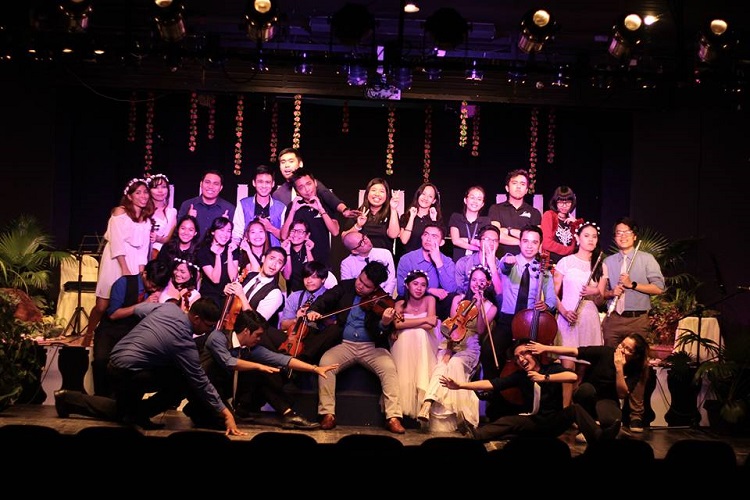 ONE BIG FAMILY. The Xavier Philharmonia Orchestra and Production Staff at the "Somewhere Only We Know" concert on February 10, 2017. Contributed photo.
The prosody of an artistic director
The responsibility fell on his shoulders, but he played on.
His passion for classical music, his good management background, and the Ignatian principle of Magis were the keys to his success as the company's artistic director.
Though he is strict with quality, he admitted lowering his criticism so members can gradually achieve his standard. "If I followed my own standard, we won't have any concerts," he confesses. "I'm that strict in terms of quality. But I really want to push everyone because the fact that you are in XP means that you have the potential and I don't like seeing potential that's wasted. You really have to push yourself and attain something that is greater than before."
He admits that the greatest challenge involved balancing the time for implementation, directorship, and performance. In spite of his PTA involvements and participation for Comp Stud's student organizations, developing musical talents of XP's members, which he had taken part in honing, encouraged him to go on.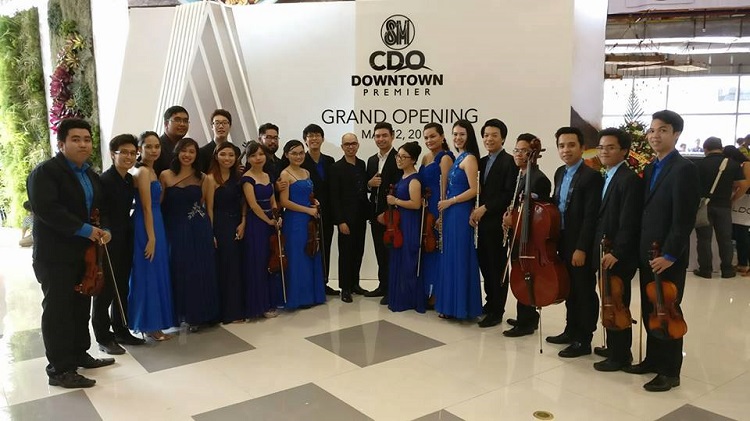 CDO PERFORMANCE. The orchestral ensemble at the Grand Opening of SM CDO Downtown Premier. From left: Alfretch Kristov Ebuna (concertmaster), Bradd Michael Gabe (XP president) Melody Concillo, Elyza Paderanga, Delf Sabaduquia, Florenz Wendi Tan, Daniel Yoo, Karen Mae del Puerto, Roque Valmoria, Melissa Kristina Macapelit, John Oliver Ty, Francis Joshua Arrabaca (artistic director), Jarvi Fuentes (conductor), Chinenn Daang, Krizzia Demetilla, Eunice Baliong, Patrick Marlowe Oliva, Razor John Geroy, Paul Venson Rara, Arvin Beltran, and Kent John Rara. Contributed photo.
Josh's crescendo
When asked why he will leave the organization he had founded and loved, Sir Josh gave his straightforward answer, "People think the group is only for recreation." His resignation is effective June 2017.
His sacrifice and effort had taken their toll when he realized that the majority of listeners choose to dance to mainstream pop culture instead of being astounded by the tunes modelled after the height of the Renaissance. "I was sacrificing too much of my personal time to attain this vision when others cannot appreciate this vision of becoming a professional orchestra."
But the stereotype set against a group that advocates for music will not stop him from believing his vision. "We can grow this as a professional orchestra."
For five years as XP's artistic director, his passion has inspired members to pursue and focus on their personal hymn.
"He gave us a place to grow in our appreciation for classical music, share it with others, inspire and be inspired by the music we make," tells former XP president and concertmaster Jan Rupert Alfeche.
Today, Xavier Philharmonia is widely recognized in CDO for its annual orchestral concerts; they have expanded beyond the university to perform gigs in various places and events in the city and have collaborated with other musical groups in various performances such as the Licean Rhapsody and the Tonic Hues String Ensemble.
For the man who started it all, the journey will continue. Greater things are yet to come for Sir Josh, but for the meantime, he parts with these last words for the Xavier Philharmonia family: "To be a good musician means to be a good person. As instrumental musicians, we cannot vocally tell our audience what the piece is about. But if you are a good person, you are able to convey the story of your music through your instrument."
Thus, his music continues to play.∎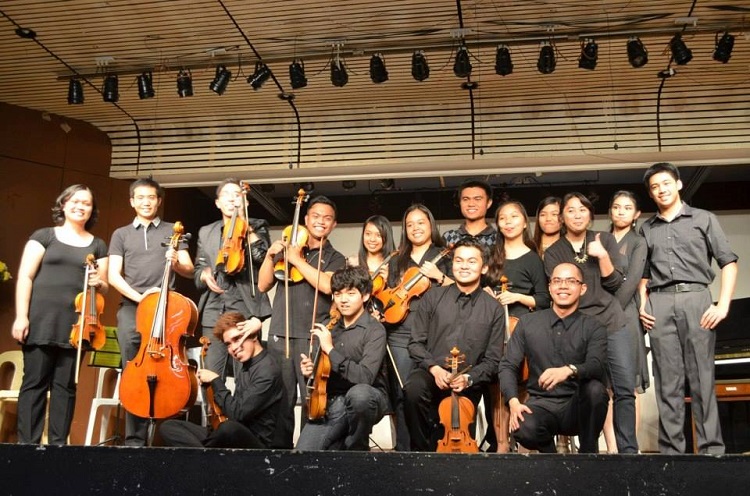 FOUNDING MEMBERS. Xavier Philharmonia members pose after their successful first concert, "A Grand Recital" on February 9, 2013. From top left to bottom right: Noelle Angeli Tan, Kevin Alfeche, Jan Rupert Alfeche (concertmaster), Daryl Tayong, Kezia Lois Songcal, Bernadette Abuzo, Jose Araune, Karen Mae del Puerto, Florenz Wendi Tan, Darlene Wabe, Katrina Dilao, Ian Dilao, Roque Valmoria, YeaGun Seo, Albert Daba, and Francis Joshua Arrabaca. Contributed photo.