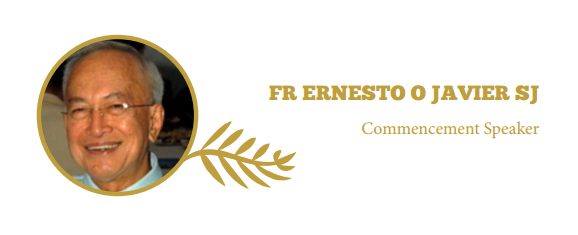 FR ERNESTO O JAVIER SJ
DR JOSE P RIZAL SCHOOL OF MEDICINE FOUNDING PRESIDENT
SPEAKER, 31ST JPRSM COMMENCEMENT EXERCISES
Xavier University - Ateneo de Cagayan
26 May 2017
His dream of building a medical school at Xavier University - Ateneo de Cagayan began with a silent promise to a baby boy with an abdominal congenital anomaly whom he met on a ride from Camiguin to Cagayan de Oro sometime in 1978. As then-university president Fr Ernesto O Javier of the Society of Jesus recounted:
"I could still vividly remember that long and tiring ride because of that father and his little son, who had to be brought all the way to Cagayan de Oro City because there was no medical facility in Camiguin where he could have been treated. Sometime during that seemingly endless trip, I silently promised that little boy that, God willing, someday we would have a medical school at Xavier University to prepare doctors who would take care of little children and the sick, like him, in our part of Mindanao."
True to his promise, Fr Ernie, as he is fondly called by his friends and family, was instrumental in establishing the Dr Jose P Rizal School of Medicine in 1983, forming competent and compassionate "doctors for others" who continue to make a difference in the lives of so many Mindanaoans through providing quality healthcare services.
Described as benevolent, dedicated, and tireless in his advocacies and works towards excellent and holistic education, Fr Ernie has been well-loved by the people he has met and worked with in the different parts of the country and abroad, mostly educational institutions and educators. As he once said, "The work of each of us, no matter how ordinary, is important for the work and vision of our school."
He entered the Society of Jesus on July 30, 1950 and was ordained on June 13, 1964. His Jesuit formation included academic studies at Berchmans College in Cebu where he earned his degree in Humanities and his MA in Philosophy. He also obtained a Licentiate in Sacred Theology, cum laude, at Boston College, and a master's degree in Educational Management at Harvard, and a Doctor of Philosophy degree from the University of Michigan.
Fr Ernie served as President of Xavier University - Ateneo de Cagayan from 1976 to 1990. His presidency was a time of significant growth for Xavier Ateneo. Aside from founding the Dr Jose P Rizal School of Medicine, he also established the Center for Industrial Technology (CIT) and revitalized the College of Engineering. Fr Ernie was also a moving force in bringing to greater heights the Institute for the Development of Educational Administrators (IDEA).
Spanning more than five decades of exemplary leadership in education, Fr Ernie has been a member of the Board of Trustees of several Philippine universities and chaired various educational associations. After his presidency at XU, he served as Director of Sacred Heart School in Cebu from 1991-2009. He was a member of the Board of Directors of among others, the Philippine Accrediting Association of Schools, Colleges, and Universities (PAASCU), Catholic Educational Association of the Philippines (CEAP), and the Mindanao-Sulu Coordinating Council of Catholic Schools (MSCCCS). He has been involved in various civic organizations such as the Philippine National Red Cross in Cagayan de Oro and the Ramon Aboitiz Foundation Inc in Cebu.
Fr Ernie has also been the recipient of several scholarship grants and awards and has published journal articles on academic management in both secondary and higher education. In August 1974, he received a fellowship grant from Ford Foundation to attend the Course on University Administration of the Institute of Governmental Affairs at the University of Wisconsin in the United States. Through a travel grant to Italy in 1988 and 1989 from the Italian government, Fr Ernie took part in various Italian-funded projects on housing, telecommunications, and sewerage treatment as one of the technical resource personnel. He also participated in the Vatican Conference on Catholic Education in Rome in April 1988.
At present, Fr Ernie, at the age of 85 and 53 years a priest, continues his mission in the education apostolate as President of St Benedict Childhood Education Centre in Cebu City while doing pastoral work at Sacred Heart Parish and being actively involved in various professional and civic engagements.
In recognition of his unceasing commitment to excellence in educational leadership, generous service to the Church in the Philippines, his whole-hearted work in the academe and communities through the decades, and as "Founding Father of JPRSM," Xavier University - Ateneo de Cagayan is pleased and deeply honored to present Fr Ernesto O Javier of the Society of Jesus as the commencement speaker for the Dr Jose P Rizal School of Medicine Class of 2017.
A profile by Stephen Pedroza