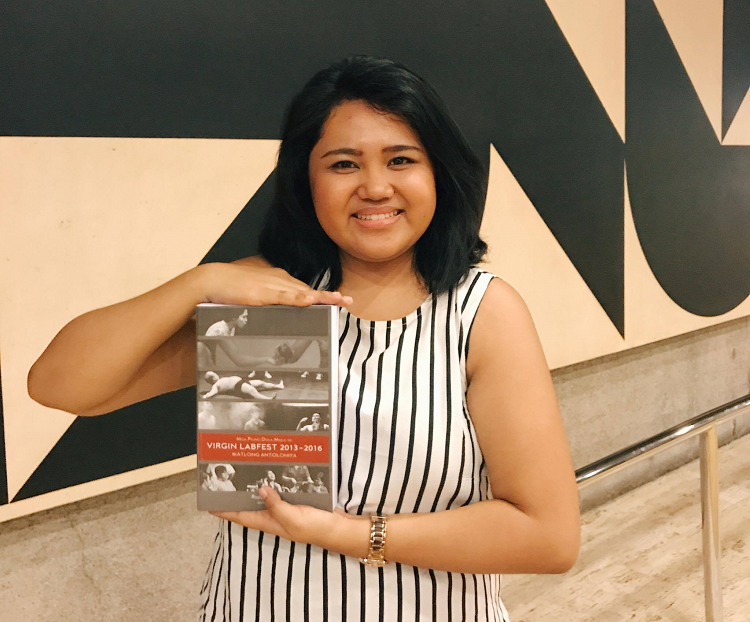 A KAGAY-ANON PLAYWRIGHT. Playwright of the Palanca-winning piece "Ang Bata sa Drum" Dominique La Victoria holds the third Virgin Labfest anthology book during its launching on July 6, 2017 at the Cultural Center of the Philippines. Supplied photo.
By Stephen Pedroza
Set in a mountain of Northern Mindanao, a child named Roro, punished by his father in the strangest of ways, finds comfort inside a drum. It is two o'clock in the afternoon and his sister, Krisel, is talking to him, asking why being in the dark metal cylinder brings solace and happiness to the boy's troubled heart.
This is the play written by Kagay-anon Dominique La Victoria which won her the third prize in Filipino plays in the coveted Palanca Awards this year. It's simply titled "Ang Bata sa Drum."
"It was based on a story my mom told me, and I guess the image of a boy being put inside a drum as punishment resonated with me, so I weaved a whole story out of it," she says.
"I actually didn't want to write this play until I was older, but I wanted to submit again to the Virgin Labfest last year so I wrote it."
The rest is history, La Victoria continues.
Pain and comfort
The conversation of two kids in the play centered on their life after their mother left them to work in a big city and how they had to contend with their drunkard father.
Using a mix of Binisaya and Tagalog, the two main characters, nine-year-old Roro and twelve-year-old Krisel, maintained the intimacy of some semblance of family in their language and the nuances of a life in the rural.
In the wonder of words and symbolisms infused by Dominique in her piece, "Ang Bata sa Drum" pierces through the heart as the siblings remain optimistic of a family reunion one of these days.
Krisel: Lalabas ka naman din diyan diba? Ngayon na lang. Pagbalik man pud ni papa lasing na 'yun, di na niya malalaman na nakalabas ka.
In search of better days, Krisel asks her brother why he finds being inside the drum more comforting than being outside playing with other kids.
Roro responds with stark lines:
Ate, okay ra lagi ko. Si papa wala sa loob ng drum. Walang school sa loob ng drum. Walang masama sa loob ng drum. Masaya na ako dito.
La Victoria makes use of katahimikan (silence) effectively in many parts of the play as some things are better left unspoken, as she tries to protect the innocence and wishes of her two principal characters.
Untried, untested, and unstaged
"Ang Bata sa Drum" was first staged in 2016 as part of the Virgin Labfest (VLF), a festival of untried, untested, and unstaged plays, an initiative of the Cultural Center of the Philippines, Tanghalang Pilipino, and Writer's Bloc.
"Ang Bata sa Drum" has already received notable reviews from some national papers.
Vincen Gregory Yu, a contributing writer for the Philippine Daily Inquirer, describes the play's intimacy as its best asset.
"It takes its time revealing its secrets, letting the audience piece together a sordid picture of a broken family. Then it ends on a note that's neither high nor loud — just small, as befits the play."
ABS-CBN's Vladimir Bunoan, in Review: 4 must-watch plays in Virgin Labfest 12, captured the emotional appeal of Dominique's winning piece:
"La Victoria infused her play with symbolisms and kept many things unsaid, while director Dudz Terana bravely guided the two young actors and made the story naturally unfold. But the play's final image was just heartbreaking and loaded with feels that left audience teary-eyed."
"Ang Bata sa Drum" was La Victoria's second entry to the VLF. Her first, "Chipline" was the first Cebuano play to be staged in the festival, in 2013.
This year, "Ang Bata sa Drum" was staged again last July as the festival chooses 3 plays each season to be restaged in the next. It also had a run in San Francisco with Bindlestiff Studio, a Filipino-American theater company in the United States.
High school days in Cagayan de Oro
La Victoria is a graduate of Xavier University - Ateneo de Cagayan High School (XUHS), batch 2010, where she recounted: "Of course, all the readings I did in XUHS helped me a lot in college. All the required readings, novels, and short stories in English and Filipino introduced me to basic literature, and for that I'm thankful."
There used to be nothing special about Dominique in high school, but now, she says, she bloomed in college and slowly carved a niche in literature.
"I wasn't in the honors or semi-honors class, and nobody really paid any attention to me," she recalls.
She admits that in high school she didn't write a lot. However, according to her, she was that nerd who always got the highest score in SRA Reading.
"Apart from winning 3rd place in a poetry contest, I didn't really write a lot in high school, I just read. I started writing plays in college, that's when I hit my artistic stride talaga. And love for theater came first before love for playwriting…"
La Victoria, a graduate of BFA Creative Writing (2014) and BFA Theater Arts (2015) at the Ateneo de Manila University, sees the importance of playwrights in our country so that theater can mirror its beauty and ugliness.
"We need more playwrights in the country because theater is forever evolving and forever changing. Theater has always been a mirror for current issues, representing the hopes and trials of society," she says.
Playwrights help translate these reflections into a performance art on stage.
"Shakespeare, Chekhov, Rene Villanueva, and all the other playwrights represented their times perfectly, and their plays have a universality that still makes them timely, but there should always be space for new works and new voices." ∎