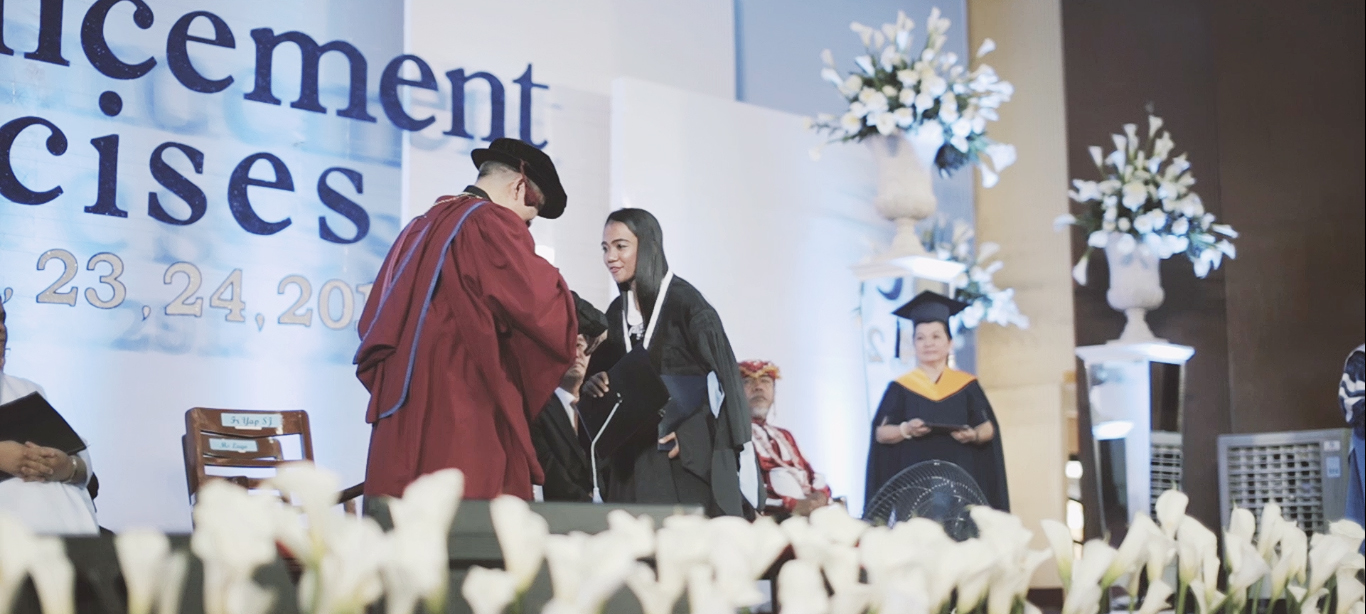 Parting Message and Benediction of Xavier Ateneo President Fr Roberto "Bobby" C Yap SJ to the Class of 2018
79th Commencement Exercises
Xavier University - Ateneo de Cagayan
23rd and 24th March 2018
XU Gymnasium
It is my real joy and pleasure to greet the Graduates of 2018. I am very happy that you have completed your college years at Xavier under my guardianship and guidance. Now it is time to say goodbye. Three things as my pabaon for you tonight: Always Grateful, Always Generous, Always God.
Always Grateful. Gratitude is at the heart of the spirituality of Ignatius Loyola and Francis Xavier. Gratitude because all is grace. Gratitude is the vision that sees life as a gift. Gratitude enables us to see the GOOD, beyond complaint and envy. Gratitude empowers us to see the GIFT, beyond entitlement and demand. Gratitude inspires us to see the GIVER, the One who gives all good things.
The poet Melody Beattie said, "Gratitude unlocks the fullness of life. It turns what we have into enough, and more … It turns denial into acceptance, chaos to order, confusion to clarity. It can turn a meal into a feast, a house into a home, a stranger into a friend." The father of Liberation Theology, Gustavo Gutiérrez believed that only one kind of person transforms the world: the one with the grateful heart. The spiritual guru, Meister Eckhart wrote, "If the only prayer you ever say in your entire life is 'Thank You,' … that will be enough. Xavier Ateneans: Always Grateful!
Always Generous. Pray often the much-loved Atenean prayer: "Lord, teach me to be generous. Teach me to serve you as you deserve; to give and not to count the cost, to fight and not to heed the wounds, to toil and not to seek for rest, to labor and not to ask for reward, save that of knowing that I am doing Your most holy will." Generously search for the magis. The magis is not simply one among others in a list of Atenean characteristics. It permeates them all. The entire life of Ignatius was a pilgrim search for the magis, the ever-greater glory of God, the ever-fuller service of our neighbor, the more universal good, the more effective apostolic means. Mediocrity has no place in the worldview of Loyola and Xavier.
Never be content with the status quo, the known, the tried, the already existing. Be constantly driven to discover, redefine, and reach out for the magis. For the Atenean, frontiers, boundaries, and peripheries are not obstacles or ends, but new challenges to be faced, new opportunities to be welcomed. Indeed, have a holy boldness responding to the greater need, where greater fruit is likely to be reaped … to what is more urgent … to what is of more lasting value. Experience Excellence, XU graduates! Xavier Ateneans: Always Generous!
Always God. If you asked five Jesuits from five different countries to sum up Ignatian spirituality, which is based on the life and teachings of their founder, Saint Ignatius Loyola, they would probably say the same thing: "Finding God in all things." Ignatius had the special grace, that in all circumstances, while at work or in conversation, of feeling the presence of God and of tasting spiritual things, of being contemplative even in the midst of action; he used to interpret this as seeking God in all things.
Finding God in all things: What does it mean? Simply put, God is to be found not only in obvious places – like masses, private prayer, and reading the Bible – but everywhere and in everything: in our busy workplaces, in our quirky families, and even when we are by ourselves, feeling lonely. Every moment is an invitation to experience God.
Seek God in all things. How can we do this? By noticing. When you speak with someone, can you see your conversation as a holy moment of encounter? Perhaps they're struggling – God may be inviting you to care for them. When you eat a meal, can you be grateful for the nourishment and also remember that it's God who is feeding you? When an amazing sunset surprises you, can you rejoice in the beauty of creation? At the end of the day, it helps to remember these things – all things – and be grateful you've found God. And more important, that God has found you. Xavier Ateneans, Always God!
Xavier Ateneo graduates: Always Grateful, Always Generous, Always God. I hope this pabaon will nourish your journey as you leave the portals of XU and begin a new chapter in your life.
Before we part, please allow your University President to give you a final blessing. My dear Xavier Ateneo graduates of 2018, please rise.
My good faculty, formators, and staff, please also rise and kindly join me in imparting a blessing to our graduates by raising your right hands over them.
Graduates, please bow your heads and pray for God's blessing:
God be in your head
and in your understanding
God be in your eyes
and in your looking
God be in your mouth
|and in your speaking
God be in your heart
and in your thinking
God be at your end
and at your departing

May the Lord bless you and keep you.
May his face shine upon you and be gracious to you.
May he look upon you with kindness, and give you his peace.
Amen. Amen.
Experience Excellence, Xavier Ateneo Class of 2018!
Mabuhay! Congratulations! Mabuhay!