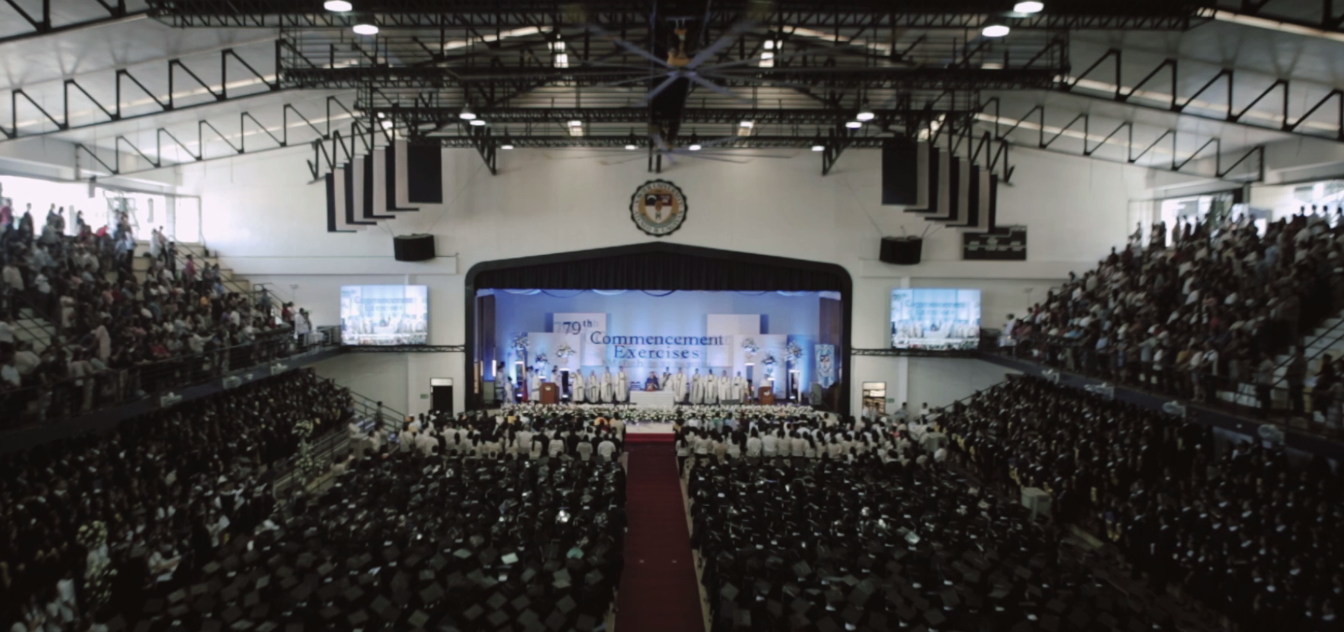 By Angelo Lorenzo
They have spent years within the halls of Xavier University - Ateneo de Cagayan, and on Thursday, March 22, donning their toga and caps, this year's graduates gathered at the university gym for one of the last moments they would spend in the university campus before embarking on a new path.
While the university celebrates this achievement annually, the 79th Commencement Exercises sought to remind the graduates of their identity, their call to become "men and women for others" and to do all things for the greater glory of God.
"We do promise to do our best to uphold and promote justice and peace in our society," they declared during the Baccalaureate Mass in a segment where they recited their Graduation Promises, following Archbishop Antonio J Ledesma SJ DD's homily.
The Archbishop of Cagayan de Oro, along with the deacons of the diocese, presided the mass to a congregation of graduates, their families and companions, and the rest of the university community who attended.
The identity of being an Atenean remains indelible for the graduates.
Service in Mindanao
Society, as stated in their promise, refers to Mindanao and because pressing issues have notoriously devastated some of the communities here, the graduates were encouraged to address these by dedicating their education for service.
"Our graduates are on the forefront of addressing challenges," Ledesma said after he cited three of these issues, as well as the solutions that can combat them. Peace-building initiatives will soothe the tension among believers of different faiths after violent extremism tore Marawi City last year. Environmental protection will safeguard communities that will most likely be stricken by the severe consequences of climate change. Good governance by local officials will promote positive development in various areas, as well as empower citizens and encourage communal engagement.
Xavier Ateneo president Fr Roberto "Bobby" C Yap SJ delivered a similar message, but he specified the continuing legacies of the three recipients recognized during the convocation.
"Xavier University - Ateneo de Cagayan is profoundly privileged to honor three awardees who stand with the poor," he said. "They have been persons of compassion, who have not remained indifferent to the pain and suffering of others, and suffered together with them."
Recognized for their mission to feed the hungry, treat the sick, and teach the illiterate, the Join Together Society (JTS), represented by their president, Won Joo Lee, received the Fr William Masterson SJ Award for the Korean-based non-government organization's contributions to social development in Mindanao. (Related read: PROFILE - Join Together Society - 2018 Fr William Masterson SJ Award Recipient)
Since they began their mission in 2002 after their founder, Pomnyum Sunim, received the Ramon Magsaysay Award, JTS has grown as volunteers reached out to communities that needed their aid. They have supported over 2,000 children with their schooling and have assisted over 100 teachers for educating them. They have also sent relief operations to survivors of calamities, especially in the aftermath of storms that ravaged parts of the country (Typhoon Ondoy in 2009, Tropical Storm Sendong in 2011, and Supertyphoon Yolanda in 2013).
"We are grateful to work side by side with you for peace and sustainable development in Mindanao," Lee said in his acceptance speech. "We welcome anyone who would like to volunteer with us."
Nurturing Lumad culture
Inclusivity, in the concept emphasized by Datu Migketay Victorino Saway, is essential in building lasting peace among the diverse cultures of Mindanao.
Accepting the Fr Francisco Demetrio SJ Award for his contributions to culture and the arts, the founder of the Talaandig School for Living Traditions discussed how unity can be achieved despite the differences of the multicultural communities in Mindanao. (Related read: PROFILE - Datu Migketay Victorino Saway - 2018 Fr Francisco Demetrio SJ Award for Culture and the Arts Recipient)
"We cannot promote and preserve culture alone without knowing yourself, your family, your community, and your vision," Saway remarked in his spontaneous acceptance speech. "Without knowing our significance, we could hardly commit, promote, preserve, and develop our culture.
Saway's unyielding passion to harness the indigenous peoples by preserving their culture is his way to bring people from all walks of life together, thereby healing the wounds of the marginalized populace.
Small things with great love
The legacy of late Sr Patricia Saniel MCM has persisted up to this day. Sr Pat (as she is commonly known among her family, colleagues, and fellow Missionary Congregation of Mary sisters) had spent her life caring for the abandoned elderly and mentally challenged patients in the society. (Related read: PROFILE - Sr Patricia Saniel MCM - 2018 Archbishop Santiago Hayes Award Recipient)
Before she passed away in 2011, she had led a life in compassion for the poor as greatly manifested by three of her legacies which are currently being maintained and administered by the MCM sisters – Happy Home Foundation in Maramag, Bukidnon and House of Hope in Cagayan de Oro for the mentally challenged, as well as the St Joseph Golden Homes in CDO for the elderly.
"Sr Pat originally organized these centers with just her dream and the help of generous benefactors," Sr Felisa Batusin, MCM superior general, said in her acceptance speech on behalf of the recipient. She shared how Sr Pat desired "to bring back the respect and restore the dignity of these people and giving them hope in their hopeless situation."
"We consider this award as a symbol of your recognition of the need to continue caring for the less fortunate, particularly the poor," she added.
Inspiration for the graduates
For the graduates, the legacies of the awardees may serve as an inspiration for their calling and their promises. One of them has shared her experience during the convocation.
"When half of the world is suffering, half of it is continuing the mundane pace of life," class valedictorian Nicole Rose Baculio stated in her speech. Baculio graduated cum laude from the School of Education with a degree in Bachelor of Secondary Education major in English.
She narrated her experience as a volunteer during the Xavier Ateneo Social Development cluster's Tabang Marawi relief operations following the siege that ravaged the Islamic City in May last year.
"In Ateneo, we were taught to find God in all things, and in situations like these, God is telling us to do something," she said.
Relating her message to her experience in combating violent extremism, she delivered to her fellow graduates the need to serve genuinely by doing more than what is expected and to learn in the process so they could gain a wider perspective in the world.
"There are voices waiting to be heard, and we have to widen our perspective to fully listen to these voices," she added. "When we listen to them, we will understand why people are oppressed, why people fight for their rights, and why people battle against violent extremism."
Whether the poor pertains to the financially challenged, the abandoned, and the marginalized, or the refugees of war and conflict, service is boundless as exemplified by the awardees and their notable works and aspirations.
"Xavier Ateneo Class of 2018, may the inspiration you have received from our awardees this morning, always be a source of strength as you begin your mission to be men and women for others, especially the last, the least, and the lost," Fr Yap expressed in his closing remarks during the convocation.
Graduation rites officially concluded on Saturday, March 24, after the second batch of graduates marched onstage. As they pursue a new path ahead, they take their promise with them. It will serve as a reminder of their identity and the calling that comes with it.∎