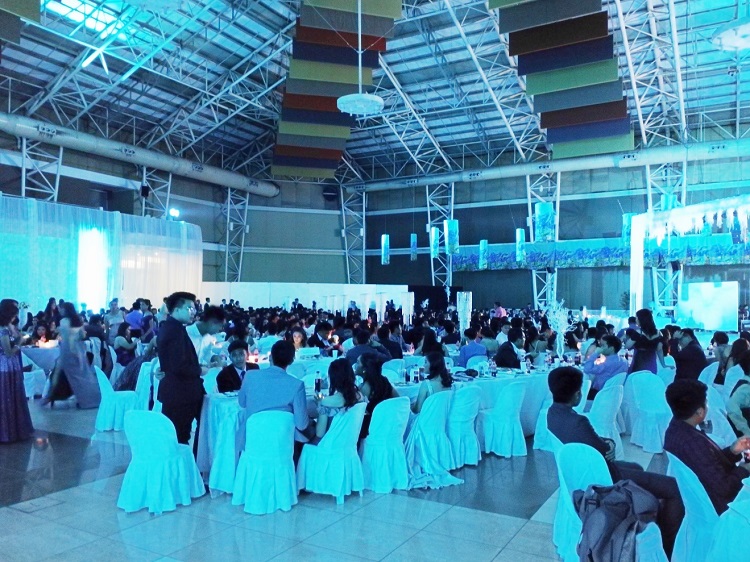 ATLANTIS. Xavier Ateneo Senior High School graduates gather within the Limketkai Center Atrium for their graduation ball three days after their commencement exercises.
Words and photos by Angelo Lorenzo
Xavier Ateneo Senior High School graduates communed once again to celebrate the completion of their programs three days after their graduation.
On Thursday evening, March 22, the Limketkai Center Atrium glared with lights posted at corners to complement the celebration along with the blue and white draperies hanging over the ceiling and the arched entryway among the decorations. Seated at tables or poised at photo booths, the attendees, who had recently marched onstage to receive their diplomas, relished the night as they presented the best version of themselves in gleaming suits and shimmering gowns and dresses.
Highlighting the theme of Atlantis (the fictional civilization where some of Greek philosopher Plato's works took place), the graduation ball served as a venue to recognize the academic and extra-curricular achievements of the students, strengthen their bond before they part ways, and to immortalize the memories they shared in the two-year program. Videos and photographs featuring captured moments streamed on the screen above the stage.
"We tried to have a metaphor with regards to the senior high life," SHS Student Government moderator and Student Activities and Leadership Development (SACLEAD) coordinator Jim Akut shared in an interview. "We have the pioneering batch that may have lost their way in their struggles in senior high, but eventually found their vantage point and direction in those experiences."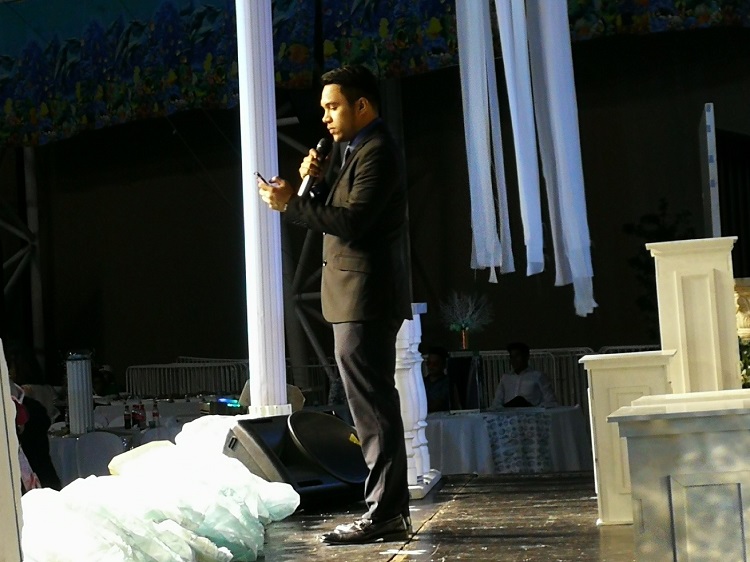 PROUD MENTOR. Senior High School Student Government moderator and Student Activities and Leadership Development coordinator Jim Akut reads his blessing for the graduates during the graduation ball.
Turning over
The ball featured various performances by the graduates as they paid tribute to their teachers and classmates. Some of these included song and dance presentations, as well as a spoken word poetry and speeches from the graduates.
It also provided an avenue for the Senior High School Student Government's outgoing administration to bequeath the symbolic key of responsibility to the incoming administration for the next school year. The key was handed down by outgoing president Angelika Marie Gultia to the incoming officer elected for the same position, Maureen Eguia of the Accountancy and Business Management (ABM) strand.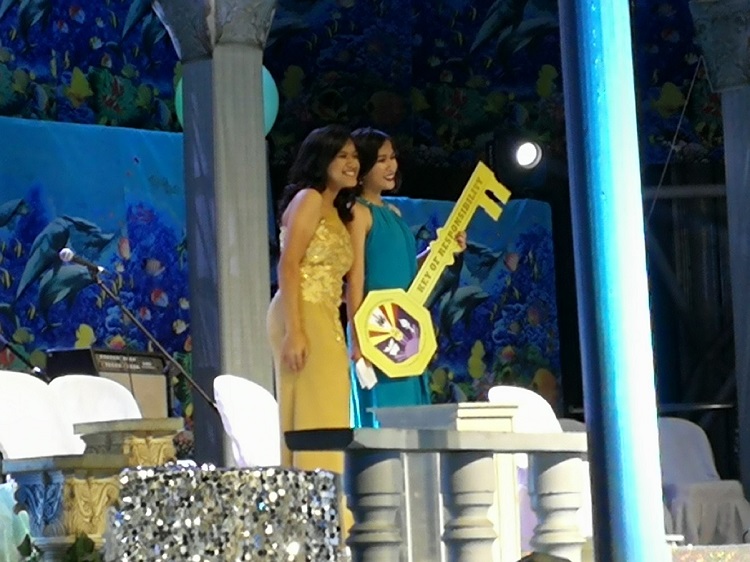 NEXT ADMINISTRATION. Outgoing SHSSG president Angelika Marie Gultia (left) and recently-elected officer for the same position Maureen Eguia (right) pose for a photograph after the symbolic Key of Responsibility was handed from the former administration to the incoming one.
As a graduate of the ABM strand, Gultia shared that student leaders in the senior high program have made her experience in service and leadership memorable, rippling to the graduation ball which was one of their many activities conducted this year.
"Personally, I would say that I have met different people of different talents, personalities and skill sets," she said. "Not only do we see talented people, but also really dynamic student leaders."
"I am inspired by the colleagues that I got to work with – not only with the student government but also among the volunteers," she added.
Gift of charity
A promising quality among most of the Xavier Ateneo graduates is their desire to live out the Ignatian principle of cura personalis. This was attested in the ball which did not only constitute glamor, but also streamlined charity.
This year's batch donated a total of PhP 200,000 for the scholarship of future students in the newly-established Andrew L Gotianun Sr Center for Integrated Technologies (ALGCIT). This three-year technical vocational high school offers residency and specialized education to students from financially-challenged families who want to pursue the following specializations: Automotive Servicing, Computer and Electronics Technology, Energy and Power System, and Mechanical Design and Fabrication.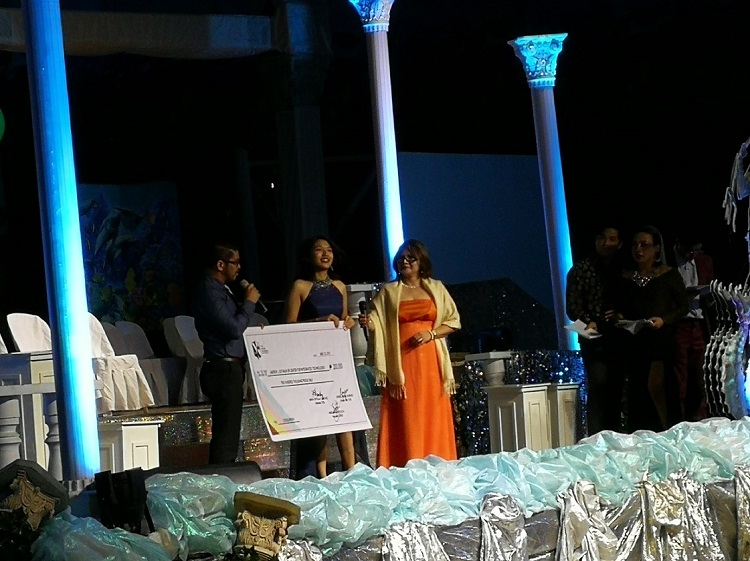 CHARITY. SHS principal Dr Rogelio Gawahan (left) receives the graduates' donation for the scholarship of future ALGCIT students. The cheque was given by SHS Squire Yearbook EIC Sheryll Sagrado (center) and moderator Stella Sanchez (right).
Turned over by the Squire Yearbook editor-in-chief Sheryll Sagrado and moderator Stella Sanchez, the batch's donation, which was represented by a large cheque, was given to SHS principal Rogelio Gawahan for ALGCIT.
Just as SHS has given them sufficient immersion to various causes, the academic administration now hopes for the best for their graduates which they consider Xavier Ateneo's offspring.
"We are blessed with a lot of faculty members and people in the school who are willing to do service," VP for basic education Dulce Dawang stated in her message. "We involved a lot of faculty members and people in the school who are willing to do service."
"Your success is also XU's success," Dawang added.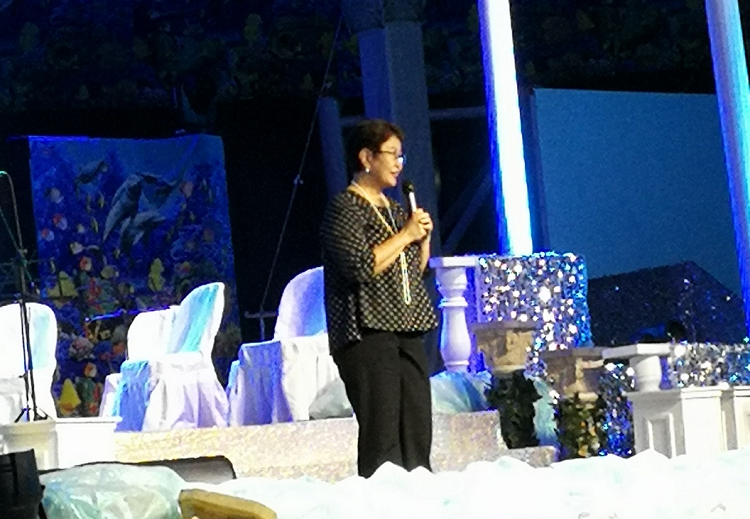 GRATITUDE. Xavier Ateneo's VP for basic education Dr Dulce Dawang expresses her gratitude to the academic administration, faculty, staff, and students of the SHS program who all made the two-year implementation possible and successful.
Although their graduation marks the end of the SHS experience, much is in store for the graduates in the coming days. And most of what they have learned, they attribute to their educators.
"After I graduate, I will always look back to this journey with the people I will miss," Gultia shared. "Wherever I may be someday, I will always come back in Mindanao, especially in Xavier because this was where I discovered my potential."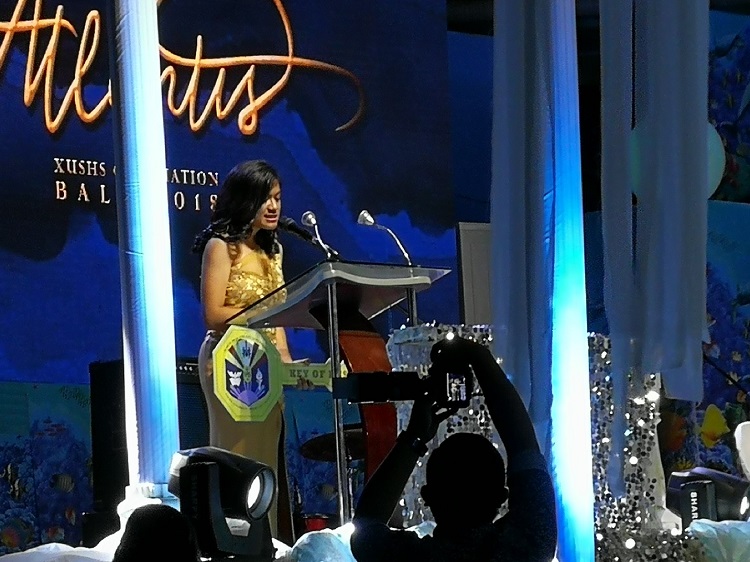 LEADERSHIP. SHSSG outgoing president Angelika Marie Gultia expresses her dedication to service which she had shared with fellow student leaders and her batch before graduation. She further promises to carry on the values instilled in her during her years of education at Xavier Ateneo.
Atlantis may be the theme of their graduation ball, but with the experiences the graduates shared and the education they received, which were both highlighted that evening, will guide them through their way back should they be lost in life's calamitous circumstances.∎