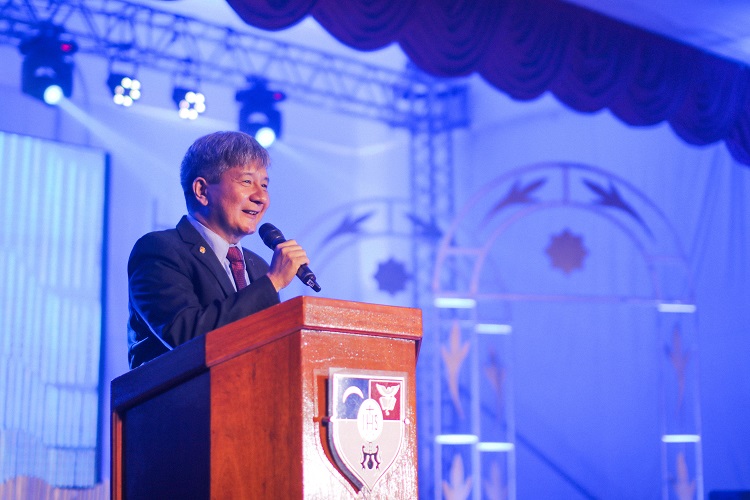 This is the full text of the welcome speech of Xavier Ateneo president Fr Roberto "Bobby" C Yap of the Society of Jesus at the 2018 Xavier Ateneo Employees Excellence Gala at the Grand Caprice Ballroom on the 25th of May.
Community … Excellence. Tonight, we celebrate these two fine qualities of Xavier Ateneo.
This evening, we celebrate community. At XU, we are more than co-workers, more than people who happen to be in the same workplace, laboring beside each other, with nothing more that binds us together beyond time and space. At Xavier, we are more than colleagues, professional educators working in a university. More than co-workers, more than colleagues, at Xavier Ateneo, we are a community.
In the Employee Opinion Survey conducted last year, one of the most frequent answers to the open-ended question, "What I like best about working in this University …" was "People I work with – camaraderie, family feeling, kind and helpful, sense of community, dedicated people, support and cooperation from each other." Tonight, we celebrate our community of friends.
At Xavier Ateneo, we are a community bound by common values and meanings, common hopes and dreams, and by mutual concern and responsibility. Our community is as strong as the strength of our shared values and hopes, as sturdy as our shared vision and dreams. This means that our community requires constant care, effective communication, and joyful celebration to remain strong.
As a Jesuit university, we are a community not for ourselves, but we are a community for mission. Recently, we branded XU's mission as Experience Excellence Xavier Ateneo. Experience Excellence is another way of saying that we seek the magis, the more; that we are striving for God's greater glory, AMDG. We are inspired by Ignatius Loyola who invites us to respond to Christ our King: "Those who desire to greater devotion and to distinguish themselves in total service to their eternal King and universal Lord, will not only offer their persons for the work but go further still … and make offerings of greater worth and value …" Experience Excellence means the fullest possible development of each person's individual capacities and the motivation to use those developed gifts for others.
This evening, we celebrate excellence. Excellence in academics, excellence in cura personalis, whole-person formation, excellence in service. Excellence is a Xavier Ateneo ideal. Ideals are like the stars, we may never reach them, but they will always guide our course. Tonight, we honor our co-workers, our colleagues, our friends who distinguish themselves in having magis as a star that guides their course of service at Xavier Ateneo.
Excellence … Community … celebrating the Community of Excellence: this is what this evening is all about. May Fire and Magis become an annual celebration that will cap every XU School Year. Three cheers this evening: Cheers to Community … Cheers to Excellence … Cheers to Xavier Ateneo!