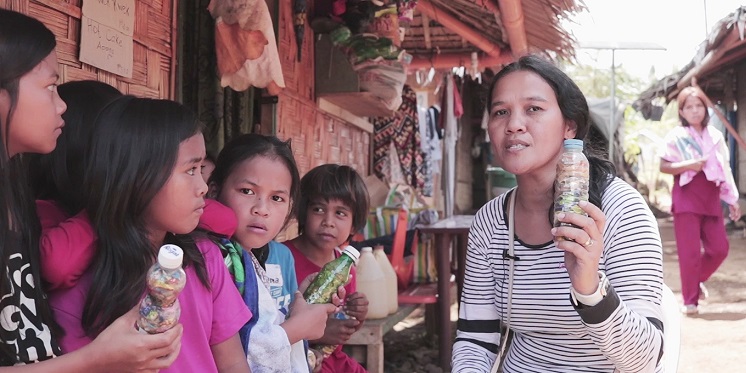 By Robert de la Serna
At Barangay Bito Buadi Itowa, in an evacuation camp by the foothill of Marawi City, young school children on summer break are being taught a lesson in environmental stewardship.
Using plastic bottles, wrappers, and other waste materials around the area, Meiyoshi Masgon of Xavier Ateneo's Sustainable Sanitation Center has come up with the idea of recycling them into plastic bricks.
These "brick bottles" will be used in the construction of an all-plastic bottle fence to enclose a compost pit, which will be used for the production of nutrient-rich materials to improve the soil and fertilize the communal vegetable gardens in the camp.
In August 2017, three months after the siege erupted on May 23, XU Tabang Marawi has introduced participatory agro-enterprise development as a palatable solution to shield displaced residents from the growing problems of food security and rising unemployment.
Supplementing this response, the Peace Crops project has focused on providing similar programs to out-of-school youths as a measure to veer them away from the lure of extremism.
Dubbed "Pagbubuklod ng Bakod," the project is not without incentive. It aims to provide participating school children in the community with an assortment of school materials (from pens to notebooks to bags) commensurate to the number of stashed plastic bottles produced.
"We believe this activity is worth pursuing in collaboration with the public," Masgon said. "We are looking for sponsors who recognize the unique opportunity and experience we present. We intend to deliver the goods in time for the school opening in mid-June."
Donations in kind or cash convertible to school supplies can be channeled through Nestor Banuag Jr, team leader of the XU Tabang Marawi, at Room 106, Agriculture Building or call (+63 88) 853 9800 local 9201. Interested donors may deposit at the BPI account of Xavier University (Account #: 9331013363) and send the deposit slip to This email address is being protected from spambots. You need JavaScript enabled to view it..
Deadline is on June 15, 2018. ∎