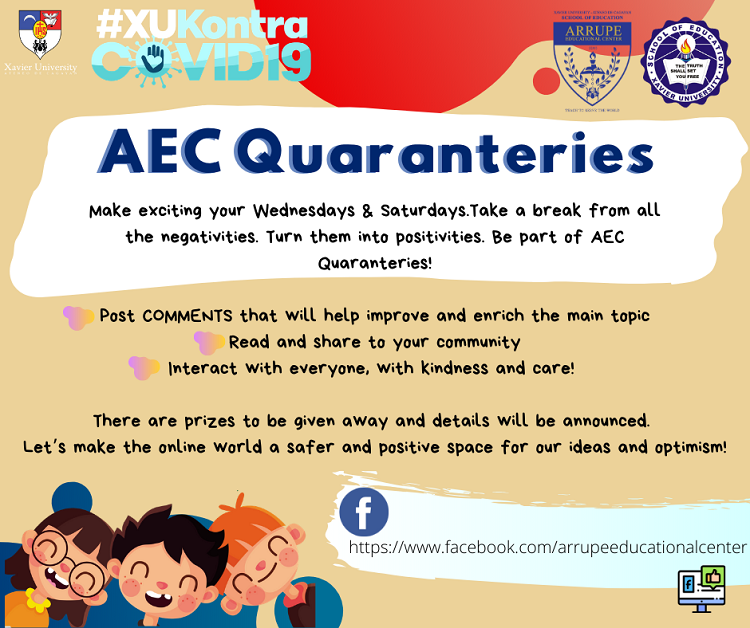 The AEC 'Quarantine Series' or Quaranteries is a program launched to produce publication materials through the official facebook page of the Arrupe Educational Center as well as the hosting of virtual events or webinars on topics relevant to online learning and the COVID-19 pandemic. As of April 28, AEC Quaranteries has successfully published two (2) publication materials and one (1) webinar.
The first pub mat is entitled, "Tatlong Hakbang para sa Paghuhugas ng Plato aimed at encouraging parents to engage their children in doing household chores during the quarantine period. The pub mat was released in April 15 with 662 hits.
The second pub mat is entitled, "Lima ka Panghimangno para Makalikay sa Covid-19" aimed at providing the general public knowledge and basic information on measures to can be done in the midst of the COVID-19 pandemic. The content was drafted by Dr Mitchel Gonzales of the Dr Jose Rizal School of Medicine and was released on April 18 with 5156 hits.
Aside from publication materials, the program facilitated a virtual event or webinar entitled, "Virtual Town Hall Event: Preparing Yourself for Online Learning". It covered topics on Online Teaching and Learning with Ms Mary Anthony Sieras of the Department of Education- Cagayan de Oro as the Resource Speaker. It was attended by Xavier Ateneo's Vice President for Higher Education, representatives from the Social Development Cluster, administrators, faculty and staff of the School of Education, teachers from the grade school and representative from other private schools in the City.
The following are the upcoming topics for the virtual events of the AEC Quaranteries:
Reinventing Your Quarantine with Dr. Jovelyn G. Delosa

#QuaranThink by the PYLP 16

Online Classroom Management and How to Address Multiple Intelligences

Preparations in Learning Online

Online Assessment
Details will be posted in the official Facebook page of the Arrupe Educational Center.