While many Xavier Ateneo (XU) units were busy producing alcohol sanitizers and face shields, distributing relief goods for stranded students and vulnerable communities, and offering some of its buildings as quarantine facilities, a small group of faculty members silently worked together to help government better understand the health risks against the COVID-19 pandemic in the region.
In mid-March, a volunteer-team led by Dr Gina Itchon (Professor of Public Health in XU's Dr Jose P Rizal School of Medicine) and Engr Dexter Lo (Professor of Disaster Risk and Resilience in XU's College of Engineering, and Director of Institutional Societal Engagement) started working with Dr Ian Gonzales (Head of Infectious Diseases Unit of the Department of Health – Region 10) on a project called Geospatial Risk Database (GRiD) of COVID-19 in Northern Mindanao. The objective is to establish a Decision Support System (DSS) for DOH- 10 to effectively manage, prepare, and mitigate the impacts of COVID-19 in the region.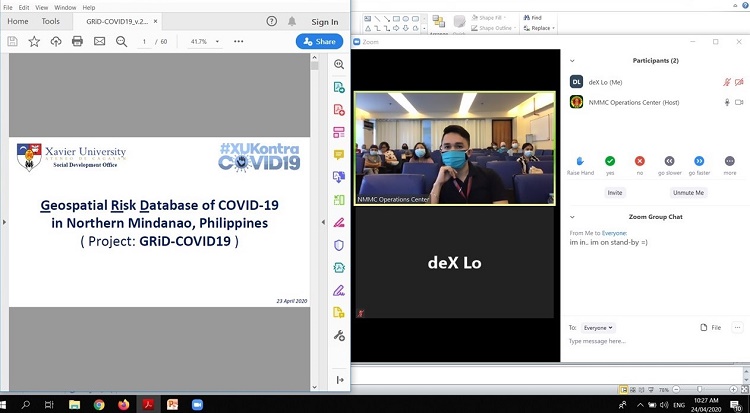 Engr Dexter Lo presents the GRiD-DSS Project to NMMC
By end of March, the GRiD-DSS Project presented to DOH-10 the projected growth scenarios of Persons Under Investigation (PUIs) in Region 10. The PUIs was used as a proxy parameter in the analysis due to lack of COVID-19 testing and confirmed cases in the region at that time. This was presented to the Incident Command System Group of the Northern Mindanao Medical Center (NMMC), the official COVID-19 referral center in the region.

The project was also showcased during the National Resilience Council's (NRC) COVID-19 Knowledge Series Special Session: "Voices from the Frontlines: Bayanihan in Action" last April 28, 2020. Among the speakers were Hon Carlito Galvez Jr. (Chief Implementer of the National Task Force Against COVID-19), Dr Manuel Dayrit (Former DOH Secretary), and Hon Oscar Moreno (Mayor of Cagayan de Oro City). Xavier Ateneo was given the honor to deliver a Statement of Support from the Academe sector.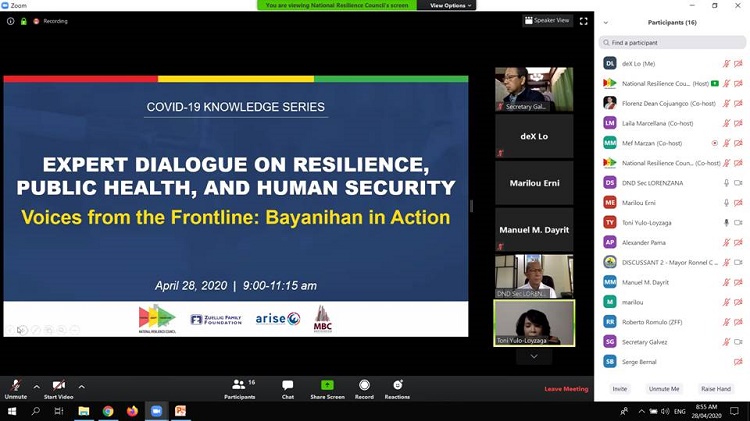 Engr Lo emphasized some features of the GRiD-DSS Project that make it effective for local government units (LGUs): "We (XU) remain in the background, serving as a decision-support for local government to come up with evidenced-based policies and strategies. We provide charts that speak a story of what's happening, what's going to happen, and what we should do now. We draw maps to guide what, where, and when our next critical move should be." He also added that: "It is when we are able to pin down or trace the problem at the household level that our innovations also become empowering to people on the ground. Therefore, a geospatial approach is perhaps the most effective way to do this."
On May 5, 2020, the LGU – Cagayan de Oro (CdeO) released an Executive Order (E.O. 068- 2020) creating a Technical Working Group for the City's COVID-19 Response and Recovery Planning, which included Xavier Ateneo particularly because of its GRiD-DSS Project.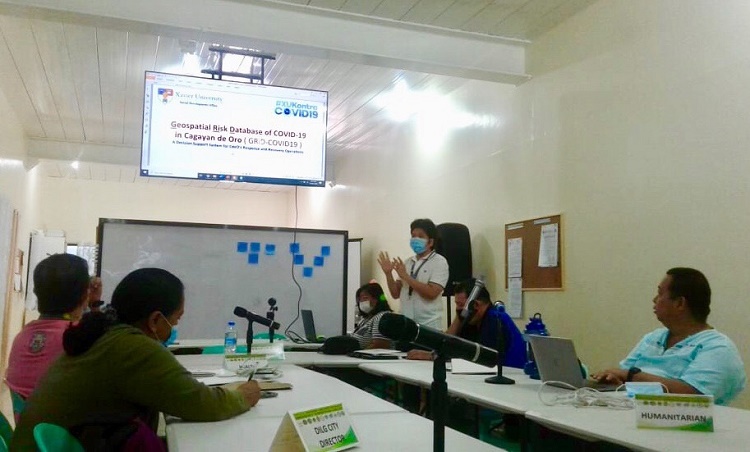 Engr Dexter Lo presents the GRiD-DSS Project to the City LGU's Health Cluster
A week later, on May 13, 2020, the United States Agency for International Development – Strengthening Urban Resilience for Growth with Equity (USAID-SURGE) Project in coordination with the CdeO Trade and Investment Promotions Center (TIPC) hosted an online COVID-19 forum among regional and local stakeholders and business leaders. XU's GRiD-DSS Project was once again presented, with more recent outputs featuring a web- based mapping dashboard of the City Health Office's (CHO) massive active surveillance operations. USAID's Ryan Patrick Evangelista, who presented the COVID-19 Response and Recovery Planning Template, repeatedly lauded XU's GRiD-DSS Project as an essential element of risk assessment prior to coming up with planning strategies.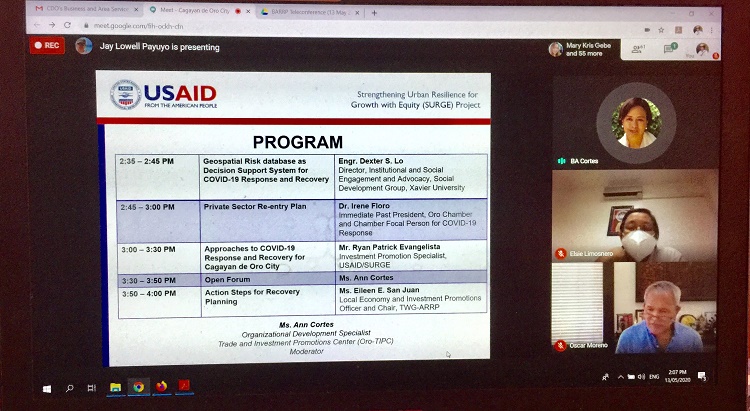 Two days later, on May 15, 2020, the NRC once again hosted an online Orientation and Consultation Session on geospatial risk database – decision support system for COVID-19, featuring XU's GRiD-DSS Project. Present were the local chief executives and department heads (particularly City Planning and Development Office and City Health Office) of Zamboanga, Iloilo, Ormoc, and Cagayan de Oro Cities. Also present were Admiral Alexander Pama (former Executive Director of the National Disaster Risk Reduction and Management Council) and Hon Austere Panadero (Undersecretary for Local Government of the Department of the Interior and Local Government). Other academic partners of the NRC were also present: Ateneo de Zamboanga Universiy, Ateneo de Naga University, University of the Philippines Visayas, and Visayas State University.
The GRiD-DSS Project was warmly appreciated by the participants. Mayor Ma. Isabelle "Beng" Climaco-Salazar (Zamboanga) and Mayor Richard Gomez's (Ormoc) planning officers are interested in having a similar online dashboard system as decision support for their operations. NRC is currently planning to host a webinar training series on online geospatial dashboard as decision support system for LGUs and academic institutions, with XU's Engr Jefferson Vallente Jr (mapping component leader of GRiD-DSS Project, and faculty member of the Civil Engineering Department) as main resource person.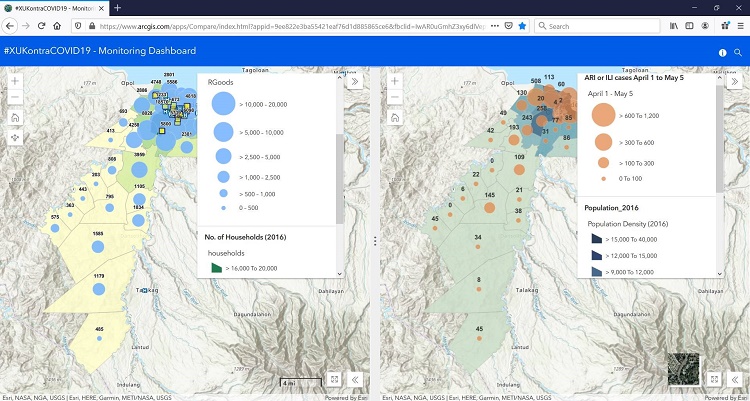 A feature of GRiD's online geospatial dashboard
In the midst of pandemics and disasters, Xavier Ateneo continues to rise above the challenges, using its facilities and human resources to address where there is a greater need. During the deadly Sendong flood in 2011, it was the same small volunteer-team of Engr Lo (then Director of the XU Engineering Resource Center) that immediately produced flood maps along the Cagayan de Oro and Iponan Rivers, which were featured by news agencies including the Al Jazeera. Engr Lo also worked with Dr Itchon (Director of XU's Sustainable Sanitation Center) on trends of admitted medical cases during Sendong, which became an impetus of a more strategic health emergency system during disasters.
Other team members of the GRiD-DSS Project are: Dr Ester Raagas, Dr Astrid Sinco, Mr Jameson Lim, and Ms Ma Victoria Trinidad (Risk Analysis and Communication component), Engr Augustini Paduganan, Ms Kate Ching, Mr Ildefonso Deloria, and Paolo Rosales (Geospatial Mapping component), Ms Amor Cajilla and Ms Meiyoshi Masgon (Database Management component), and Ms. Therese Rhea Rose Baliwag (Documentation).